Back to Top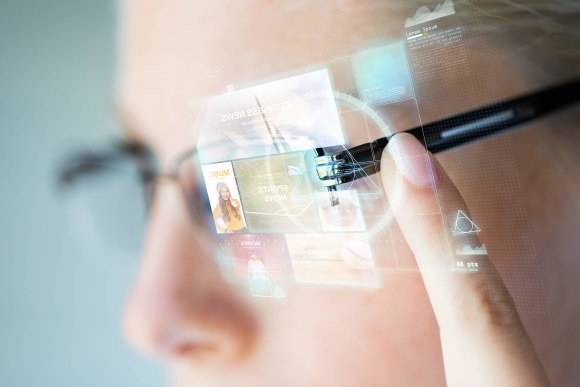 Smart Glasses May Be Where Fashion & Technology Intersect
by Joe Graceffa, on February 24th, 2017
Would you be surprised to learn that sales of smart glasses are estimated to reach $1.8 billion by the year 2021? A variety of wearable technology devices has been all the rage over the past five years.
Unfortunately, with the failure of Google's smart eyewear that was launched in 2012, this segment has been slower to grow than its category cousins that include fitness monitors and wearable health apparatuses. Quite simply, Google's smart glasses were dorky and uninviting.
However, many believe that by making smart glasses a fresh and bold fashion accessory, consumers may be more willing to give this unique eyewear a second look.
What ARE Smart Glasses, Anyway?
Think of smart glasses as a wearable computer, often referred to as an "augmented reality experience" or AR. Smart glasses are intended to provide notifications and content from the web. Most eyewear technology has the ability to run apps.
Smart glasses are worn like a normal pair of glasses but created to include a camera, file sharing, and telecommunications capabilities.
AR will play a central role in next-generation eyewear. It may involve everything from following driving directions clearly layered over the streets to facial recognition, creating an auto-Rolodex that makes sure you never offend acquaintances by forgetting their name. It's a little spooky, but technology experts expect the acceptance of smart glasses to become commonplace in the next ten to fifteen years.
The Players
Currently, the wearable technology of smart glasses varies in terms of the battery life, video quality, durability, and style. There is no shortage of designs to choose from, as suppliers try to make this new type of electronic communication more appealing. It's no wonder that fashion companies are getting into the wearable technology game.
• Safilo Group, the eyewear company that makes frames for high end brands such as Dior, Fendi and Hugo Boss, recently debut internet-connected spectacles that just look like regular glasses. In fact, the main selling point is that Safilo specs don't make the wearer look like a nerd. The glasses are fashionable enough for everyday use, so they appeal to a broad set of consumers.
• Italian eyewear Luxottica Group that makes Ray-Ban and Chanel frames, created smart glasses called Radar Pace under its Oakley brand. These technology marvels act as voice-activated glasses to virtually coach cyclists and runners. This is a real-time voice initiated coaching system that redefines the way athletes train, utilizing glasses that are designed with a sporty style that amateurs and professionals crave.
• Vue is taking a different approach and not engaging in AR. Rather, the focus is on the spec's trendy frame design. But there is no shortage of technology. These modern smart glasses track activity, send notifications, provide music without earbuds and have a touch interface right on the frames, all with a pleasing and hipster design. Now only available to pre-order on Kickstarter, look for these to ship in summer 2017.
• LaForge prescription eyewear can also be pre-ordered. It boasts that several attractive frame designs will offer "augmented reality eyewear with a normal look." These fashion forward frames will deliver heads-up display (HUD) that delivers notifications, music controls, fitness and possibly driving data.
• In late 2016 Snap Spectacles were introduced as camera-equipped sunglasses allowing for recording video that is sent right back and uploaded to the Snap Chat app. They sold out almost immediately.
Other future endeavors include VSP Global tech-embedded eyewear called Level that will put a fitness tracker on your face in the form of a fashion forward pair of eyeglasses.
Fashion and Function
In the meantime, while we all wait for technology to be easily acquired in the form of eyewear, you can enjoy an almost endless choice of prescription and sunglasses for men, women, and kids. So when it's time to choose a new pair of eyewear, use EyeBuyDirect coupons for the highest quality products at the lowest possible price. They offer the widest selection of great prescription eyeglasses at the most affordable prices. Before you select your style and design, be sure to pick up a coupon at PromoCodesForYou.com for even greater savings.
To Sum It Up
The wearables market is still in the early phases of expansion and currently dominated by health, wellness, and activity tracking devices. According to a recent survey, 25 percent of existing users of wearables already own more than one wearable device, and one in ten already owns four "wearables."
We are entering a fashion and business transformation where technology will move from what we carry to what we wear. This includes major changes to the eyewear space. In fact, as eyewear technology improves, people with 20/20 vision could soon find themselves buying a pair of smart glasses just to keep pace with their friends.
To date, wearables have been a secondary screen to smartphones. But don't be surprised if this smart eyewear soon replaces your smartphone entirely.