Back to Top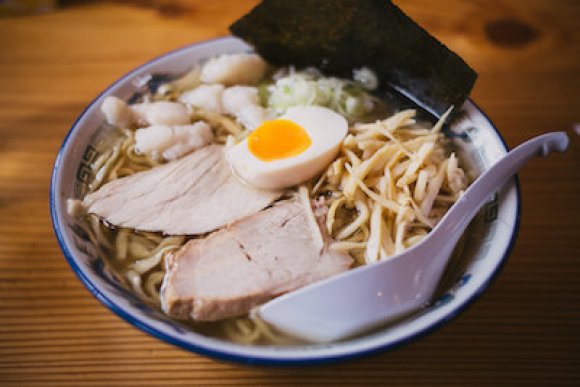 5 Comfort Foods for a Perfect Winter Meal
by Joe Graceffa, on December 30th, 2017
The term "comfort food" was added to the dictionary way back in 1977. It is defined as "food that comforts or affords solace; hence any food (frequently with high sugar or carbohydrate content) that is associated with childhood or home cooking."
From soups to stews, everyone has their favorite winter meals that deliver a feeling of contentment and nostalgia. These comforting dishes warm us up on the coldest of nights and provide a hearty meal.
Try these five favorite comfort food recipes to keep you and your family cozy, warm and satisfied this winter.
1. Meat Loaf
Meatloaf is essentially a simple dish that combines ground meat with bread crumbs, an egg or two and some ketchup. Meatloaf started out as a simple way to provide a warm food item while stretching limited resources into additional meals. It was developed as the perfect marriage of convenience and economy.
Today, meatloaf has attained iconic comfort food status. This perfectly moist and tender meal can be prepared beforehand, so all you have to do is throw it in the oven when you come home. If it isn't completely gobbled up at dinnertime, the leftovers make wonderful sandwiches for the following days.
2. Beef Stew
When it comes to chilly days and even chillier nights, there's something enormously comforting about a pot of beef stew. Not only does this great winter dish fill the home with a tantalizing aroma, but it's satisfying and full of flavor.
Beef stew doesn't have to be a major undertaking. In just 30 minutes, you can have a delicious and filling weeknight meal with just a few ingredients. Beef stew merely involves using seasonings, a tender cut of beef and vegetables.
An added benefit that's really helpful about this and other stew recipes is that they're easily freezable. This means there will be leftovers, and leftovers mean kitchen-free nights as well as easy cleanup.
3. Grilled Cheese Sandwich
Ooey and gooey, nothing says comfort like a buttery and toasty grilled cheese sandwich. Who knew that combining bread, butter, and cheese could be so irresistible? These three ingredients, when put together correctly, come together to form a dish that is truly magical.
Grilled cheese sandwiches are pure pleasure; so simple and yet so irresistibly good. Kids love them, parents love them, and grandparents love them, too!
The best versions are created with bread that is a light, crispy, and toasty on the outside with a moist and tender inside that has soaked up all of the buttery goodness while still retaining the ability to hold in all of the melted cheese. The golden-brown hue of the bread should be visible on both sides of the sandwich, creating the desire to bite in immediately.
Try any of these mouth-watering recipes with a couple of tips from some cooking experts:
• Always use real butter for an unmistakable taste
• Make sure the bread is at room temperature so it won't rip when you spread the butter
And as everyone knows, grilled cheese is best when accompanied by a steaming bowl of tomato soup.
4. Soup
When you need a bowl of something warm and satisfying, only a comfort food soup will do. Chicken noodle soup is the quintessential leader in this category. A giant bowl of this traditional soup helps on sick days, rainy days, and any other time you need a pick-me-up.
And after a chilly day outside, the warmth and thickness of a chowder will nourish an entire family. Whether it is traditional New England Clam Chowder, a basic chicken chowder or an enhanced bacon-potato corn chowder recipe, a steaming bowl of soup with homey ingredients is always a welcome sight on any dinner table.
Don't overlook your slow cooker for preparing nutritious and yummy soups. This small kitchen appliance provides a healthy method for creating liquid concoctions that are loaded with vegetables, meats, pasta, and cheeses. Try this tasty Creamy Tortellini Soup with no flour or heavy cream. A version of the always popular Chicken and Wild Rice Soup can be made this way, too.
Quite simply, no matter how they are made, soups are top-notched comfort foods because they are delicious and satisfying.
(Stock up on all your kitchen essentials at the best prices with a Sur La Table coupon!)
5. Chili
Chili warms your soul, is easy to make and is good for the whole family. This beloved comfort food is most commonly made up of tomatoes, beans, chili peppers, meat, garlic, and onions. However, there is a multitude of variations to the basic chili recipe.
As a winter meal, chili is not only affordable to make (with lots of canned ingredients) and easy to assemble (just chop, pour into the pot, and simmer), but it can also be easily customized based on personal preference (spicy or mild, meat or vegetarian, etc.). Spiked with cayenne pepper, this addictive chili recipe is for the more adventurous taste pallet. It's made with lower fat turkey and is easy to throw together on a weeknight.
The Bottom Line

Science tells that comfort food differs widely from one individual to the next and from one culture to another. But we don't need scientific research to tells us that we all crave heartwarming casseroles, soups, and stews during the colder months.
The perfect way to keep warm this season is to enjoy a good winter meal and let the comforting flavor and aroma surround you and your family. Here's to beating the winter blues with a full stomach!