Boscov's Coupons & Promo Codes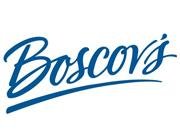 Boscov's
Coupons & Promo Codes
15 Boscov's Coupons Verified on 03/16/18
89 Used Today
TOP BOSCOV'S COUPONS
Coupon Verified 4 Days Ago
29 Used Today

Coupon Verified 4 Days Ago

OTHER BOSCOV'S COUPONS
About Boscov's
Get great deals on apparel, accessories and more with Boscov/s coupons and promo codes from PromoCodesForYou!

Boscov's is a family-owned American department store chain that operates primarily in the eastern United States. The company sells apparel and accessories, beauty products, jewelry, and home furnishings.

Boscov's was founded in 1918 when immigrant Solomon "Sol" Boscov decided to turn his traveling sales business into a brick-and-mortar location in Reading, Pennsylvania. Boscov had been selling his merchandise in Berks County, Pennsylvania to mostly Dutch residents who he could talk to in Yiddish.

In 1954, Solomon Boscov's son Albert took an active role in the company and immediately improved advertising in local newspapers as well as working on store expansion. In 1960, Albert Boscov replaced his father, founder Solomon Boscov, who retired as head of the company. Boscov's immediately began rapid expansion into the Reading suburbs in the 1960's, and by 1968, there were five stores operated by 2,200 employees bringing in over $50 million in revenue. The first store constructed outside of Reading was in Lebanon, Pennsylvania in August 1972.

The company was forced to file for Chapter 11 bankruptcy in August of 2008 after an aggressive expansion strategy unfortunately coincided with the start of the great recession. Boscov's was brought back from the brink when the families of CEO Albert Boscov and Edwin Lakin formed an investment group to buy the company for $300 million with help from the US Treasury's Capital Purchase Program.

After a few years of recovery, the company embarked on its first expansion since the outbreak of the recession with the opening of a new location in White Marsh, Maryland in October 2012. The company has been growing steadily ever since, opening four more stores between 2013 and 2016. A new Boscov's location is expected to open in Erie, Pennsylvania later this year.

Today, Boscov's has 46 locations in seven states, 5,800 employees and $1.2 billion in annual sales. It is one of the largest family-owned department store chains in the US. The Boscovs.com website is a large contributor to the chain's sales as well, and offers free shipping on orders over $99.

Sustainability and clean business practices is a priority at Boscov's. In 2012, the company recycled 13 million pounds of material, which accounted for 73% of all waste products. The company also reduced its energy consumption by over 2.6 million KWHs through the use of rooftop solar arrays, and LED lighting and Smart Technologies in store and office locations to significantly reduce energy usage. Boscov's also reduced waste production in the e-commerce department by optimizing and recycling packaging.

Boscov's stores are also very involved with their communities. Boscov's Friends Helping Friends event is a day-long fundraiser that benefits local non-profit organizations. Donors can win prizes while enjoying entertainment and refreshments in Boscov's stores during the event. Boscov's also holds various other charity events, such as food and clothing drives, bake sales, and awareness events for local causes.

Boscov's also operates a travel website that provides vacation ideas and recommendations, group travel services, and travel specialists for any of your questions or concerns. Boscov's also has specialized products and services for business travel needs.

Whether you are seeking sophisticated fashion to complete your wardrobe or spectacular furnishings for your home or office, Boscov's will not dissatisfy. You can enjoy remarkable savings at Boscov's with deals from PromoCodesForYou.com!