Back to Top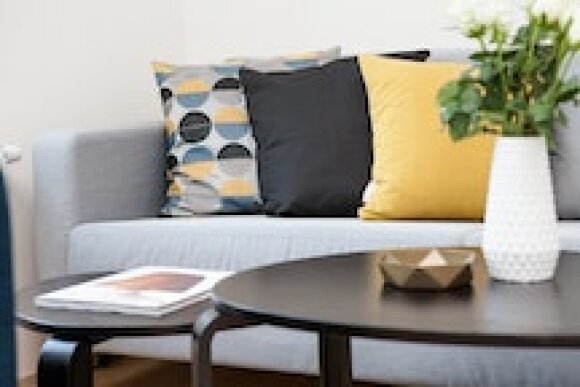 5 Tips for Finding the Best Deals on Furniture
As a renter or homeowner, furnishing a new place can quickly become an expensive investment. But getting your place set-up in the style and look you want does not have to become a hefty cost or financial burden. Use these six tips to help you get the best
by PromoCodesForYou, on April 9th, 2020
Did you just move into your first apartment? Or perhaps you and your new spouse have saved enough to buy a home. Wherever you live, you need a place to sit and sleep and eat and of course, watch television, play video games, and set-up your computer.
In other words, you'll need to purchase all sorts of stuff for the interior of your humble abode. This will include a myriad of items including wall hangings, window treatments, storage systems, and yes, furniture.
But beware! Furnishing a new place can quickly become an expensive investment.
Our homes become our sanctuary and we all want our surroundings to be comfy and cozy. So, it should come as no surprise that Americans spend over $114 billion a year on home furnishings.
Getting your place set up with furniture can be a pretty hefty cost wherever you reside. Here are six tips to help you get the best deals on furniture.
1. Set a Budget
Before you walk out the door or begin to search the internet for furniture, take a moment to decide exactly what you need and how much you can spend on your new décor. Taking this essential first step may not be the most fun, but it will allow you to find the most affordable furniture deals to stay within your financial means.
Developing a clear budget will help you avoid buying stuff just because you think they look good and it will prevent you from purchasing unnecessary and impulsive items. Understanding your spending limit will also stop you from making bad buying decisions when you're just too tired to keep shopping and you choose to buy whatever is in front of you so you can be done with the process.
2. Technology for Furniture Shopping
If you're searching and shopping online, use the amazing advanced interactive software programs to view exactly how your furniture choices will actually appear in your rooms before you buy even a single item.
For example, Ashley Homestores offers a simple way to create your dream space. You can choose from pre-designed options or customize your own layout from the comfort of your home. View all the options as three-dimensional renderings to assure you include the features that are most important to you. You will be able to have a look that reflects the exact style to match your personality.
Perhaps best of all, when you get close to finalizing your selections, you'll be able to take advantage of discounts and deals on Ashley's furniture.
But if you are a little lost and need some guidance, the talented designers at Ashley can help you. They know precisely how to create a place of serenity and calm with spectacular bedroom furniture deals.
Ashley is so confident they have the best new furniture deals that they gladly offer a Price Match Guarantee. If you find a lower price from an online retailer on an identical, in-stock product, Ashley Homestores will match it.
But they don't stop there. Customer service is a key component of Ashely Homestores' success. You can take advantage of their Premium Protection Plan in case you experience any damage to your items. Even if you require expert support to repair your furniture, Ashley is available to help.
You can shop with confidence in this leading furniture merchant regardless if you obtain products online or in-store. Just start the process on their website home page for absolutely exceptional deals on Ashley furniture and savings on shipping directly to your door.
3. Discover the Best Sales and Discounts
When your funds are a little short, you can still discover some incredible opportunities to save money on first-quality furniture pieces.
Search for closeout sales, floor sample markdowns, and end of season sales when stores are clearing out their inventory. You may be surprised at the substantial amounts of money you can save when you buy items that are discontinued or in limited supply. You'll often get the most money off with smaller goods such as end tables, bar stools, nightstands, and other accessories.
The majority of renters and homeowners are shopping for furniture basics, such as family rooms, dens, and shared space items. You may feel frustrated trying to find living room furniture deals, but don't be discouraged. Take on the challenge and consider the tremendous savings available at outlets and clearance centers.
If you are looking for the best outdoor furniture deals, the end of summer (around late August and September) may offer some of the deepest discounts. Patio furniture deals on everything from outdoor shade umbrellas to lounge chairs to dining sets, outside pillows and cushions can be found at super bargain prices at the end of summer. Buying off season will let you discover heavily discounted pieces of outdoor furniture without sacrificing comfort or quality.
4. Buying Used for Best Prices
If you want a great dining room furniture deal and are willing to have seating that may not completely match, consider thrift stores, flea markets, estate sales, or consignment stores for saving opportunities.
Used furniture usually offers decent quality for pennies on the dollar. And if you are into DIY, this may be a perfect option for you to produce a unique furniture item that is one-of-a-kind. Just be cautious and avoid items that need expensive repairs such as sagging sofas or used headboards for the bedroom.
Some people turn to Craigslist, LetGo, OfferUp, and other local websites that sell all types of stuff in your neighborhood. Although there are plenty of honest people on these apps, there is also a shady side, too. So, be careful if you decide to go down this path.
5. Check the Internet
You have a good chance of finding pretty much anything on the web. You can search for the precise item you want, narrow it down by your price range, select the color and sizes that work best and do it from the comfort of your own home.
With a little extra effort, you'll also get these items at extraordinary prices. Most of the online merchants have much lower overhead costs since they do not maintain retail stores and in-store personnel.
Online furniture sales are booming and have become commonplace, largely driven by internet-savvy millennials now furnishing their own spaces. In the United States, online furniture and homewares sales have exploded and are expected to exceed $45 million of the overall furnishings category.
Be cautious when you buy online. It's best to take a moment to confirm the dealer is legitimate and reliable with good customer reviews. Also check their website for warranties, shipping information, return policies, and applicable taxes before you buy.
Whether you decide to purchase from one of the leading internet companies such as Amazon, Wayfair, or Overstock, always take a moment to find the best coupon codes before you checkout. Promotion codes are a great way to get the best deals on furniture items, which can be costly and heavy to ship.
6. Best Deals from Well-Known Stores
Often, the tried-and-true department stores have the widest selection, most reputable guarantees, and a varied selection of furniture for every room in your home. Macy's is one of those long-established retailers that you will want to check out before you buy furniture for your living spaces, no matter how big or small.
At Macy's, you can easily find something for every room in the house at a great value. Dress up your living room with a stunning sectional sofa, or with a loveseat and couch combination for a more intimate setting arrangement.
You can create a fabulous conversation area with seating centered around a coffee table or ottoman.
And since everyone in the family gathers together to watch TV, Macy's offers a wide-range of couches and entertainment centers with media storage consoles that neatly tuck all the electronics out of eyeshot.
Choose one of Macy's extraordinary china cabinets for your dining room to display your dinnerware. And when it's time to serve dinner, a great buffet, sideboard or credenza comes in handy.
If you are adding a baby to your family and need all the essentials, but want the décor to be special, check out Macy's furniture deals for kids. There are wonderful and creative ways to personalize an infant's room at a great price with nursery furniture deals. Baby furniture will make the space for your new precious bundle a peaceful and exciting place to grow.
Working remotely is a growing practice. If you have this option as part of your job, you will want to set up an efficient area to work from home. Macy's will help you configure an ideal workspace that will inspire you to be productive. When it comes to home office furniture deals, you can find handsome bookshelves, and modern file cabinets to organize the endless amount of papers. You can also choose from a stylish computer desk with a comfortable chair to match.
Macy's seems to have something to satisfy every space and every taste with their affordable furniture deals.
Time to Shop for Deals on Furniture
Decorating your home should be a fun and enjoyable experience. But too often, furnishing an entire new residence or even just one room can quickly become overwhelming and confusing. There seem to be endless options and the costs can pile up.
Just remember that regardless if you are hunting for new high-end pieces or you prefer antique and vintage furniture and decor, there are great values to be had when you shop. Use these tips to help you find the exact items you need to create the home of your dreams without breaking the bank.