Back to Top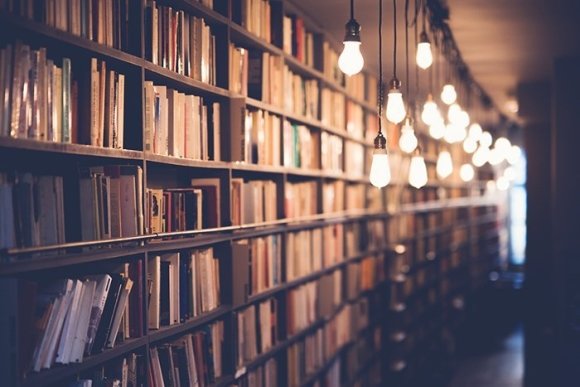 6 Books That Should Top Your Winter Reading List
Seeking respite from winter monotony? Grab a book! We've put together a winter reading list that is sure to buck the boredom. From thrillers to true-life stories of leadership, these are the page turners that should top your winter reading list.
by Joe Graceffa, on January 26th, 2018
Reading allows you to take a quiet breather from the crazy chaos of the day.
Due to the change in weather conditions that make us want to hibernate inside our homes, many people agree that winter reading is the best. It is simply the optimal activity to engage in on a cozy quiet night by the fire with a mug of steaming hot chocolate, or an "adult" beverage.
A book is a welcome guest in any home, and is especially appreciated during the house-bound rainy and snowy days of this season. Best of all, books of every genre, age group and category are available online at Walmart. Your favorite reading can be at your door in just a couple of days.
(Stock up on all kinds of bestsellers with a Walmart coupon!)
Benefits of Reading
As Dr. Seuss once wrote, "The more that you read, the more things you will know. The more that you learn, the more places you'll go."
Studies show that reading naturally triggers complex visualizations and promotes imagination. Getting lost in a great book is a highly immersive experience that makes our brains come alive.
Children's books expose kids to 50 percent more words than television. Exposure to all that new vocabulary leads to both higher scores on reading tests, and also higher scores on general tests of intelligence. Plus, stronger early reading skills may mean higher intelligence later in life.
Adults benefit from reading as well! With age comes a decline in memory and brain function, but regular reading may help slow the process, keeping minds sharper longer, according to research.
Choosing the Best
But what should you read this winter to entice this important behavior and make reading a regular habit?
Many people have favorite authors and will flock to download or pick up their current book as soon it is released.
Some prefer the light-heartedness of summer love that is fleeting, spontaneous, full of passion and excitement.
Others rely on "top 10 lists" from experts and websites, while some rely on reviews of their peers.
To help focus the selection process and assist you in identifying the most appealing books, we offer the following manuscripts for your consideration.
John Grisham's name has become synonymous with the modern legal thriller. This exceptional author's newest page-turner introduces you to Mark, Todd, and Zola. They came to law school to change the world and to make it a better place. But now, as third-year students, these close friends realize they have been duped. So, pull up a stool, grab a cold one, and get ready to spend some time at The Rooster Bar. Don't be surprised if just like many of his other suspenseful novels, that this John Grisham cliffhanger story becomes adapted for the big screen.
This novel from best-selling author Sue Monk Kidd even made the prestigious Oprah's Book Club list. It tells the story of two unforgettable American women and their journey of hope, daring, the quest for freedom, and the desire to have a voice in the world.
An intimate story of a New York neurologist and the three women who change his life is one of the winter seasons upcoming new novels. It focuses on a heart-rending love tale that spans the globe, and delivers a suspenseful drama on the edge of the mystery of life and death. One Station Away is a profoundly moving story of memory, identity, and misconnection, and presents a novel of haunting power and lasting insight.
Bestselling author of more than 213 romance novels, the always popular Nora Roberts has authored a stunning new story that begins on New Year's Eve. It is described as an epic of hope and horror, chaos and magic, and a journey that will unite a desperate group of people to fight the battle of their lives. Like all her books, this one is certainly expected to be a story with twists and turns that cannot be put down until you reach the end.
If you prefer to read about true-life stories and have an interest in leadership and business, consider this unique perspective book on life.
After the unexpected passing of her beloved husband, Facebook COO and bestselling author of Lean In, Sheryl Sandberg, feared that she and her children would never find joy again. This book reveals how Sandberg, and many others who have overcome a wide range of profound hardships, triumphed over tragedy. It reminds us that if we lean into the numerous lessons it has on offer, there is joy to be found in our lives.
So many of us will be able to relate to the stories in this book when it is available early next year. Melissa Dahl has experienced countless awkward situations. In a soon to be published, easy-to-read book, she now she offers a thoughtful, original take on what it really means to feel uneasy. She invites you to follow her into all sorts of mortifying moments, and even argues that they give us opportunities to grow and be memorable.
Get Started
So, grab a quiet moment for yourself just for the pure pleasure of it. One study showed that reading may reduce stress by as much as 68 percent.
Find a comfy reading nook and gather up piles of fuzzy blankets. Escape the cold, rain and snow, and snuggle up with a good book. Take a moment to enjoy the season with any, or all, of these winter reading recommendations available now at Walmart.