Back to Top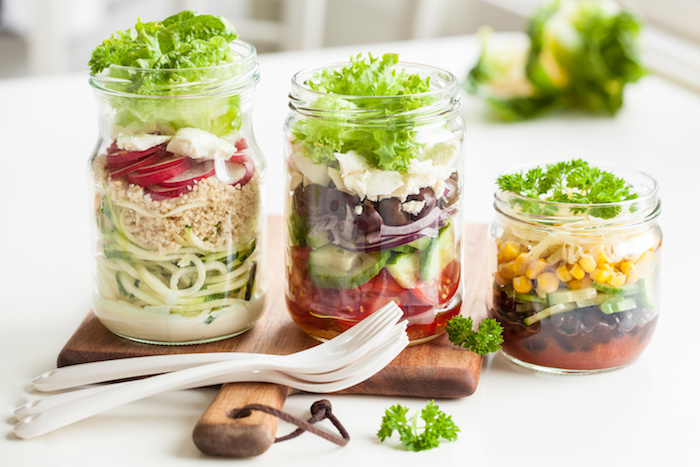 6 No-Cook Meals for Hot Summer Days
Stay cool on hot summer days with no-cook meal ideas from PromoCodesForYou.com. Get the appliances you need with coupons from Sur La Table and Kohl's!
by Joe Graceffa, on August 28th, 2017
Summer means long days filled with outdoor activities and impromptu weekend gatherings. So when the temperature rises, keep the cooking time to a minimum and the kitchen cool without using the oven, stove or even the grill with these favorite no-cook meals and summer recipes.
Step Away from the Stove!
1. Salad in a Glass
Just about any salad can be assembled in the morning before taking off to your picnic, tailgate, or beach party. The idea is pretty simple: layer various ingredients like greens, veggies, rice, and cheese.
First, pour in a small layer of salad dressing…then get ready to add multiple layers of goodness!
An important tip is to put the crisp ingredients (such as cucumbers, red onion, asparagus, celery, peppers, carrots) into the jar first. This level of components will "protect" the other ingredients from getting soggy in the dressing.
Then add the fixings. Little things like shaved nuts, raisins, cheeses even rice, croutons or pasta. These are the ingredients that you want to stay dry until just before you eat it.
Add all the leafy greens last.
It's a great no-cook meal idea because everyone has their own serving. We love the use of wide-mouth Mason jars for these salads, although any style will do.
2. Gazpacho
Soup is not just for cold winter nights. Gazpacho is a cold tomato soup originating in Spain and makes for a perfectly refreshing summer meal. This "liquid salad" is packed full of flavor and nutrients. It starts with six main ingredients, namely tomatoes, olive oil, cucumbers, red bell peppers, onions, and garlic, but you can make modifications and additions to please your palate. Make it in the blender for extra ease. Served chilled, this slightly spicy soup is ideal for a starter or a full meal in itself.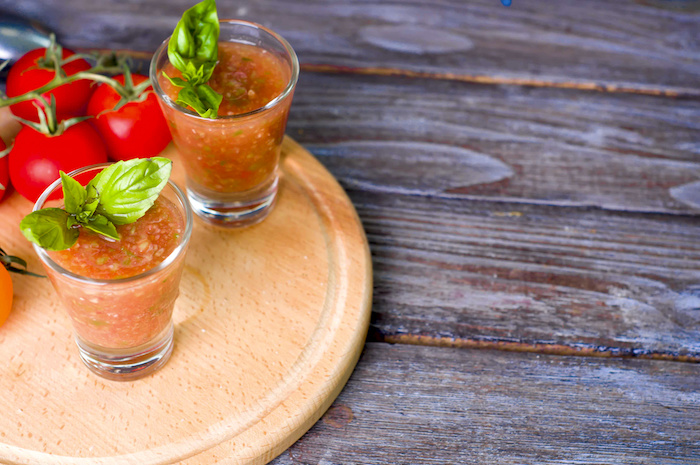 [Use Sur La Table coupons and save on the perfect blender to make Gazpacho]
3.Sandwiches: Pita Hummus Pouch
Pita is the perfect bread for a quick and simple lunch or light dinner. Start with your favorite flavor of hummus. Your local grocery store has flavors ranging from classic hummus to edamame hummus and garlic versions. The hummus gives your pita sandwich a smoothness and creaminess and adds loads of flavor.
Then stuff it with an endless array of veggies from cucumbers to green peppers, mushrooms, olives, shredded carrots and more. Add in sliced chicken or turkey breast from the deli for extra protein and you have a complete meal without having to warm or cook anything.
4. Caesar Salad
Transform this classic starter into a quick and filling no-cook meal. If you're in a hurry, pick up a bagged Caesar salad kit from the grocery store. These kits are packed with lettuce, dressing, croutons, and cheese to help you put together the perfect salad without the hassle. Add protein with pre-cooked chicken strips, or toss in chunks of rotisserie chicken that you purchased fully cooked from the grocery store. It absolutely does not get easier than this!
5. Zoodles With Almond Parsley Pesto
Yes, we said zoodles, not noodles. Zoodles are veggies "spiralized" into long strands, perfect as a replacement for spaghetti and much lighter fare for summer. Zoodles replace high-calorie, low-nutrition carbohydrate items on your plate. They can easily be combined with the same flavors you use in your pasta dishes such as tomato sauces or Alfredo.
[Pick up a spiralizer and save with our Kohl's coupons!]
For this version, wash and spiralize zucchini into a large bowl. Make a pesto sauce by placing almonds, parsley, olive oil, green onions, and salt and pepper into a food processor and pulse until it has the consistency of paste. Then massage the pesto spread into zoodles. Finish with a squeeze of lemon and top with shaved parmesan.
6. Waldorf Salad
This old-school, no-cook meal was created at, and named for, the Waldorf-Astoria Hotel in New York (save big on a variety of stays with a Hotels.com coupon). It is bursting with flavor and offers a hearty texture you simply won't find in the average salad.
At its core, it is a chicken salad with the addition of sliced green apples, juicy grapes and crunchy walnuts, almonds, and celery. When you mix in shredded rotisserie chicken or use pre-cooked slices from the grocery store, you'll create a filling summer dinner without heating up the kitchen.
7. No Sweat Meals
Our increasingly warm and humid weather calls for delicious, no-fuss meals that are still healthy and full of flavor. These lazy summer days just are not made for cooking. After a long day at work and then running errands, the last thing anyone wants to do is wait for the oven to preheat or stand over a cooktop.
When the temperature is at its peak and the air conditioner is already pushing itself to the limit, there is no need to spend time slaving over the stove or heating up the oven. So say goodbye to sweating it out in the kitchen this summer with fun, delicious no-cook meals.