Back to Top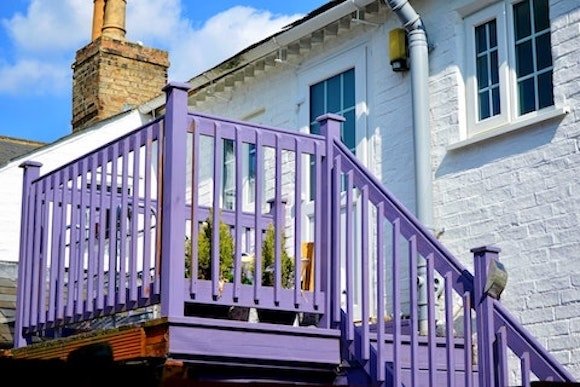 6 Ways to Use the Color of the Year for Spring Décor
by Joe Graceffa, on May 7th, 2018
It's rich, it's regal, it's ultra violet. The shade of purple (officially PANTONE 18-3838) has nabbed the honor of Color of the Year for 2018. Let this majestic shade inspire your spring décor and motivate you to give the interior of your home an update.
Unlike many other jewel tones, ultra violet has not been overused in home décor. Its' connection with some of music's most inventive artists, such as Prince and David Bowie, make it a natural choice for glamorous city dwellings. But that doesn't mean you can't use the color in a more rustic environment.
Whether you end up with a few sprigs of lilac in a jar, a pair of purple pillows, or a vintage rug with some violet threads running through it, the easiest way to start decorating with a new color is to take baby steps. It is such a lush, deeply saturated hue, that ultra violet can have a large impact even in small doses.
1. Start with A Sofa
Creating a purple focal point, like a tufted couch, is an easy way to add this color to your repertoire. But if a vibrant couch is too much for you to consider, perhaps you would be more comfortable with a statement chair. And if that is still too big of a step, simply begin with a simple throw, candles, artwork, or just a few accent pillows on top of a neutral colored sofa.
(Find the best furniture at great deals with Horchow coupon code!)
2. Under Your Feet
Consider a rich rug with ultra violet tones to ground light walls and floors in an elegant foyer. Adding a large pop of color to your entry makes an inviting impression on anyone who walks through the door.
Rooms where people do not tend to linger, such as entryways, or even hallways, mud rooms, and stairways are ideal for using visually stimulating colors in a home without feeling overwhelmed.
One of the most unique ways to incorporate violet is in a tile design. A bathroom floor can be instantly elevated with a bold tile or purple color accents in the inlay pattern.
3. Paint it Purple…in Moderation
Instead of taking the drastic step of painting your walls ultra violet, try it as an accent paint color for baseboards and trim. This works well in spaces with neutral walls. As an accent shade, this color of the year will shine without overwhelming a space.
4. Or Go Full Throttle
However, if you're ready to fully embrace the color of the year 2018, you can paint the electric shade on the walls. Small spaces tolerate this color well. A laundry room or office could benefit from an energizing and mood-boosting color makeover.
5. Climb the Walls
If you feel very adventurous, there may be a purple wallpaper pattern waiting just for you. Wallpaper designs with blue-tone purples that complement your home's existing style can easily incorporate this trend of ultra violet. Geometric patterns fit with modern and contemporary styles, stripes complement preppy decor, and florals add to feminine home designs.
Try incorporating this radiant color subtly in a or kitchen backsplash for a pop of color and a modern update. Even a few tiles scattered within a kitchen tile design can create a fun focal point.
6. Accessorize
Bring a few simple (and interchangeable) ultra violet accents into your home without going overboard. Purple vases can add vintage charm and color to a mantel without overpowering a room. Violet lamps bring new color into a space and enhance the vibrancy of a small area.
Use the Color of the Year 2018 as an excuse to bring bright purple flowers into your home. Rich purple hydrangeas add the perfect amount of color and natural texture to just about any space. Irises and orchids are also great options for bringing ultra violet indoors and will not require a long-term commitment to the hue.
(Decorate your home for a great deal with Home Decorators Collection coupon code!)
Time to Get Started
Fueled by growing consumer interest in home décor, the category is expected to reach $664.0 billion by 2020. Furniture, textiles, and floor covering products will be the key components. It is no wonder, then, that the Pantone's selection of the color of the year is an important marker in spring decorating.
Ultra violet is a bold choice that can bring confidence and originality to any room when styled correctly. Let it encourage your imagination and help you feel driven to update your home's interior. Just remember, in a few months there will be a new color of the year introduced.