Back to Top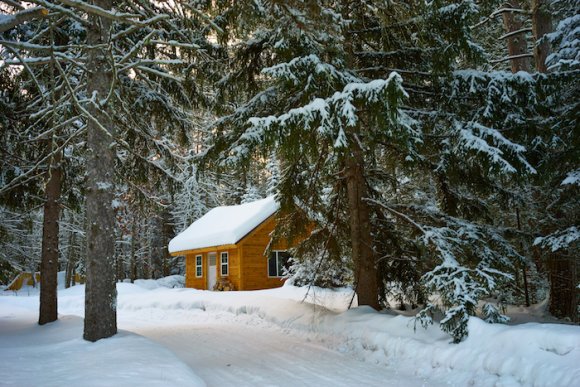 7 Fabulous Ways to Save on Winter Vacation Destinations
by Joe Graceffa, on December 30th, 2017
The holidays might be winding down, but that doesn't mean you have to stay home this winter. Data reveals that the US travelers take an average of 4.7 leisure trips annually.
So, if you need a break from the chaos of Christmas and Chanukah, or you are craving a bit of solitude from the intense hustle and bustle of family gatherings, there are many fabulous winter vacation destinations that won't break your budget.
Simple Ways to Save
It can be easier than you think to manage expenses on a seasonal trip. Enjoy these seven sensational ways to save on a big adventure or a tranquil retreat this winter.
1. Be Flexible
When planning a vacation, flexibility equals savings.
For example, if you can travel mid-week or during "off-peak" times, you can save a remarkable amount of cash and keep more dollars in your wallet.
The price of flights varies considerably depending on the month, day and even time of travel.
If you're unable to be flexible with your dates, then perhaps you can be flexible with your location. And that includes your airport location… changing your airport and exploring other hubs can save you hundreds of dollars.
Spontaneity and flexibility is a great way to take advantage of the best travel deals available. Simply let the deal be your inspiration.
2. Package It!
Whether you're searching for a ski or snowboard getaway or a sunny escape, consider package deals. Most promote room and airfare discounts when booked together.
Many resorts and booking websites offer stay-and-play package deals that combine lodging and discounts that can be a valuable money-saving prospect for travelers. When evaluating different packages, look for ones that offer unique value-added options, like spa treatments, free lift tickets, kids-stay-free deals. And don't be afraid to ask for more amenities. If you don't ask, you'll never know what is possible.
Companies like Travelocity will use their superpowers of negotiation to offer "one-stop shopping" by putting together your flights and accommodations together at great discounts. These types of deals may even include free nights or discounts on food and drinks.
(No matter the package you pick, book at the best price with a Travelocity coupon!)
3. Reasonable Rentals
Change the way you stay. Why spend money on a room in a hotel when you can have the whole house?
No matter what your winter vacation destination, with these types of vacation rentals you'll usually pay less on a per-person basis, plus have more room and a kitchen at your disposal.
And if you're traveling to a location with a variety of sights in close proximity you can choose a rental in a central location, and take day trips to other places you want to visit without having to move your lodging location.
4. Comfy Accommodations
Bed and Breakfast lodging options offer a feeling of family, comfort, charm, and relaxation and an ideal way to spend your vacation. You'll likely save money since breakfast is a part of your booking and most offer hearty, homemade meals that are superior to any at a hotel.
Most B&B also deliver a personal and superior level of customer service since they usually owned by individuals, who take a more hands-on approach to managing their properties.
5. Social Media
Following airlines, hotel chains, booking sites, and rental-car companies on Twitter, Instagram, and Pinterest can snag you some great and limited time deals. "Liking" these types of companies on Facebook will plug you into special rates and discounts.
These pages often have money-saving giveaways and promotions that are absolutely worth checking out.
Social media is also a prime source to check the status of your flight or any other details you may need about your winter vacation destination.
6. Meal Money Management
The cost of feeding a vacationing family up to three meals a day (plus drinks as well) can strike fear into any traveler. But fear not! When booking your accommodations, ask about features such as complimentary breakfasts and happy hour events.
The majority of vacation rental properties provide a kitchen that will allow you to cook some of your own meals. You can also search for a resort room that has a small kitchenette for added convenience.
Even if your hotel doesn't offer kitchenettes, ask for a room with a microwave and refrigerator. Bringing your own nonperishable snacks and drinks can offer significant savings and help avoid the astronomical costs of those treats in a hotel mini frig.
7. Location, Location, Location
Where you travel affects the cost of your vacation. For example, when searching for a warm weather locale in the cold of winter, consider Mexico where the U.S. dollar still goes a long way. If you decide that trendy South Beach in Florida is your preferred destination, stay a few blocks inland, and the hotel rates will be dramatically less.
Consider locations closer to home for a cost-effective vacation. Most people are so intent on making their time off extra special that they often immediately think of getting on a plane. And transportation costs, especially airfare, often make up the biggest portion of vacation budgets.
Instead, think about unique experiences available within driving distance that match your interests (like skiing, hiking, or even spas). This mindset will surely save you money and there are likely wonderful resorts in close by that will save you the cost of flights.
Expedia dedicates an entire section of their online booking site to winter vacation destinations. Check out their great deals, but only after getting extra discounts from PromoCodesforYou.com.
(Be sure to save on all your travel expenses with an Expedia coupon code!)
Remember: Be Resourceful
If you dread the planning phase of a vacation, Hotels.com can help. Once you determine your vacation spot, this leading online accommodation website offers detailed information on specific cities. Hotels.com has outstanding suggestions on what to see and do in the city, family fun activities, travel tips and so much more!
For many, dropping temperatures and shorter days mean one thing…it is time to take a break. Use these tips and quality online travel websites to choose your ultimate winter vacation destination at affordable prices.