Back to Top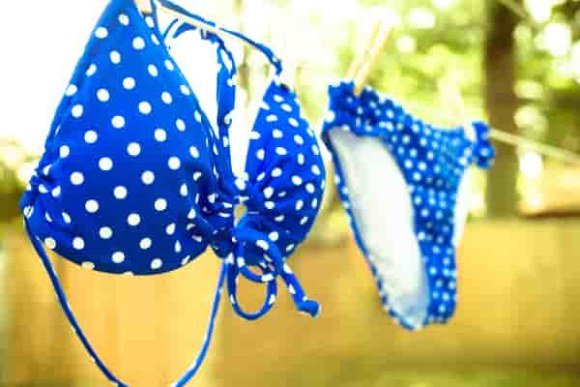 8 Simple Strategies for Saving on Bathing Suits
Try these money saving tips that work for both women and men when shopping for a bathing suit!
Whether you choose a bikini or tankini, women in the United States have an average of four, two-piece style swimsuits in their closet. But finding the perfect bathing suit at an affordable price is more difficult than locating that infamous needle in a haystack. Try these money saving tips that work for both women and men when shopping for that illusive and well-priced bathing costume.
1. Choose Classics
A spaghetti strapped bikini may be all the rage right now, but it will likely be out of style by next season. So when you shop, skip bold prints or trendy styles. Instead, buy classic swimsuits with solid colors and simple designs that have a contemporary and modern appeal.
Timeless one-piece bathing suits for women are actually growing in popularity. Female consumers spent nearly $38 million on one-pieces in the 2015 season. Online sales for guys were split down the middle with 48% choosing swim trunks and 42% opting for board shorts.
You can save on purchasing bathing suits by finding classic styles that accentuate your most positive attributes and will be relevant for more than one season. Don't be worried about missing out on trends. Everyone wants their swimming attire to last far longer than just a few weeks.

2. Choose Quality
Spend a little bit more on your swimwear and buy a superior product from a reliable manufacturer. The quality fabrics will hold up years longer than something that is cheaply made. The cliché of "quality over quantity" applies to buying swimsuits just as much as other clothing items.
3. Shop Out of Season
Shopping postseason sales and clearance racks is a great way to build up your summer wardrobe on a budget. Historically, May is the biggest month for online sales of swimwear and that is likely when you'll incur the highest prices. But if you purchase your swimsuits in late August, you could save a bundle. You'll still be able to wear your board shorts or tankini right away since August and September are warm weather months with rising temperatures and pool parties.

4. Buy in Pieces
If your favorite bathing suit style is a bikini, tankini or other two-piece outfit, consider purchasing just a new pair of bottoms or a fashionable new top. Many retailers offer separates in both solids and patterns. Choosing just a new pair of bottoms can help you save money. This strategy is especially helpful if part of your suit is still in good shape and you only need to replace a top or bottom.

5. Shop Sales
If you didn't have a chance to shop before or after the summer season and you need a bathing suit right now, check out the sale rack or clearance section online. It is entirely possible that your favorite brick and mortar or internet retailer is having a sale during the summer. You may be able to score a great deal on a swimsuit instantly, simply because the retailer has an oversupply.

6. Coupon and Discount Codes
If you are shopping online, be sure that before you check out you search for coupon codes. You will likely find savings on shipping as well as dollar discounts. Also sign-up for the retailers' email program that usually pops up on your screen. Online merchants almost always offer money saving coupons and other incentives that will help you save on your purchases.
One more tip…Don't forget those loyalty programs. With rewards programs, you usually receive exclusive coupons, invitations to private sales and more, all year long.

7. Head to the Outlets
If you want to buy a particular bathing suit from a high-end retailer or designer, scope out an outlet store for savings. You could save 40% - 70% off the regular retail price. Plus, many outlet centers provide coupon books to save you additional money on your purchases.

8. Preserve Your Swimsuits
Once you've bought your bikini, swim trunks and board shorts, do everything you can to make these items last a little longer. A few simple steps will save you money by delaying their replacement.
• Whether you were on the beach or at a swimming pool, immediately rinse your suit to remove as much chlorine or salt spray as possible
• All the experts recommend hand washing your bathing suits in cold water
• Let your suit drip-dry by laying it flat on a towel. Do not put your swimsuit in the dryer since the heat weakens the elasticity of the spandex
• Remember that drying your bathing suit in the sun may cause fading
• Avoid sitting on rough surfaces while wearing a swimsuit. The concrete beside the pool or wood from the lounge chairs may snag the swimsuit material. Do your best to lay down a towel before you plop down

Finding bathing suits that you love is not always a simple process whether you're a guy or a gal, young or old. So when you do find that wonderful bathing suit, consider buying more than one, especially if the price is right. Follow these shopping strategies and you might just find the price to be too good to pass up for your summertime wardrobe.