Back to Top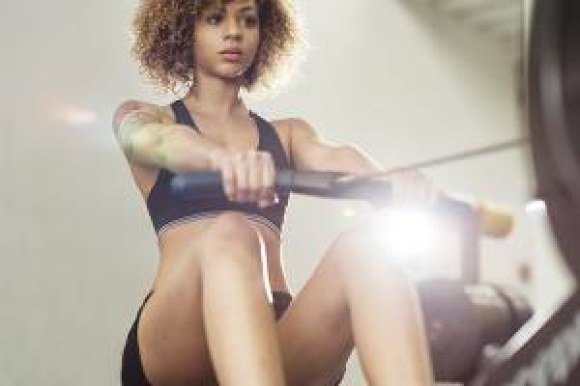 8 Tips For Your Gym Workout
Click here for tips on getting ready for the gym.
Getting in shape and taking the time to condition your body with fitness exercises is extremely important to your health and well-being. Joining a gym is a fantastic way to achieve the fitness levels you want. Naturally, when you first begin working out at a gym, the idea may seem incredibly daunting. Don't worry and don't let it stop you. Soon enough you will be working out at the gym like one of superstars featured on the Nike.com website.
Gym memberships are popular and provide a central location to get your workout. In 2014, U.S. fitness centers had a total membership of over 54 million. Many of these "gym rats" choose 24 Hour Fitness. 24 Hour Fitness is a premier gym and one of the leading health club industry pioneers. It is a gym that is so respected that nearly four million members in more than 400 clubs across the United States use their facilities. Fifty percent of gym members surveyed said that they stayed with their current gym based on the convenience of its location, so it is no wonder that 24 Hour Fitness is a leader in gym and fitness clubs.
24HourFitness is dedicated to helping members change their lives and get to where they want to be. With convenient gym locations, hundreds of personal trainers, group fitness classes, and a variety of cardio, strength and functional training equipment, 24 Hour Fitness is a gym for everyone. You can find nutritional products, apparel and fitness tools in the 24 Hour Fitness shop at 24hourfitness.com.
Tempted to join this full-service gym? You can save even more by using 24hourfitness coupons for 24hourfitness.com from PromoCodesForYou.com!
Get Ready, Get Set, Go
The global fitness and health club industry generates more than 75 billion U.S. dollars in revenue so it is likely you are, or will be, in a gym sometime in your lifetime. Here are a few tips to make your gym experience productive, inspiring, motivating and fun:
1. Know the peak times. If you don't like waiting in line to use a machine (or if you're self-conscious), you will definitely want to make sure to ask the gym staff when the peak hours are and when the fitness classes are most jam-packed. This will allow you to enjoy your visit to the gym. One of the most used excuses people have for simply not going into the gym is it was too crowded.
2. Get a workout buddy. If you're new to gyms, it may be difficult to get motivated. You can also find yourself not wanting to go return to the gym because your fitness workout caused muscle soreness. Having a friend makes it more fun. You can also hold each other accountable which is especially great for people who are new at the gym or require extra motivation.
3. Hydrate. Every athlete, trainer or weekend warrior will tell you that hydration is essential to a successful gym workout routine. Water is essential for optimal physical performance and overall functioning. Always make sure you are properly hydrated prior and during your workout to avoid dehydration, muscle cramps and exhaustion.
4. Bring a towel. Some gyms offer towel service, but most don't. Call ahead and ask if you're not sure or just bring your own anyway.
5. Limit your cardio time. If the gym is packed, you should only stay on a cardio machine for 25 minutes out of courtesy for your fellow members. You can do your workout and finish up with cardio if you want to do more. It's only fair to allow everyone a turn.
6. No cell phones. Leave your phone at home or in the car. If you use your phone to listen to music, don't answer calls. If you must take the call, go to the locker room. It's rude to disturb other gym goers with your conversations or to chitchat on a machine when others could be using it.
7. Wipe down machines. Let's be honest, you go to the gym to sweat. Just don't leave it on the equipment. So wipe down the gym equipment and free weights when you're done using them.
8. Dress for a workout, not a fashion show. When you go to the gym, it's important to wear clothes that are breathable and flexible. The shoes you wear will depend upon the sort of exercises that you're doing. If you plan to do any cardio, then bring shoes that will offer plenty of protection for your feet and legs.
When choosing your gym shoes, try them out first. Run in place, run up and down stairs and pretend to jump. Keep the shoes on for at least an hour to determine if they are too tight and cut off your circulation or if they are too loose and will cause blisters.
One of the greatest selections of athletic clothing and gym shoes is available at Nike.com. Nike is the trailblazer in athletic gear and footwear, apparel and accessories for the gym. They must be doing something right as Nike's global revenue amounted to 27.8 billion U.S. dollars in 2014.
The company takes its name from Nike, the Greek goddess of victory and this global company is committed to providing state-of-the-art athletic gear to help each individual succeed in their fitness goals. Nike has grown into a world-class research facility unequalled in the sporting goods industry and their highly recognized "swoosh" trademark is recognized all over the planet.
Now that you are armed with some tips for the gym, head on over to your local 24 Hour Fitness. For over 30 years, 24 Hour Fitness has provided convenient gym locations and outstanding facilities to meet your fitness goals. And before your next workout, assure you have comfortable apparel and footwear from Nike.com, and be sure to use a Nike coupon from PromoCodesForYou.com to help you save and meet your gym exercise program requirements. Just do it.
_______________
1. http://www.statista.com/statistics/236123/us-fitness-center--health-club-memberships/
2. www.24hourfitness.com/company/about_us/
3. www.creditdonkey.com/gym-membership-statistics.html
4. www.statista.com/statistics/275035/global-market-size-of-the-health-club-industry/
5. http://www.statista.com/statistics/241683/nikes-sales-worldwide-since-2004/