Back to Top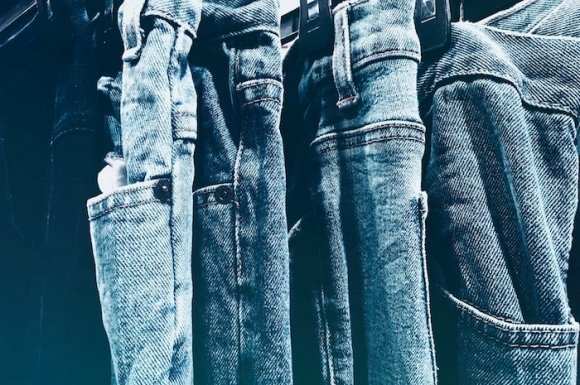 9 Super Styles for Spring
by Joe Graceffa, on March 18th, 2018
Spring 2018 fashion trends are upbeat, cheerful and really quite beautiful. They leave any bleakness and dreariness of winter behind and bring back cheerful looks.
Get noticed in all the right ways with these nine spring styles.
1. Loving Lavender
Whether it soft violet, pink, lemon or soft blue, expect to see an array of pastel in fashion this Spring. Make no mistake about it, these lighter hues will show that delicacy can be strong.
The 2018 Pantone color of the year is designated as violet. No wonder all enchanting tones of soft lavender will be found on everything from sequined dresses to oversized knits and sharp suit sets. Every skin tone can find a shade of violet to complement their look this Spring.
2. Dark Denim
Denim will forever be a big part of our wardrobes, and that's not changing in 2018. In fact, US denim sales estimated to be over $100 billion annually.
While last year's jeans were all about paler, vintage washes, for 2018 the focus in on darker washes. This season, slimming, dark wash denim will reign supreme in every form from jackets to jeans, skirts, and suiting separates.
This deeper shade is ideal for casual days at the office while maintaining a professional appearance at work. Dark blue jeans are simply dressier than faded blue. Since they are closer to a black pant than a casual trouser, they can help to make your outfit look instantly polished. Plus, a dark wash jean can act as a neutral in your wardrobe, making it easy to pair with just about any color top.
And although denim is a constant in our wardrobes, it is subject to industry trends. Look for exposed stitching, making for a bold design that feels fresh and cool.
A few more denim trends to be aware of:
• Baggy jeans will begin to replace the skinny design
• Cropped length jeans will remain a spring staple
• High waisted fitting jeans that sit above the natural waistline will gain popularity
Lucky Brand jeans and apparel stays true to the rich heritage and authentic, all-American spirit of denim. But before you shop at Lucky Brand, grab your coupon code from PromoCodesForYou.com for extra savings.
(Stock up with Lucky Brand coupons!)
3. Go Boldly
Art-infused prints will come to life on this season's standout jackets and dresses. Scribbles, splatters, writings, and beyond, make clothes appear more artsy.
And this season's florals will be bigger and bolder than ever to breathe fresh air into your wardrobe. Flower prints make for a playful dress or two-piece set this season.
Perhaps the print you'll be most taken by this Spring will be plaid. Emerging as the standout print of the season, there will be plaid for every taste, whether you gravitate towards classic tartan or tiny gingham-inspired checks. Its popularity should come as no surprise since plaid is timeless, no matter what color or shape it comes in.
4. The Trending Trench
You know the saying…April showers bring May flowers. So, a simple way to stay dry is the trench. With feathers, ruching, ruffles and sheer fabrics, the classic trench coat will be reimagined in endless new ways to try for the season.
5. Fringe Benefits
Fringe will be swinging from dresses, tops, boots, handbags, and accessories this spring. This boho-chic trend gets festive and futuristic, rendered in tinsel and other stringy metallic materials for a fancier appearance. Whether leather, silk, or beaded, expect skirts and tops to be as "fringey" as can be this Spring.
Fringe and its close cousin the tassel, will become more playful and over-the-top than ever. When stitched onto the bottom of a shirt or dress, fringe moves when you move, and it dips when you dip. Fun, fun, fun.
(Get the best deals with a Boston Store promo code!)
6. The Sleeve Scene
At this point, your wardrobe is well-acquainted with the "cold shoulder" trend from the season past. Now, the trend appears in a new, over-the-top iteration. The latest designs are all about volume, flare, and adornment.
And to continue this popular style, apparel with the cold shoulder trend has evolved for spring with geometric cutouts to offer a new way to show off the skin in a flirty way.
7. Showing Some Leg
Short shorts, aka Daisy Dukes, go back in your closet and the longer bike short is back, as is the classic, preppy short in 2018. The thigh-hugging bottoms of bike shorts should encourage a few more squats in the gym. No matter which style you plan to wear come spring, it is worth getting those work-outs in now so you can bear your toned gams.
8. Restrained Bling
Subtler ways of mixing sparkle into everyday silhouettes will make 2018 spring style trends extremely wearable as the weather turns warm. Look for shimmer on everything from tanks to flowing trousers. They shine even better in the sunshine, so you'll want to wear them by day.
9. Branded
Logomania is back. Whether it's an Oscar de la Renta signature scribbled-on shirt dresses or athleisure wear from Nike, the trend continues for wearing the designer's logo on your sleeve. Or your legs. Or wherever.
Athleisure featuring logos from every athletic manufacturer isn't a passing trend, it's the new norm. Growing in popularity, the gear gets a high-fashion makeover, making your next gym session more enticing than ever.
You can be assured that the men haven't been left behind in the athleisure movement. They also get to be comfortable all day long while looking stylish. This style movement combines sportswear with ready-to-wear. Perfect for the modern guy whose busy lifestyle demands that he is always on the go while looking completely in fashion, athleisure combines practicality and functionality. After all, who can resist the effortless and cool vibes that radiate from a bomber jacket or lightweight casual cotton pair of pants to rock the athleisure trend?
(Get the best deals on the latest styles for spring with a Quicksilver coupon!)
These key looks for the upcoming Spring season are truly inspiring and will have you exploring the internet for the best deals on acquiring these fashionable spring styles. Let PromoCodesForYou.com save you money and time and help you create your best look for Spring!