Back to Top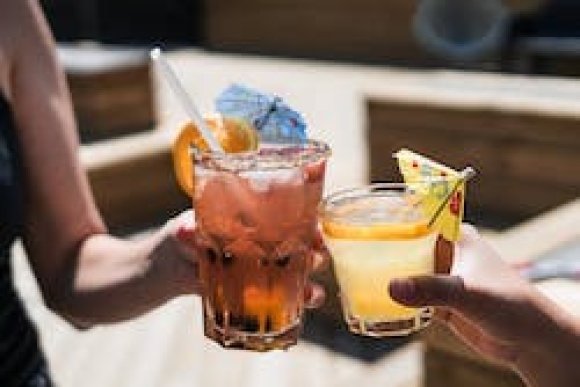 9 Tips for Planning Your Ultimate Outdoor Party
Planning the ultimate outdoor party? We've got good advice on what to serve, how to seat, and more. Plus some coupon codes, if that's your thing.
by Joe Graceffa, on July 16th, 2018
9 Nifty Tips for Planning Your Ultimate Outdoor Party
Sunny, long summer days go hand-in-hand with entertaining. But no one wants their party to be just ho-hum. To create a memorable experience with extraordinary food, impressive décor, and unforgettable drinks and desserts, use these outdoor party tips to plan your ultimate gathering:
1. Have a Seat. In order for guests to be comfortable, assure there is enough practical seating throughout the area.
Set up several seating zones around your yard and be sure there is some shaded area. While some people will prefer to stand, patio seating and outdoor chairs are very important since outdoor parties can become marathon events.
It is a smart idea to include a table or stand near every seating niches for people to rest their food and drinks. Your guests will appreciate not having to balance their plates, drinks, and utensils while they mingle.
(Grab everything you need with a Home Decorators Collection coupon code)
2. What to Eat. The menu always sets the tone for the party. Start with "weatherproof" nibbles (items that are not susceptible to heat) such as almonds and pretzels. These snacks can stay around from the beginning to the end of the festivities.
Of course, no outdoor party planning would be complete without turning on the grill. An estimated 75% of adults own a grill or smoker and 63% use it all year around. In fact, retail sales of grills amounted to about 2.31 billion U.S. dollars (2013 - 2015).
So, break out the bar-b-que and dish up your menu's centerpiece. Present it with plenty of salads and side dishes. A platter of incredible grilled burgers or hot dogs is always a hit. Steaks will elevate the event when the guest list is small, if it's in your budget.
If you want to streamline the meal and assure you can enjoy your friends and family without being tied to the grill, consider setting up a food bar. This will not only take the pressure off serving, it also creates a fun way for guests to create their own meals. Here are a few simple ideas:
• Taco Bar: Offer grilled shrimp, chicken and meat on a serving tray with tortillas or taco shells. Be sure to have salsa, guacamole, lettuce, shredded cheese, and chopped tomatoes that can be prepared in advance.
• Burger Bar: Organize the beef, turkey, or veggie patties on a plate from rare to well done so everyone gets their choice. Include lettuce leaves, sliced tomatoes, sliced onions, pickles, and condiments on the side.
• Grilled Pizza Bar: Buy premade crusts and provide a variety of options for toppings slew of toppings sausage, herbs, fresh tomato, peppers, mushrooms, hot chili flakes and truffle oil. Let everyone take turns at cooking the pizza on the grill.
3. Drink up. Rather than mixing up individual cocktails behind the bar, free your hands up by embracing a classic punch or pitcher cocktail and let guests help themselves. Use a unique way to serve your punch or adult beverage by creating a keg from a fresh cantaloupe or watermelon. You will guarantee that your friends will be talking about this innovative way to serve drinks all summer long.
(Stock up on all the essentials for a successfull summer party with a Sur La Table promo code!)
4. Sweet Endings. Desserts top off every outdoor party and are best when they can be made in advance. Skewers deliver a perfect way to serve a sweet treat that is easy to handle in an outdoor setting. For example:
• Mango and pineapple on a stick scream that summer is here. They are even more refreshing when served frozen and drizzled in melted white chocolate.
• An ice cream cake can become an easy popsicle treat with this recipe.
• How about pecan pie on a stick? Yes, it's possible with this 30-minute process!
• Chocolate strawberry dessert kabobs concocted of strawberries, marshmallows, brownies, and chocolate will satisfy party goers of all ages
5. Bugs Be Gone. There's nothing worse than watching your company swat away those pesky mosquitos. It will be important to get rid of any standing water to prevent mosquitoes. Remember that all types of insects love food, so be prepared. Tiki torches and specialized citronella candles can ward away these nasty invaders.
6. Let There Be Light. When planning an outdoor party, don't forget about lighting, especially if your party is in the evening. Outdoor party lights will help you create an enjoyable atmosphere and help guests enjoy all the fun after the sun goes down. You can use lanterns, candles, or even last year's Christmas lights. Take it to the next level by featuring lights with a patriotic or tropical theme.
(Get all the party supplies you need with an Oriental Trading coupon!)
7. Mood Music. Music can liven up any party, but there are a couple things to keep in mind when making a playlist.
• Make sure the speakers aren't too loud. Guests shouldn't have to yell over the music in order to talk to each other.
• Create a playlist that lasts approximately five hours. This prevents the playlist from cycling through the same songs.
If you're not sure what music will appeal to every at the party, stick to classics like the Beatles, the Beach Boys, and Michael Jackson. These all create an upbeat vibe.
8. Tableware and Décor.
Dress up your outdoor patio table while protecting it from spills and scratches. Vinyl placements in summer shapes like banana palm leaves or plastic tablecloth rolls in an endless variety of themes make setting up for a party a cinch and create the ultimate summertime vibe.
9. Game On! Outdoor party games are a great way to encourage interaction between those attending your backyard party, even if they don't know each other. Set up yard games like darts, croquette, and cornhole, which are great for people of all ages and skill. Every backyard party benefits from celebrating with a fun limbo challenge!
Outdoor parties are a great way to relax and enjoy summer. These backyard party ideas and tips will help you to plan the ultimate summer extravaganza!