Back to Top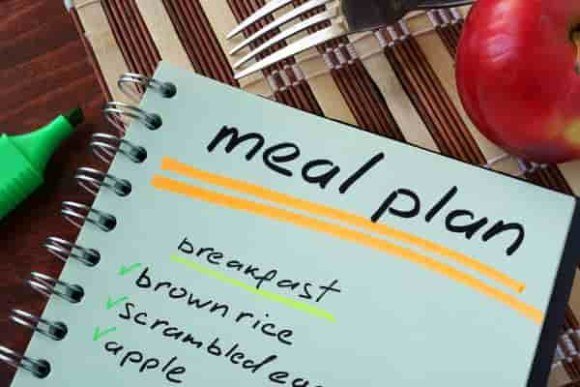 A Guide to Money-Saving Meal Planning
Menu planning is a great way to eat a balanced diet, save time and stay on a budget.
Saving money at the grocery store does not mean you have to succumb to high-fat, unhealthy foods. And cooking dinner every night does not have to become a frustrating, time-consuming process. Menu planning is a great way to eat a balanced diet, save time, stay on a budget and have some fun. It just requires a bit of planning.
1. Find Your Favorites. To get started, jot down some of your family's favorite meals. See something on the Cooking Channel you want to try? It is easy to find the recipe on a website or in a cookbook. If you're kids come home raving about dinner at a friend's house, call their mom and get the "411" on the dish. Try everything you want and if it doesn't work, take it off of your menu planning for the future. If this seems like a monumental task, just go with a theme such as Wednesday chicken dinner or Friday vegetarian dishes.
2. Already at Home. One of the best ways to save money on this week's groceries is to look back at what is leftover from last week in your cupboards. Before you make your grocery list, see where you can reuse or get more meals out of what you already have. Still have a bunch of vegetables? Pick a family friendly recipe that needs them (or something that can use all of them, like stir fry).
3. The Basics. Keep your eyes glued to discounts on staples that can be made into multiple dishes. Items such as rice are great to have on hand and can be added to the stir-fry mentioned above along with other remaining veggies and chicken.
4. Weekly Specials. Americans spend over $300 a month on groceries alone. It may seem to go without saying, but your first step is to embrace your grocery store's sale flyer. They still come in the Sunday edition of the newspaper, but if you don't get one, just visit your grocery store's web site. They'll usually have it posted there, or let you sign up to have it delivered to your inbox every week. Instead of thinking "what am I in the mood for?" think "what delicious, healthy things can I make with what's on sale this week?"
5. Buy Seasonal. Vegetables and fruits specific to the time of the year are usually less expensive. Add seasonal items like strawberries in summer and mushrooms and squash in winter to your grocery list.
6. No More Lazy Shopping. Sure, bagged salad mixes are convenient. And anything that makes it easier to eat your veggies is a good thing. But they're also expensive and can quickly go from perky to wilted to downright slimy. So try buying heads of lettuce (which often last longer in your crisper) and consider the fun idea of Mason Jar Salads.
This unique method of creating salads has become a national pastime and a great way to save money on your weekly grocery list…perfect for miscellaneous leftovers or items that are about to expire. In fact, a Mason Jar Salad is simple enough prepare with kids of any age….and they won't even notice that they're creating a jar full of healthy vegetables.
The benefit of using a mason jar, as opposed to a regular bowl or lunch container, is that the ability to layer the salad and keep ingredients separate until the salad is eaten. Then, when you're ready to eat, just dump all the ingredients into a big bowl, and toss them gently. Firmer vegetables at the bottom of the jar marinate in the dressing underneath and the lighter, more fragile ingredients sit on top.
Just follow these simple steps and remember that the secret to a perfect and tasty Mason Jar Salad is all in the order of the ingredients.

• Dressing first. This is so important so that the salad ingredients don't get soggy.
• Protein or anything else big and chunky. Stay on a healthy diet plan and use white meat chicken or turkey.
• Fun fixings. Little things like shaved nuts, raisins, cheeses and any ingredient that you want to stay "dry" until just before you eat it.
• Leafy greens last. Lettuce, cucumbers and other similar items go in last so when you turn the Mason jar over and unload it all into a bowl, the greens will make the salad bed.
Mason Jar Salads are brilliant, fun and super simple to plan.

There's an App for That
There are dozens of apps that can help you find recipes, create grocery lists, link to coupons and do just about everything but cook the food. For example, Menu Planner is an app that allows you to easily create meal plans, manage your own recipes and import new ones from popular recipe web sites. You can even keep track of what you have in your pantry and integrate it all into your grocery list.
Prepare to Plan
Meal planning is the key to saving money at the grocery store. You will soon get into the groove of putting together a grocery list. If you stick with it, the result will be creates less daily stress and have a positive impact on your health. It is absolutely possible to prepare nutritious meals and save money at the same time.