Back to Top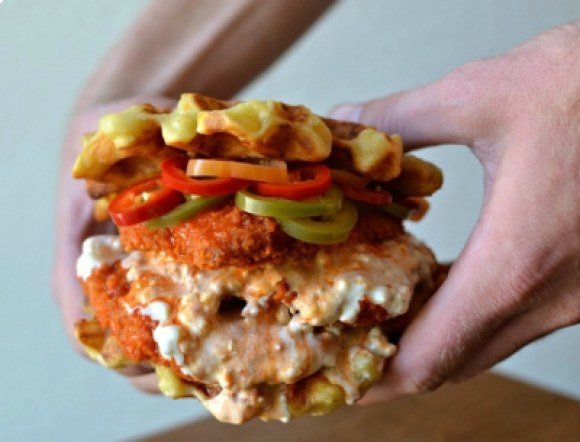 An Interview With Culinary BroDown
by Linda Lu, on August 12th, 2015
If you've never stumbled across John Scherer's food blog, Culinary Brodown, let me tell you, you're in for a treat. He boasts shocking recipes (ramnut, anyone?) and couples them with his incredible sense of wit. Setting him aside from all the other blogs, he adopts a hilariously engaging "bro" façade, which rightfully secured him a spot as a finalist for Saveur Magazine's, Best Writing Blog. We were able to chat with Josh to find out a little bit more about his blog and how he's gotten here.
Drawing inspiration from a close network of food bloggers, Josh creates his original recipes by focusing on current food trends and brainstorming with his brohicans to ultimately craft an inventive dish. An Orange County native, he tells us it was his time spent watching Rachel Ray and Bobby Flay on the Food Network that taught him how to cook. Egged on by always competing and wanting to out-innovate his brother, his natural knack for revising recipes grew.
Starting the beginning of his fourth year at UCLA, Josh found himself dissatisfied with his major, and the growing frustration prompted his need to channel his passions into something. With a love for writing and interest in food, Culinary Brodown was the clear next step. Though for a while, blogging took a backseat in his life due to his busy schedule as a freelance writer for a variety of magazines, Josh is moving on from his full time job as a writer and recommitting his time to grow Culinary Brodown.
What we appreciate most from his blog is the quick wit exhibited in each of his posts. Alongside each recipe Josh crafts an articulate piece seasoned with insightful humor. His lively personality shone through during our chat and we were impressed by how genuine his passion for food is. To test his authenticity, we asked him to play a word association game where we gave him an item of food and asked what he would choose to make out of it. Though these dishes are much too advanced for us, he responded without a hitch and effortlessly demonstrated his ease as a chef.
Ghirardelli Chocolate: Mole Poblano Chimichanga
Wine: Dark Chocolate Red Wine ganache to drizzle over vanilla ice cream
Jelly Beans: soak them in vodka for a quick treat
Mrs. Fields Cookies: Cookie Waffle by blending cookies into a homemade cookie butter batter
For anyone who wants to take a stab at making some of those dishes, check out our current promotions and deals for Ghiradelli, Wine.com, Jelly Belly, and Mrs. Fields Cookies.
We finished up our conversation by talking a little bit about some cultural inspirations. Growing up in a Vietnamese neighborhood with a Vietnamese step-mother, Josh was exposed to the tastes and flavors of South Vietnamese food. If he were given the opportunity to travel anywhere in the world for cuisine, Josh would venture into the less frequented streets of Northern Vietnam, where he would try the delicacy of "Fake Dog", a popular dish meant to mimic the flavor of the real thing. With our hard to beat offers from Hotels.com or Expedia, you too can hop on a plane and head somewhere new to test out exquisite dishes.
All in all, while we were already impressed with Culinary Brodown, we were even further impressed by his easygoing personality and captivating sense of humor. Head on over to his blog and test out some of his favorite recipes, including his Funnel Cake Burger with a Strawberry Rhubarb Ketchup!