Back to Top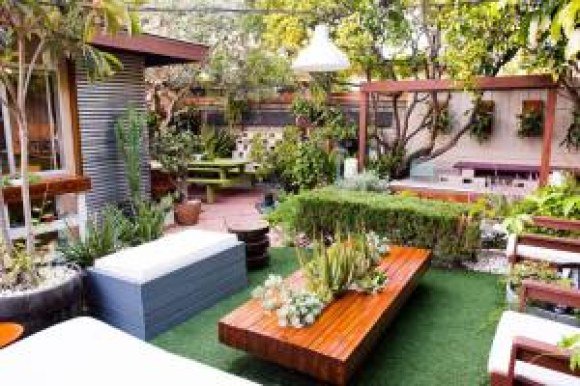 An Interview with The Horticult
by Linda Lu, on July 29th, 2015
A delicate mixture where a combination of original design, creative gardening, and cultural explorations take place, The Horticult, winner of 2015 Better Home and Garden Best Gardening Blog, is an incredible intersection where practicality and design flourish. In our chat with co-creator, Ryan Benoit, we learned a bit more about how it all began, their motivations, and what they're most proud of.
Ryan Benoit and Chantal Aida Gordan began the Horticult four years after they started their first garden in 2009 in their new rental home in sunny San Diego. With a lot of outdoor space as well as fruit trees, the pair decided to give gardening a shot. Beginning with succulent infused furniture design, their first project was a table with built in succulents. Before long, they created an astro turf area rug, and then started moving on to carnivorous plants such as fly traps. With Chantal's writing background, Ryan's interest in design and photography, and with the encouragement of their friends, they realized a good way to share their new space with others was to start blogging about it.


Very much a dual effort from the couple, the Horticult comes together after work hours. Both fully employed- Ryan an engineer, Chantal a writer- it's hard to believe this blog isn't a full time job. Incredibly well maintained and constantly updated, the blog delivers impressive content to their readers at least once a week. Their mission is to have a fresh approach to gardening and lifestyle, and when asked to describe what The Horticult stands for, Ryan called it "A kind of fresh, design driven approach to gardening where the container you grow your plant in is as important as the plant itself".
What most impressed us, however, was the fact that neither Chantal nor Ryan had any gardening experience prior to transforming their backyard. A product of curiosity and trial and error, the couple behind The Horticult represent just how far a passion can take you. Being most proud of what they call, "their stage", they're truly inspired by the space they've created and the places they've drawn from.
Take a look over their blog, and maybe you'll find some inspiration too. With recipes, DIY, and more, there's something for everyone to appreciate- regardless of whether or not you have a green thumb! If you find yourself itching to try some of their projects on your own, check out our deals on Plow & Hearth for supplies. Or, head out for a spontaneous trip to see some of The Horticult's favorite gardens, including the NY Botanic Garden, LotusLand in Santa Barbara, or the DC National Botanic Garden with last minute travel deals by CheapOAir!