Back to Top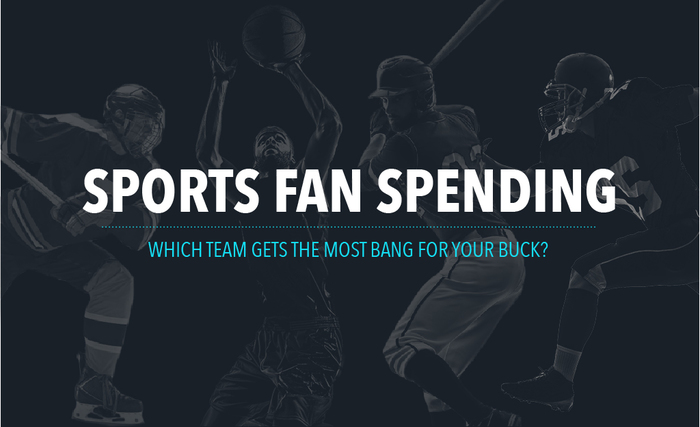 Average Ticket Prices & Costs: NFL, NBA, NHL & MLB | PromoCodesForYou
How much does it cost to see your favorite pro sports team? Discover the average ticket price and total cost to see all teams in the NFL, NBA, NHL & MLB.
by PromoCodesForYou, on September 20th, 2018
How Much it Actually Costs to "Take Me Out to the Ballgame"

One of the biggest childhood rites of passage is to attend a sports game with family. Loving your home team, screaming yourself hoarse, and eating all of the stadium junk food are all experiences like no other. These excursions continue into adulthood, with one major alteration - suddenly, you're footing the bill for the expenses that come along with heading to a game.

Even though we love going to games, they can be costly, particularly if you have the pleasure of supporting one of the more successful teams in the league. So we wanted to know which teams give you the most bang for your buck at a game, and which teams are the most expensive to support. In order to find out, we looked at the average cost of a ticket for a lower-level center seat for each team in the NFL, NBA, MLB, and NHL. We also included the average cost of parking, a beer, and a specific food item for each sport: a hot dog for baseball, nachos for hockey, pizza for football, and popcorn for the NBA. We collected some surprising - and not so surprising - results.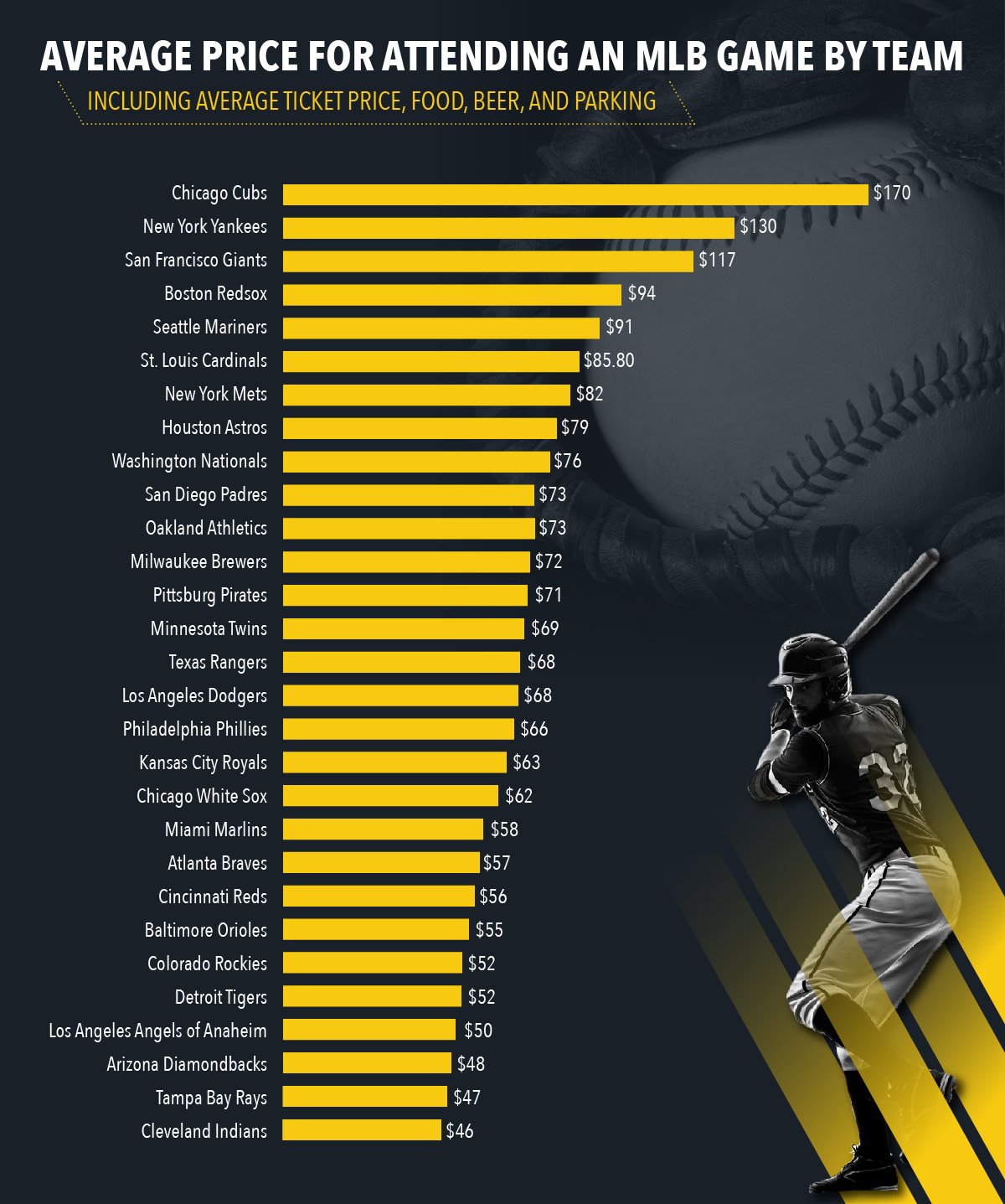 Baseball was by far the most cost-effective option out of all the sporting events. Since their historic victory, the Chicago Cubs have become the hottest ticket in baseball and the most expensive team experience by far at $170 per game. Lagging behind are the New York Yankees and the San Francisco Giants, both having an average cost of over $100. The lower-cost teams came in at a more reasonable $50 or less, with the Cleveland Indians proving to be the most cost-effective fan experience at $46 per game.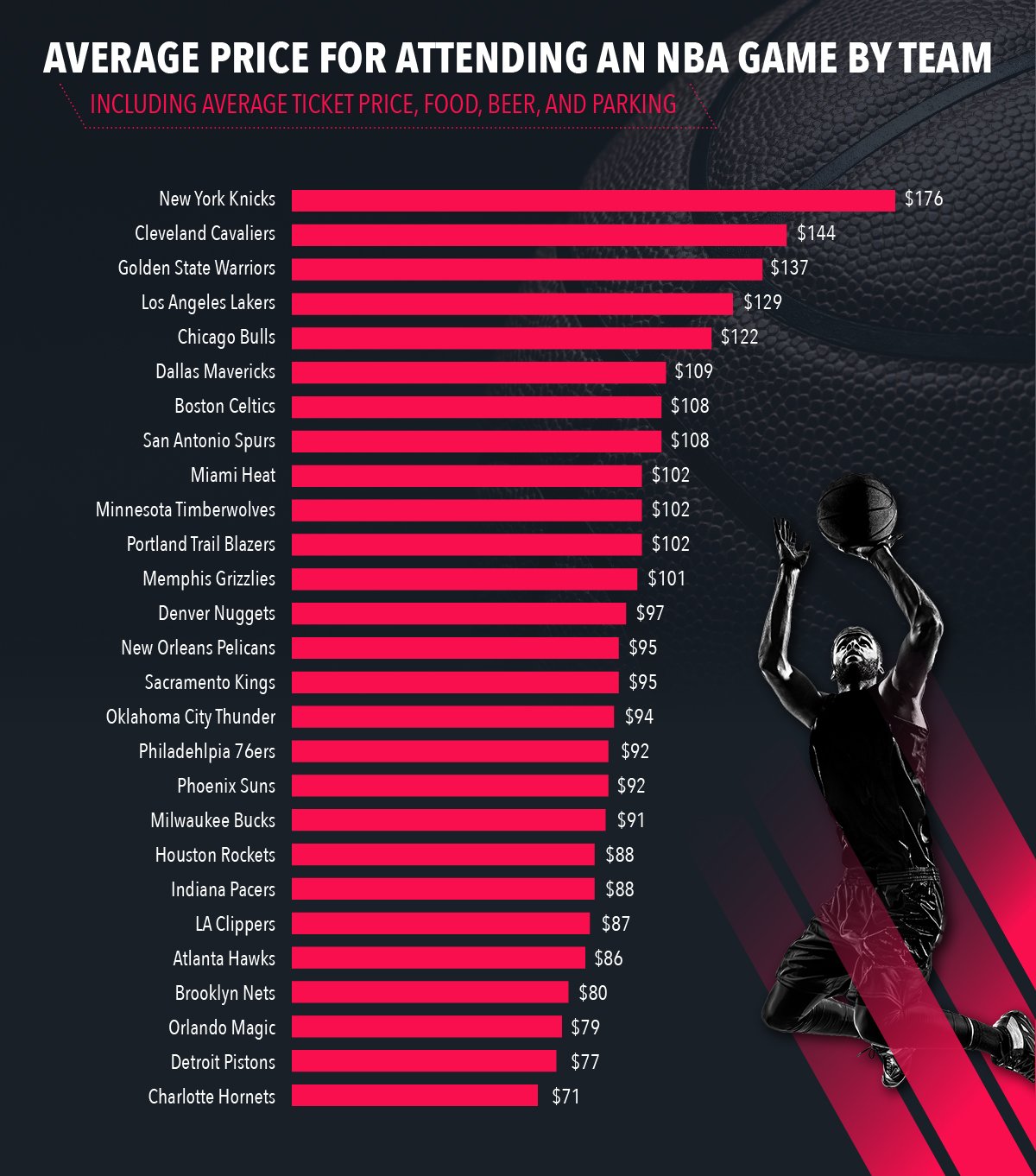 At a slightly higher but still reasonable average cost-per-game is basketball. The most expensive NBA experience tops out at only $6 more than the most expensive MLB ticket. A night with the New York Knicks will set you back an average of $176 per game, with the Cleveland Cavaliers and the Golden State Warriors following closely behind at $144 and $137 respectively. Down at the bottom of the list are the Orlando Magic and the Detroit Pistons, both coming in at under $80 per game on average. The Charlotte Hornets are the least expensive team to support, with a cost that hovers around $71.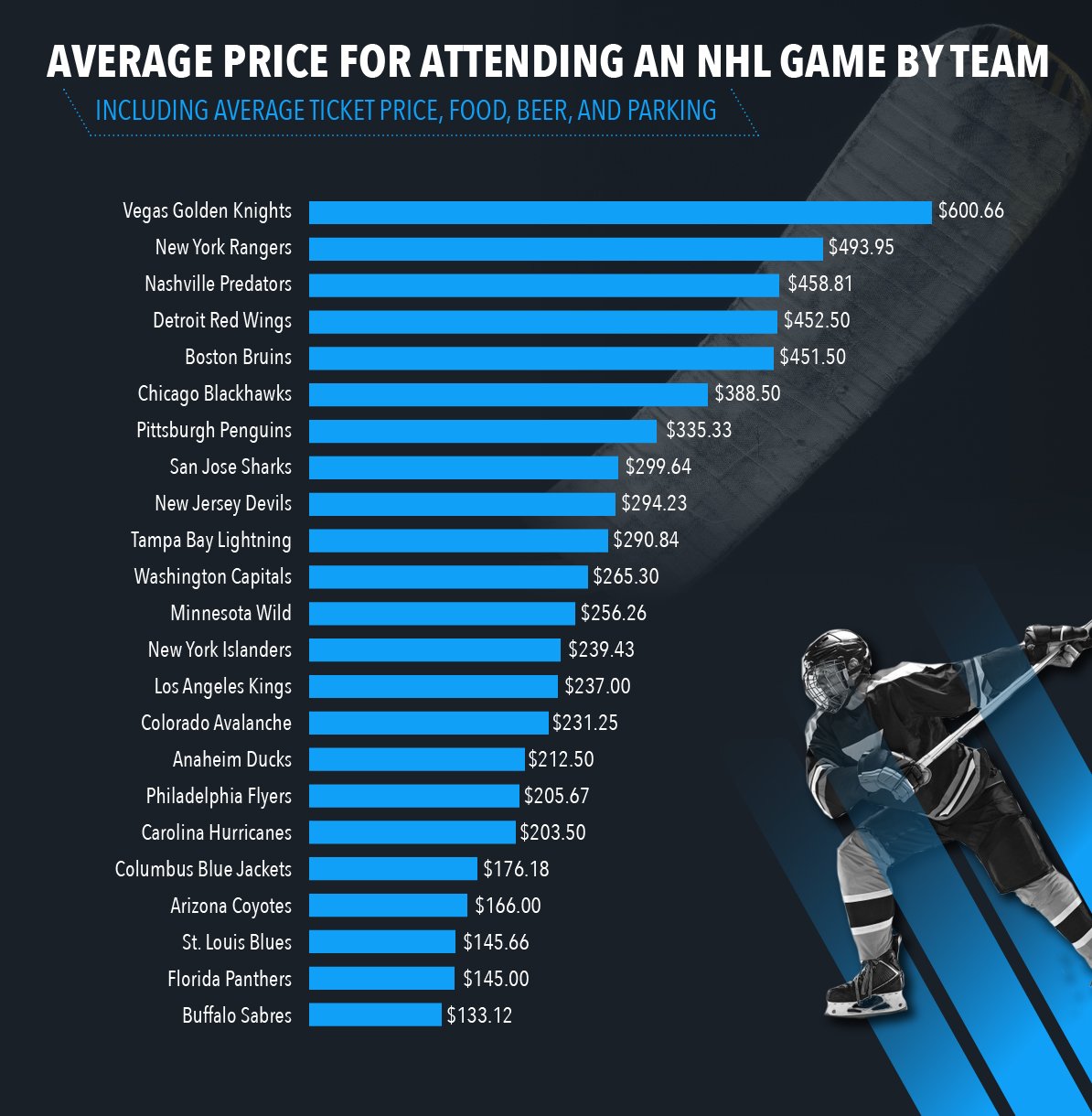 Hockey attendance requires a dramatic jump in fan investment, substantially more than basketball and baseball enthusiasts. An average Vegas Golden Knights game will set a hockey fan back $600, and a night at a New York Rangers game costs an average of $493.95. Buffalo Sabres fans luck out with an average cost of $133 for a live hockey experience, but, that is still a large chunk of change.
Football fans are far and away the most committed sports enthusiasts based on prices and New England Patriots fans top the list. An average Patriots game will cost a whopping $925 per person. Following close behind are the Minnesota Vikings, the Dallas Cowboys, and the San Francisco 49ers, all coming in at a cost of over $800 per game on average. Buffalo Bills fans are lucky and can support their team for only $167 on average, one of only 4 NFL teams that cost an average of less than $200 to attend a game.

While rooting for the home team can be one of the fundamental factors of where you're from, the only perk of an unfavorable win-loss ratio is reflected in ticket costs. For those of us with the hot ticket teams of the moment- well, most of us opt to save a few bucks and yell at the TV instead.