Back to Top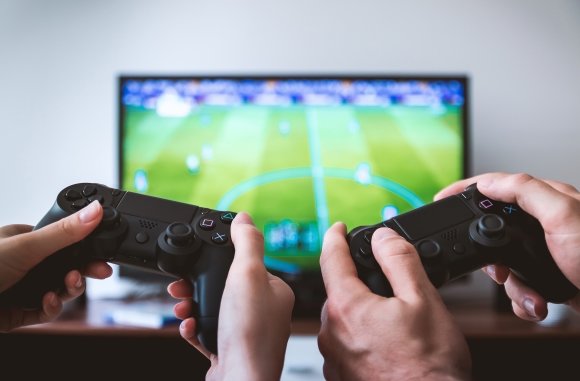 Best Gaming Deals
No matter if you are a seasoned gamer or just getting started, gaming can be expensive. So, whether you're are ready invest in new gaming console or just stocking up on videos and accessories, we've got some of the best gaming deals to get the most for y
by PromoCodesForYou, on December 16th, 2019
In today's world, gaming refers to an explosive category of digital and online entertainment. Gaming is far different than it was in your parent's world, and is not something played on a field, nor a board games like Monopoly. This relatively recent type of gaming is played on a variety of systems including consoles, computers, tablets, and Smartphones.
The numbers are simply staggering. Sales revenues are expected to reach more than 20.28 billion by next year. And if you are one of the 49 percent of Americans who have played a video game at least one time (and who can stop at one?), then you understand it can be an expensive hobby.
But there is good news. Gamers on a budget have some incredible bargains to take advantage of right now as we approach the holiday gift-giving season.
So, whether you're are ready to invest in a new gaming console or just stocking up on videos and accessories, we've got some of the best gaming deals to get the most for your money.
Best Gaming Laptop Deals
Playing the latest online video game on a laptop is a popular choice. It allows the user to experience the extreme high-resolution graphics, while also being able to move from location to location without having to log out of the game.
To enjoy the ultimate playing experience a gaming laptop should include:
• Adequate power for graphics to run the most current games
• Fast refresh rates, responsive keyboards, trackpads, and touch technology
• Durable, but lightweight enough to travel
But choosing a laptop to support the most current games is a big financial decision. Most gamers buy in the $1,000-2,000 range, but a fully decked-out laptop can exceed $5,000.
If you're considering a purchase, you won't want to miss out on these best deals on gaming laptops:
• Alienware (owned by Dell) is a premium machine, but you don't need to pay premium prices.
o Discounts and coupon codes up to 17 percent are available on the Dell website.
o Becoming a Dell Rewards Member means you'll enjoy special offers, such as free shipping.
o You can receive further discounts from coupon codes from PromoCodesForYou.com
• Razer Blade 15 is a small, but mighty option at a reasonable price. Marketed as the "world's smallest 15-inch gaming laptop," it still offers blistering gaming performance to keep you competitive. Great deals and fast delivery on this model can be found on Amazon.
• Origin PC EON17-X is insanely powerful and is the ultimate purchase if price-is-no-object for a gaming laptop. You can even customize technical specifications to make it your own. Special offers are rare, but come in the form of email when you sign-up for their newsletter.
Best Gaming Desktop Deals
Desktops for gaming are popular because the computer can be shared by all members of a family and used for much more than just video gaming. Here are some of the best gaming PC deals:
• Corsair Vengeance Gaming PC is compact, but built for speed and full of high-tech, high-powered components. You will still need to purchase a monitor for this award-winning desktop, but fear not! One of the best gaming monitor deals also comes from Corsair which offers discounts and free shipping when you bundle their PC with their monitor, purchased directly from their website.
• OMEN by HP is a gaming desktop computer that offers cutting-edge performance, stunning graphics, and quick response times, which are essential components for playing Fortnite, or Overwatch, or any other intense game. Starting around $1000, the Omen is versatile and can be configured for the casual gamer or the Esports professional.
o Best Buy offers models with up to $350 savings, some with free shipping.
o But to get the biggest savings, think out of the box. Aggressive deals on HP monitors and computers can be found at Valpak.com, the company that sends out that familiar envelope filled with coupons.
Best Video Console Deals
Whether you're just getting started in the gaming world or you're upgrading your system, you can find the ideal gaming console that's right for you at discounted prices.
• PS4 Game Deals
Many experts believe the PlayStation 4 Pro is the best console of 2019 with the most high-fidelity games, the best plug-and-play platform, along with lots of extras and exclusives.
o When both money and time are at a premium, PS4 video game deals can quickly be compared on Google Express.
o Walmart.com has an almost endless variety of PS4 consoles and many brand new systems can be purchased at reduced prices.
o For those who are looking to increase their gaming library, Best Buy designates a page on their website specifically for PS4 games on sale, including the pre-sale of new and upcoming products
• Xbox Bundle
Considered to be the most powerful home gaming console ever sold, the deep discounts of Black Friday have arrived early.
• Check out the wide range of Xbox console choices on Amazon, especially if you are in a rush since many Prime Members can receive their consoles the next day. Extra savings if you are willing to get a discontinued color.
• For those who are both Xbox and sports fans, choose a bundle that comes with a copy of the new NBA 2K19 for a cheap price at Walmart.
• If you prefer to purchase directly from Microsoft, use the coupon codes from PromoCodesForYou.com for extra savings.
• Nintendo Switch Deals
The Nintendo Switch is a hybrid device that plugs into a television like the PlayStation 4 and Xbox One, but also works as a handheld. There is also a new 'Lite' model that is handheld only.
Some recently announced deals have pushed the price lower than any other time of the year. To keep on top of the best deals, check out TechRadar. Their monthly updates can save you a bundle (pun intended).
Even More Ways to Get the Best Gaming Deals
• Refurbished models. Purchasing a used gaming device can be a smart way to save money. But for peace of mind, you will want to be sure it was fully restored with original parts, has at least a one-year warranty, and has been tested and certified. Great deals for refurbished gaming laptops and desktops can be found on Amazon and Alienware gaming computers are available under $1000 at Newegg.
• Bundle. Experts recommend getting a gaming bundle configuration since they're usually the same price as a standalone system (or sometimes lower). Plus, you usually get free accessories or games.
o From Fortnite to Pikachu, consider Amazon if you're looking to save money on the perfect bundle that includes a console and game – great for gift giving!
o And check-out Best Buy. They're selling the Nintendo Switch with Mario Kart 8 and a free screen protector for $299. That's what a Nintendo Switch normally costs, but you get the game ($59.99) for free and the screen protector ($9.99).
o At Walmart, a new Nintendo Switch is paired with a variety of game options to keep your hard-earned money in your pocket.
• Trade Old for New. Exchanging your old devices or games for credit or a gift card is a great way to save money.
o Best Buy has an online program to estimate what your game is worth, then trade it in for gift cards you can use to buy more games.
o Trade-in is also a simple process at Amazon whether you bought the item from Amazon or elsewhere.
o Gaming consoles, laptops, gaming PCs, and any eligible device, from any manufacturer, can be traded in at Dell.com.
• On Clearance. When new consoles and games are introduced, retailers need to make room for the updated inventory. From Gamestop to Amazon, search for "clearance prices" for a boatload of savings.
• Time to Buy. Video games and new devices are almost always released in November in time for the holiday season. They're at their highest price right after they hit the shelves, although as we've seen there are significant ways to save. But if you can wait, buying in January and February can result in huge savings.
Big and Getting Bigger
Most experts believe that the gaming category will continue to explode. And the growth of competitive Esports (people competing in video gaming) will help fuel the fire. Just this year, an American teenager won three million dollars as the top prize in a tournament for the popular online video game Fortnite, rivaling the pay of some of the largest contracts in "major" sports.
Even universities recognize the popularity of gaming and many colleges offer courses in Esports.
It's no wonder then that gaming consoles, computers, games, and accessories will be on the top of countless holiday and birthday wish lists. So, do what you can to save money and use these tips to find the best gaming deals.