Back to Top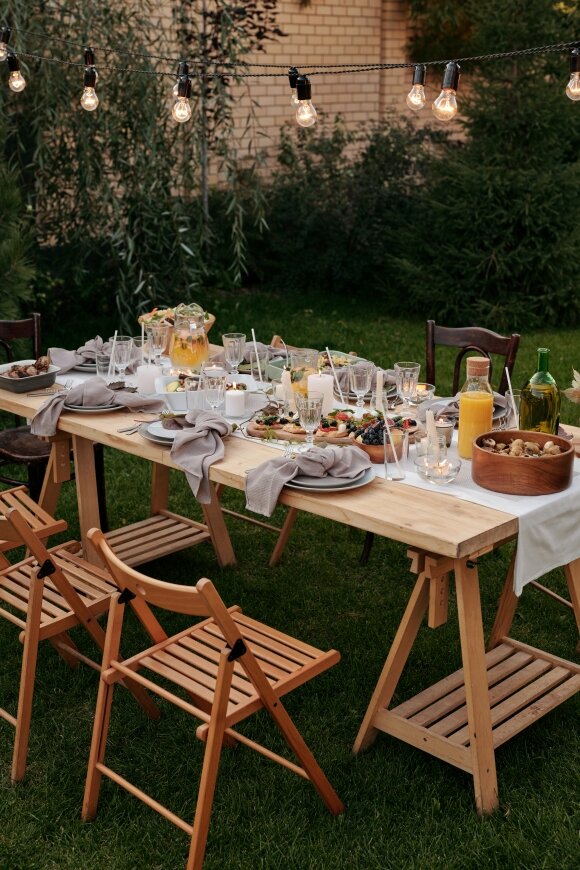 Best Patio Furniture Deals
No matter where you shop, these best patio furniture deals make it easy to stay on budget while making your patio, deck, yard, or balcony a welcoming, comfortable, and functional place
by PromoCodesForYou, on May 18th, 2021
It's coming! The hint of warmer weather is on the horizon. The days are getting longer, the sun is shining, and it's time to enjoy the outdoors! Are you ready? Is your outdoor space looking the way you want it to?
Although the best patio furniture clearance sales typically occur from August to October when stores are clearing out their summer items to make room for fall inventory, there are always sales going on if you know where to look.
So, if your porch, deck, or balcony are looking a little sad right now, take a look at these best patio furniture deals to refresh and decorate your outside areas.
The Best Quality Patio Furniture
Everyone wants outdoor furniture that will be comfortable and durable, as well as enhance the beauty of your exterior space. The goal is to create an experience that welcomes you outside and allows your family a place that they can enjoy for years and years to come.
Whether you're just looking for a couple of chairs to fill a small spot on a balcony or if you need a full dining set up for outdoor dinners, there are loads of promotions that will help save you money. Read on to learn who has the best deals on patio furniture
Best Patio Furniture Deals Online
When you shop online for furniture for the great outdoors, you'll have maximum access to styles and options. Most brick-and-mortar retailers only carry their best quality outdoor furniture on a seasonal basis, but on the world wide web, the choices are year around.
Here are the top recommendations on where to get the best deal on patio furniture when shopping online.
1. Wayfair This internet-only retailer is a leading name in online shopping for home furnishings, including items for outdoor living. You can count on Wayfair as one place where you can get the best deals on patio furniture.
Wayfair offers a wide selection of patio pieces across all price points. And some items, like sectionals, are available at over 50 percent off their normal price.
When it's time to rejuvenate your outside area, you'll be able to locate everything you want for the warmer months from seating to outdoor rugs and accent pillows, and all on sale at super savings. As an added bonus, almost all Wayfair orders include free shipping which makes buying here extra appealing.
Shop Wayfair with PromoCodesForYou.com and get the very best price when you check out your cart.
2. Amazon Is there anything this e-commerce giant doesn't sell? If you can imagine it, Amazon likely sells it.
Amazon offers patio furniture from an enormous number of manufacturers and brands, many at discounted prices. You can find the best patio furniture on Amazon by simply browsing by category. From fire pits to picnic tables to outdoor canopies and gazebos, Amazon can deliver some of the best deals on outdoor furniture.
3. Overstock If you're looking for a more budget-friendly option for patio furniture, consider Overstock.com. This online retailer has a special page showing all the options that are on sale to keep you on budget.
From loveseats to swings and accent pillows, Overstock has just about everything you could need for the perfect patio set up. Furniture can be expensive to ship, but thanks to Overstock's free delivery, you'll be able to save on getting your items home.
But wait, there's more! Grab a verified overstock.com coupon code from PromoCodesForYou and you'll enjoy deeper discounts.
4. Frontgate If anyone knows outdoor furniture, it's Frontgate. It may be a splurge, but this retailer is focused on outdoor furnishings, décor, and pool accessories, all of which are available in various design styles. Not sure what you want? Frontgate allows you to order free fabric swatches so you can get a better idea of the material before making your selection.
But don't despair about the higher price tags. Frontgate also has magnificent outdoor items on its sale page that all your neighbors will admire. You can enjoy low prices on chaises, outdoor chairs, and so much more!
Once you've chosen your furniture, don't miss their tabletop assortment. From linens to barware, your patio will be ready for entertaining in no time.
Home Improvement Stores
Lowe's, Home Depot, and even Ace Hardware Stores are retailers with a wide selection of patio furniture for completing your backyard vision. These big box stores are a great option for one-stop-shopping. You can find patio sets, lounge chairs, benches, lighting, and even plants to upgrade your outdoor areas at reasonable prices.
Home improvement stores make it easy to reimagine your outside space and add essential pieces to your deck without spending a lot. If you are searching for a welcoming seating arrangement, you will find patio conversation sets at a special buy price at Home Depot.
And Ace Hardware makes it simple to view their best deals on outdoor furniture with a distinctive "sale flag" on specially discounted items, many available only online. Free delivery and shipping are available for the majority of items, even those on sale.
You'll enjoy even better deals with Home Depot and Ace Hardware coupon codes from PromoCodesForYou.
Don't Overlook Walmart
For a major selection of patio furniture at affordable prices, Walmart is hard to beat. Rollbacks and reduced prices on select outdoor furniture make it irresistible to shop here for beautiful, durable, and functional patio furniture in all types of styles, sizes, colors, and materials. Whatever size of your patio, porch, deck, or yard, there are furniture and accessories at Walmart to fit your needs.
Extend your outdoor living season with patio heaters ranging from tabletop models to those over seven feet tall, at reduced prices. Consider adding outdoor fireplaces and fire pits on sale to enhance your outdoor areas.
Walmart's low-cost reputation along with their wide selection of styles and colors make it a fan favorite place to get the best patio furniture on a budget.
Bed, Bath & Beyond
This retailer that you know and love for offering just about every product needed for an organized lifestyle also offers functional items for outdoor living.
Bed, Bath & Beyond focuses on practical patio furniture, primarily online. You'll find affordable options on Adirondack chairs, benches, simple folding tables, and zero gravity chairs. Shop their outdoor decor to find items that will give your backyard that perfect summery feel. String lights and umbrellas will help make your backyard feel just like an island getaway.
Remember to use those valuable Bed, Bath & Beyond coupons that you receive in the mail to save on your new outdoor additions.
Create Your Outdoor Retreat
It's time to refresh and prepare your outdoor spaces with top-quality outdoor furniture at low sale prices. No matter where you shop, these best patio furniture deals make it easy to stay on budget while making your patio, deck, yard, or balcony a comfortable and functional oasis.