Back to Top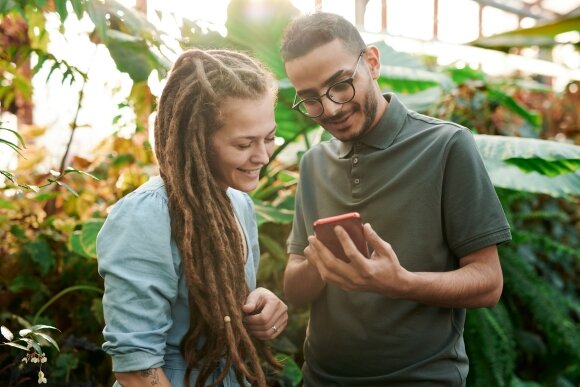 Best Phone Deals
It is absolutely possible to find cost-friendly options that won't wipe out your bank account. Check out these best cell phone deals when it's time to upgrade or buy a new phone.
by PromoCodesForYou, on February 9th, 2021
The holidays may be over, but now is still a great time to be looking for the best phone deals and plans. With so many choices, it can all be a bit confusing. Mergers, constant changes in cell phone models and varying costs for services can be a daunting undertaking and make it difficult to find the best mobile deals.
Almost all of us rely on a smartphone every day for everything from staying in touch with colleagues and loved ones to shopping and managing our finances. From Apple's iPhone 12 Pro Max to the flexible, folding Android phone that's sure to set you apart from the crowd, there is something for everyone.
Even with the launch prices of many new flagship mobile devices exceeding $1,000, the best smartphones can be hard to find at good prices.
Check out these best phone deals today on fan favorites, as well as lesser-known brands.
Carrier Offers
When you trade-in your old device, you can usually find exceptional discounts from carriers. These options usually require you to sign up for a specific service (usually an unlimited plan) and you may have to sign a contract. But if you know what you want, you can find outstanding savings and discounts.
• Best Phone Deals with Verizon
There are multiple offers on the new Samsung Galaxy mobile devices at this major carrier, including the ability to save hundreds of dollars off when you trade-in your older model. If you prefer Apple and want the latest model, then purchasing the iPhone 12 at Verizon can save you $750 with your trade-in and signing up for their unlimited plan. Use the coupon codes at PromoCodesForYou.com to get an even better deal on your Verizon purchase.
• Best Phone Deals at Sprint and T-Mobile
Sprint and T-Mobile have now joined forces, as you may know. Right now, their website is announcing their "Get One On Us" offer. That means you can get a Galaxy S21 5G from Sprint when you trade in a device on an eligible plan. But it doesn't stop there. Sprint also has over $800 savings on Apple cell phones.
T-Mobile has some amazing ways to save, too. Not only do they have deep discounts on the major brands, but they also offer cost-savings on LG, One Plus, and more. The budget-friendly, super-fast phone from Google is available from this carrier with an extra boost of 5G speed and some amazing discounts. Before you decide what to buy for your next Smartphone, take a minute to explore the best phone deals from T-Mobile.
• AT&T Deals
AT&T has some of the best phone deals for new customers as well as their existing clients. With the right trade-in, the Samsung Galaxy S21 can be had for free and the iPhone 12 mini can be in your pocket at no cost with an eligible trade-in. Add to your savings by visiting PromoCodesForYou.com for great coupon codes.
Unlocked Offers
Many of the best phone deals now are with unlocked devices. Unlocked devices are phones that you purchase can bring to any service provider of your choice. Unlocked phones give you the freedom to shop around and move between carriers for the best deals.
• Samsung. You'll get some of the best android phone deals directly from Samsung on their website. Not only can you receive a $700 trade-in credit on the Galaxy S21 5G, but Samsung is also offering $100 instant credit toward the new Galaxy Buds Pro, Watch3, and exclusive bundle offers.
And if you're not sure what mobile phone or extras fit your needs, a live chat expert is available to help you get the best offer. These customer service agents also have exclusive opportunities to save more money, including $50 off accessories to complete your Galaxy purchase.
• Apple. Every iPhone you buy online or in an Apple Store is unlocked. Just by logging on to the Apple website you can find ways to keep more money in your wallet. Choose a payment option that works for you, pay less with a trade-in, connect your new iPhone to the carrier of your choice, and get set up quickly.
Save on Last Year's Models
When new phones are released, older models are usually discounted. Last years' versions still deliver great features, so don't overlook this simple way to save some dough.
For example, Apple has now cut the price of last year's iPhone 11. You can snap one up for as low as $599. The iPhone 11 has fast speeds, good battery life, and excellent cameras, so you'll be pleased with your purchase and the money you saved.
Don't pass on the 2020 Apple iPhone SE. It is a petite powerhouse with no-compromise performance for hundreds of dollars less than other recent iPhones.
Other Ways to Save
Did you know the major carriers have partnerships with less expensive companies as well? AT&T runs Cricket Wireless. Consumer Cellular provides wireless service using network capacity from AT&T. T-Mobile currently owns Metro and Mint Mobile uses the T-Mobile network. And Verizon owns Visible that offers unlimited data, messages, and minutes with service as low as $25 per month.
A word of caution before you buy from these other carriers. Always read the fine print before signing up to get the best phone plan and price. In some situations, you may find there are hidden extra fees or your data may be temporarily slower during peak times.
A Final Word
Phones have become major investments. But with a little effort, you can find some extraordinary cost-friendly options.
The good news is, it's still possible to get the best cell phone deals when it's time to upgrade or buy a new phone without wiping out your bank account.