Back to Top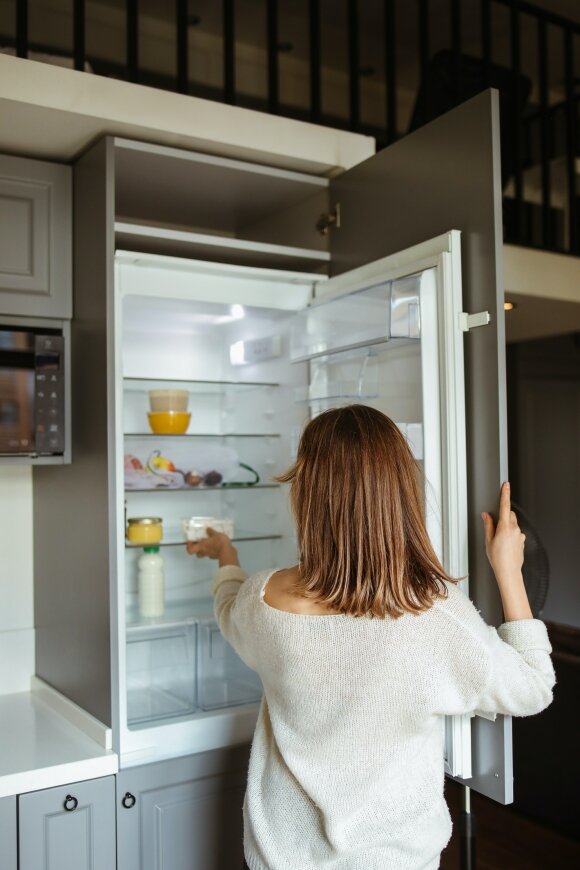 Best Time to Buy a Refrigerator
by PromoCodesForYou, on November 22nd, 2021
Do you find your refrigerator no longer keeps your food cold, and when you put ice cream in the freezer it turns to soup? Are you awaken each night by the unpleasant sound of your refrigerator rumbling? And do you dream of a fridge that can deliver crushed ice at the touch of a button?
If any of these sounds like you, it might be time for a new refrigerator.

What to Know Before You Shop for a New Fridge

Refrigerator designs and amenities have become increasingly sophisticated. In today's world, there are countless options; side by side, bottom freezers, stainless steel, and even smart refrigerators that communicate with the internet and tell you whenever a food item needs to be replenished.
Before shopping, determine which features and styles are most important to you so you can rule out which ones you can live without and not spend your money needlessly.
When Should You Buy a New Refrigerator?

Major appliances are expensive to replace and your fridge is likely the most expensive appliance in your home. This big-ticket item can put a real dent in your savings.
To land a bargain on a refrigerator, timing is a huge factor. There are certain months every year when the stores have deep discounts and cut prices. Here is what you should know:
What's the Best Month to Buy A Refrigerator?

Unlike most other appliances which have big sales in September and October, the best time to purchase a refrigerator is in the spring. And the best month to get a great deal is in May.

It's quite simple, really. Manufacturers of refrigerators tend to release new models in the Summer so Spring offers great discounts as retailers are eager to move last year's inventory. And the month of May is when retailers offer their best promotions.
Stores are determined to get those old models off their showroom floors and out of their stock rooms to make room for the latest and greatest refrigerators.
More Savings in the Month of May

May is also Maytag Month. In May, Maytag traditionally offers extraordinary prices and valuable rebates during this annual promotion. This is likely the best time to buy a refrigerator at Home Depot under the Maytag brand.
What Time of Year do Refrigerators Go On Sale?

If you are asking, "when is the best time to buy a refrigerator on sale other than in the month of May" the answer includes shopping on holidays. A perfect time to be on the lookout for a great deal is on a holiday weekend like Fourth of July, Memorial Day, and Labor Day when prices are marked down.
And keep your eyes open for great cost savings on Black Friday and Cyber Monday when just about everything gets a price cut. That is especially true at major retailers like Lowe's, Best Buy, and Costco. These big box stores always seem to have appliance sales over holiday weekends.
Buying Online for the Best Deal on Refrigerators

You don't have to go to a brick-and-mortar store to get a great deal on a new refrigerator. Online buying has become one of the most convenient alternatives to in-person shopping.
The Internet allows you to shop for just about anything at any time. And as an added advantage, it can be easier to research and compare all types of products, including refrigerators when you look online.
Just remember that refrigerators are super heavy items and you will want to check shipping costs before you buy this type of item online.
And speaking of unexpected costs, in addition to shipping and handling, be sure to understand these extras before you buy to clearly understand the total amount you'll pay.

• Delivery
• Installation
• Hauling away of your old appliance
The Worst Time to Buy a Refrigerator
Yes, there are times you will want to avoid when you are spending a bundle of money on a new refrigerator.
For example, the latest models with all the bells and whistles are usually at their highest price when they first debut in the market. For refrigerators, this happens during the summertime when there is an explosion of fresh inventory available for sale.
Also, do your best to avoid purchasing a refrigerator when you are in the most desperate need. This means don't wait until your fridge is dying to replace it because you will not be able to hold out for sale.
Other Tips for the Best Time to Buy a New Refrigerator

There are so many other ways to get a great price. Check these extra tips out to learn when is a good time to buy a refrigerator.
Closeouts Consider floor samples or refrigerators with a superficial flaw like a dent or scratch for significant discounts. And you can save on returned refrigerators that were purchased, but not used, by other customers. Remember, if you don't ask about these types of opportunities, you'll never know how much money you left on the table.
Price Matching for the Best Deal Many deal websites offer price matching for refrigerators you find online or in a physical store. Price Matching is when a store offers to match a competitor's lower price on the same item. You'll need to show proof of the lower price within the timeframe specified by the price match policy, but it is a great way to make sure you are getting the best deal possible.
Save Even After You Buy When it is time to replace your refrigerator, consider buying the most energy-efficient styles you can afford. Look for the ENERGY STAR® label to guarantee costs savings throughout the life of your big appliance.
Always Find a Coupon Code You will get the best deal on appliances by using promotion codes. This is a great option especially if you are desperate and you can't wait for May or hold out for a holiday sale when prices are at their best.
Start by checking out a leader in discount codes, PromoCodesForYou.com. They have loads of promotion codes that will keep you on budget. Whichever refrigerator ends up in your cart and no matter if you purchase it from Lowes or Samsung, get a great deal with a coupon code from PromoCodesForYou.
The team at PromoCodesforYou searches daily for the best deals and discounts on refrigerators and just about everything else. Whether you're shopping at Home Depot, Lowe's, or Appliance Connection, you will find verified coupon codes that work!
You can also use the People Coupons website for great bargain codes. They have access to unexpected sources where you can buy refrigerators, including QVC promotion codes. This website from the popular publication that we all love to read wants you to get the best deals possible. So, before you check out of your online cart, visit Peoplecoupons.com for the latest deals and opportunities to save.
Big Savings on Your Big Appliance
A refrigerator is an appliance that you'll use for several years. Finding the best store to purchase a refrigerator is one thing, but when you buy this appliance is also important.
Don't buy your next major appliance on a whim. If you can afford to hold off a little while before making the purchase, you could save some serious money.
Use these tips use the information on the best time to buy a refrigerator to your advantage. There are great savings out there if you know what month and times of the year are best to shop.