Back to Top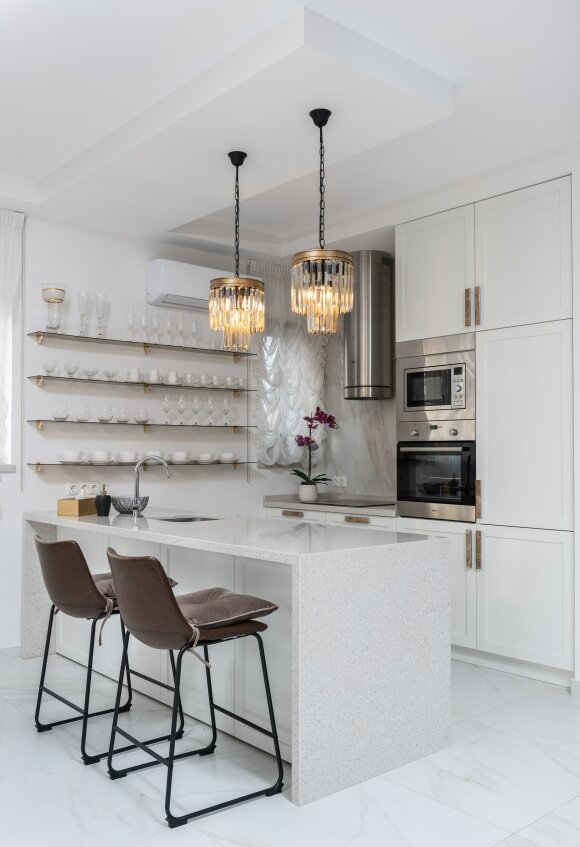 Best Time to Buy Appliances
There are certain times of the year when there are deep discounts on major and small appliances. The answer to "what is the best time to buy appliances on sale" is actually pretty simple; think holidays!
by PromoCodesForYou, on April 5th, 2021
If your dishwasher is putting more spots on your drinkware than make them sparkle, and if your microwave is spinning your food around more than heating it, it is time to consider replacing your appliances.
And if you are tired of filling up old-fashioned ice cubes trays to keep your beverages cold, or if you are worn out from vacuuming the floors and want the latest robot to do the heavy lifting, there are some great new innovations to make life easier.
The home appliance category is a multi-billion-dollar industry. The overall appliance segment is forecasted to grow to more than 450 billion U.S. dollars by 2023. So, you are not alone when you need to replace the equipment in your home.
When is the Best Time to Buy Appliances?
No matter what the size or brand, appliances can be pricey. And finding the best time to buy new appliances can be a source of stress.
However, there are certain times of the year when shopping for major and small appliances has advantages in finding deep discounts.
The answer to "what is the best time to buy appliances on sale" is actually pretty simple; think holidays!
The calendar is full of holidays from President's Day to New Year's, and for consumers (like you) this means big savings and fabulous markdowns.
Holiday Sales on Appliances
Advertisements and in-store incentives increase during peak holiday periods so you will almost never have to pay the full manufacturer's suggested retail price on that new wine refrigerator you've been dreaming of or a state-of-the-art kitchen stove. Appliance sales are worth waiting for and can save from 15 percent up to 40 percent.
Whether it is a new cooking range or electric mixer with all the attachments, home appliances are often expensive. But they are definitely more affordable around the holidays.
Before you buy a refrigerator, convection oven, washer or dryer, check if one of these sale seasons is coming up. If you can delay your purchase for just a little while, you could save a substantial amount of money.
Here is what you need to know:
• May is Memorial Day
Memorial Day, the unofficial start of summer, will be here before you know it and several retailers are gearing up for appliance sales around this holiday.
In fact, May is Maytag Month. This 100 year old brand, known for its durable kitchen and laundry appliances, offers special opportunities to save on Memorial Day. During the month, Maytag traditionally offers extraordinary prices and valuable rebates. You can also take advantage of Maytag Month super savings at stores like Loews on over 50 different items.
Sears, offers trusted appliance brands like Kenmore, Maytag, Amana, Whirlpool, LG, and more. When you shop for appliances on sale at this family favorite store, be sure to stop by People Coupons to score extra savings from Sears.
Manufacturers tend to introduce new refrigerators to the market during the summer months, so older models are usually discounted during May to get them out of the way for incoming inventory. Don't overlook the opportunity to keep more money in your pocket by purchasing these previous versions.
• Fourth of July
Not only are fireworks spectacular on this patriotic holiday, but the deals on appliances are, too!
In past years, retailers have offered incentives for buying multiple appliances at the same time during this summer event, making it the best time to buy appliance packages.
When you buy an appliance bundle, you not only receive extra savings, but you also have the reassurance that all your appliances match and have the same style.
Buying both a washing machine and dryer in the same transaction usually saves money. For example, Best Buy offers a wide range of savings during appliance sales, including many matching washer and dryer packages and kitchen appliance bundles.
• Labor Day
The first weekend of September marks the unofficial end of summer. Most stores host closeout sales on summer clothing and patio furniture, and larger items, like appliances, are often included in the seasonal promotions as well.
As summer turns into Autumn, this is a smart time to discover discounts on air conditioners and grills, as well as small kitchen appliances like ice cream makers and blenders. In other words, buying seasonal appliances in the off-season during the time of year when that appliance gets little use can deliver unexpected savings.
• Veterans Day
This mid-November event is the last major shopping event before Black Friday. In honor of Veterans Day, many retailers extend deeper discounts exclusively to current and former members of the military.
Active-duty military members can save 10 percent off their purchase on Veteran's Day and all year long, making anytime the best time to buy appliances at Home Depot. And regardless if you are part of the military or just an everyday consumer, Home Depot not only sells quality appliances, but they also provide in-home assistance with whatever installation or support you may need.
Whatever ends up in your cart, you will be getting the best deal available with a Home Depot promo code from PromoCodesForYou. Savings during Veteran's Day can be impressive, but if you can wait a few weeks, Black Friday usually offers even greater discounts.
• Black Friday and Cyber Monday
The prices are among the lowest you can get all year on this during these two annual mega-events. Quite simply, this is the time to find the lowest prices and the best time of the year to buy appliances.
Retailers reduce prices on just about everything in November and December, and home appliances are no exception. Discounts are found both online and in stores throughout the holiday season. Experts say the last two months of the year are the best time to buy small kitchen appliances such as microwaves, coffee makers, juicers, and the ever-popular air fryer.
It's also a fun time to discover new appliance features and innovations at a discount. Who knew it would be possible to purchase a smart refrigerator that helps plan your meals and can communicate directly with your oven, or that someone would develop a robotic carpet cleaner? Try out the latest technology when it is more affordable during the end of the year sales.
Believe it or not, Best Buy is already telling shoppers that their 2021 Black Friday plans will include memorable pricing discounts.
And Costco, the largest membership warehouse club in the United States, is promising some of the biggest savings during the upcoming 2021 holiday season, making it the best time to buy appliances at Costco.
Other Ways to Save On Appliances
Holidays are not the only time to find deals on appliances. Try these techniques to stretch your budget into your dream kitchen or laundry facility.
• Last Year's Designs
As with most products, prices on year-old appliance models drop when the latest and greatest features are introduced. As manufacturers start releasing their new models, the older items go on sale to make room for new designs. This is especially true when you need more than one item, so the best time to buy a washer and dryer is usually when new models are introduced.
• Floor Models
To get a price that is slashed, don't be afraid to ask a retailer to sell you a floor model. A floor model appliance is an unboxed display item that becomes available for sale. Retailers are highly motivated to move floor models out of the store to make room for new, more current display units. The item may have a scratch or two, but the money you save may be worth the slight blemish.
The Best Time to Buy for Appliances

There are plenty of opportunities for shoppers to save money on appliances. Since they are often high-ticket purchases, it pays to do some research before buying kitchen appliances, laundry machines, and small gadgets as well.
You'll find great deals especially during holiday weekends: Memorial Day, 4th of July, Labor Day, and, of course, all during the December holidays. When it comes to the best time to buy appliances remember, timing is everything.