Back to Top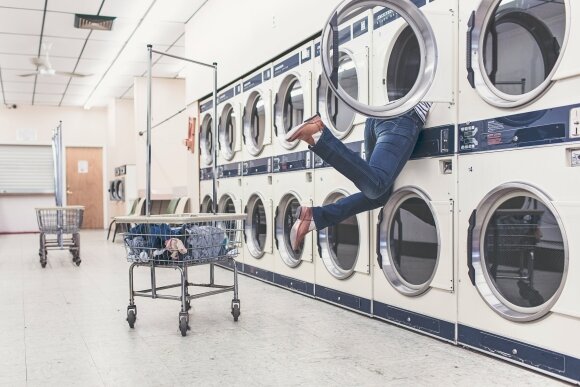 Best Washer and Dryer Deals
Everyone wants to get the best washer and dryer deals available. There are so many options and choices, that it can be overwhelming. Learn how and where to find the best washer and dryer prices with these simple tips.
by PromoCodesForYou, on April 21st, 2021
There are several large appliances that almost every household needs, such as a stove, a refrigerator, and an oven.
But ask any homeowner or renter what appliance they would really want to have right at their fingertips and you'll find washers and dryers at the top of the list.
The ability not to have to drag baskets and bins of dirty clothes and linens to a laundromat and sit idly by watching the items spin endlessly until they are ready to be dried and folded would be a dream come true for most people.
So, when it's time to purchase your own laundry machines, you'll want to make sure you get the best washer and dryer deals available.
Deciding on the Best Laundry Machines
Washers and dryers make laundry day a little less hectic and life much more convenient. They come in a variety of shapes and models to fit your exact lifestyle.
Not only are there several models from top-loading to stackable, but there are a variety of features to choose from when you're in the market for a new washing machine and dryer. And all these options can make it confusing to know what is the best washer and dryer to buy.

These are four essential considerations:
1. Space Perhaps most importantly is to measure the space you have to work with and remember to allow at least six inches behind the washer for water hookups.
2. Features Then decide on what type of washing machine type you prefer. There are top-loading as well as front-loading choices.
3. Size The size of the machines is also important. Do you want a high-capacity set to avoid multiple loads each day? Or are you a household of one and prefer a smaller unit?
4. Noise Level And remember different machines have different sound levels. A quiet machine is essential if it's near a living or sleeping area.
5. Tech How much technology do you want to have with your new machines? These days there are "smart washers and dryers" with Wi-Fi connectivity, so you can actually monitor your laundry from your Smartphone or other devices.
When It's Time to Buy
Now that you've narrowed down your choices, it's time to save money. Here, are the places to find the best deals on a washer and dryer.
1. Home Improvement Stores
For a huge selection of top-brand washers and dryers, and some of the best washer and dryer deals, shop online or stop by your local Home Depot, Lowe's, or other home improvement store. These are great places to check things out in person in addition to comparing products online.
These big-box stores offer some of the most popular and best washer and dryer brands including Whirlpool, LG, Samsung, Maytag, GE, and more. Plus, most have sweet delivery options and will also haul away your old appliances (for an additional fee), which helps clear away clutter fast.
And you can save even more! Whichever washer and dryer ends up in your cart, get the best deal available with a Home Depot coupon code from PromoCodesForYou.
2. Washer and Dryer Sale at Best Buy
You might think of Best Buy as an electronics store, but this big-name retailer also sells appliances and has quite a variety including dozens of laundry machines.
They have compact washer and dryer models and washer-dryer combos for the ultimate in space savings. But, some of the biggest savings will come with bundles, meaning you purchase the washer and dryer together.
Best Buy happily competes with home improvement stores not only by offering great deals, and price matching, but also by providing free installation on most models of your new washer and dryer.
3. Wholesale Clubs Costco, Sam's Club, and BJs are just a few of the places you don't want to overlook when searching for the best washer and dryer deals. While you do need a membership to get the best prices, you'll find that they have great discounts on top-name appliances, as well as competitive delivery and installation options.
And with the latest offers and deals on Costco from People Coupons, you'll be sure to save even more.
4. Wayfair Surprised to see Wayfair as a resource for appliances? The real surprise may actually be in their prices.
If you prefer to shop for anything and everything online, then you'll want to check out Wayfair's full-size laundry appliances. Wayfair has excellent sale prices and access to modern models with state-of-the-art features.
Before you purchase, take time to read the washer and dryer reviews on each product page to learn more about what consumers are saying about the product.
For extra savings, shop Wayfair with PromoCodesForYou.com and get the best price on your order.
The Ultimate Deals & Best Buys on a Washer and Dryer Bundle
When it's time to buy new or upgrade your laundry room appliances, it's smart to shop for the best deals on washer and dryer sets. Purchasing both together is often the most affordable way to grab the best washer and dryer for cheap. It's like peanut butter and jelly, or a superhero and their trusty sidekick; some things just belong together, like a matching washer and dryer.
Advantages of buying a set include:
• Style Buying both at the same time allows you to coordinate the size and the finish (wood, stainless steel, etc.).
• Similar performance To optimize your pair's potential, both the washer and dryer should have compatible capabilities, which often means getting the same brand for both units.
• Cost If your old washer or dryer has recently broken down, its matching machine probably isn't too far behind on joining it for retirement. So, bundle your laundry machines for the deepest discounts.
Finding the Best Washer and Dryer Deals
Laundry is an endless chore in everyone's household. Dirty clothes can pile up before you know it, leaving a child searching for a sports jersey, or your spouse without any clean work clothes, or requiring you to wear a shirt that has a stain when you're on your way out to meet friends.
Whether you're shopping for the newest innovations in washer and dryer sets or a budget pair to get clothes clean, you can find great options in all sorts of configurations. And with just a little effort and using this information, you can save money and find the best washer and dryer deals to fit your budget.