Back to Top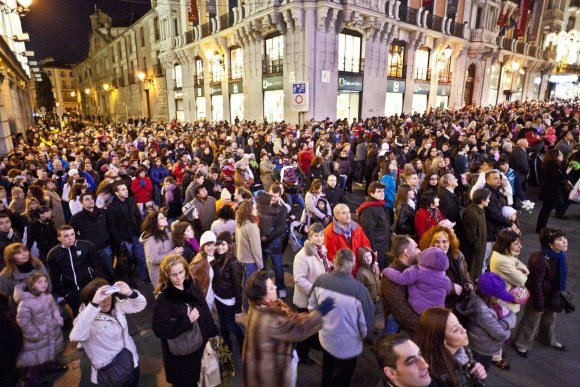 Biggest Black Friday Phenomenons...Ever!
In 2015, Black Friday spending at brick-and-mortar stores exceeded $10 billion- will Americans spend even more in 2016?
by Joe Graceffa, on November 1st, 2016
Black Friday. Some shoppers live for the sales and discounts, while others hate everything the unofficial shopping holiday stands for. Regardless of your personal opinion, you've probably still taken advantage of some pretty great Black Friday sales throughout the years. Whether it was that unnecessary toaster you bought for $1.50 in 2015, or the PS3 you waited fifteen hours in line for in 2006, Black Friday routinely delivers the best deals of the year. From viral videos of Black Friday violence to lines that wrap around the block, the concept of Black Friday can be summarized in one word: a phenomenon.
How Much Is Spent?
Since many items are steeply discounted, the idea behind Black Friday is to rack up the savings. Instead of heading to Target and purchasing a gift for mom and stopping by Walmart on the way home for a gift for dad, most shoppers head to one store and purchase gifts for everyone in their family...and then some. For this reason, stores that sell everything from apparel and home goods to tech items and household appliances, including Target and Kohl's, are popular Black Friday haunts for shoppers seeking the very best deals.
[Click here to view coupons from Kohl's]
If you thought annual Black Friday sales hovered somewhere in the hundreds of millions, think again. In 2015 alone, Black Friday spending in physical stores exceeded $10 billion. Online sales are nothing to scoff at either. Although online merchants have an entire day, Cyber Monday, dedicated to promoting online sales, online shoppers still spent $2.72 billion on Black Friday last year. Add in profits from Cyber Monday and Thanksgiving sales, and American shoppers spent more than $20 billion in the days leading up to and following the 2015 Thanksgiving holiday.
Who Spends the Most?
Although older individuals (50-65) typically spend 75 percent more on Black Friday than those aged 18-25, that trend is predicted to shift in 2016. According to the Rubicon Project Customer Holiday Consumer Pulse Survey, millennials are one of the primary groups controlling holiday spending this year. In fact, each millennial is expected to spend an average of $1,427 on holiday shopping in 2016, whereas that number barely exceeded $1,000 the year before. As millennials enter financial independence, their shopping habits are maturing as well. More than half of millennials plan on spending more this year than last year, and the majority of them are setting their sights on apparel and accessories, video games, and gift cards.
What Do People Buy?
Black Friday tends to be when shoppers purchase big ticket items, but this isn't to say that smaller items are overlooked. Everything from big screen TVs and refrigerators to videogame consoles and high-end jewelry are slashed in price. Bankrate's list of the best things to buy on Black Friday include televisions, DVDs, home goods, video games, and toys, while MarketWatch urges shoppers to stay away from purchasing winter gear, fitness equipment, and bed linens, as the deals aren't as great as they may seem. Some of 2015's best tech deals included HP Spectre x360 laptops for $969.999 (originally $1,169.99), Samsung 60-inch 4K TVs for $799 (originally $1,499.99) and PlayStation 4s for $299 (originally $499). Buy all three, and you've saved yourself a whopping $1,000.
[Get tech and electronics coupons from brands like Dell & HP]
Is Black Friday an American Thing?
Commonly known as a day when bargain hunters across the United States battle it out for the best deals, the annual shopping occasion has almost become synonymous with American culture. But how American is it? If you take a look at shopping data from around the world, the annual shopping occasion isn't as American as most would believe. Although more than $10 billion was spent on Black Friday shopping last year, the United States wasn't the leader in Black Friday spending. In fact, in 2015, the United States was fifth in terms of total Black Friday sales, and fourth in terms of total sales revenue, with Norway, the United Kingdom, Denmark, and Brazil taking the lead.
For decades, Canadians who lived near Lake Ontario and the Lower Mainland in Canada would cross the border in an attempt to take advantage of American Black Friday sales. As Black Friday became more and more popular in the United States, more and more Canadians would cross the border to take advantage of lower prices and a stronger Canadian dollar. In 2009, several Canadian retailers ran Black Friday deals of their own to discourage shoppers from leaving Canada. Even so, thousands of Canadians continue to cross the border each year, as Black Friday in the United States provides deeper and more extreme price cuts than Canadian retailers, even for the exact same retailers.
Furbies, PlayStations, & Elmos…Oh My!
Regardless of your parental status, it's difficult to avoid certain Black Friday toy crazes. From Furby to Tickle Me Elmo, we'll take a look at some toys that took the world by storm. Although Tickle Me Elmos continue to be sold, and have sold more than 10 million units to date, the adorable red toy became the center of a true shopping craze in 1996. Many store employees were injured by Black Friday Elmo hunters, and the toy was so in demand and sold out so quickly that some people paid up to $2,000 for their very own Elmo.
Released during the 1998 holiday season, Furby immediately sparked a craze. The toy appeared on talk shows, news stories, and was even featured in Time magazine. Parents, convinced that Furby would eventually be worth thousands of dollars, were desperate to get their hands on the toy. Unfortunately, its popularity fizzled out and there are so many of them available online that there's an entire website dedicated to Furby adoption.
[Check out our coupons for toys and games]
Although not a toy, the PlayStation 3 is well-known for both the number of units sold and the amount of violence surrounding its release. Released in November 2006, more than 200,000 PS3s were sold on the first day of release and, during its first week of release, PS3s were being sold on eBay for more than $2,000. Unfortunately, reports of violence surrounded its release. A man in Connecticut was shot while waiting in line for a PS3, a group of gunmen heisted four PlayStations in California, police had to use pepper balls to contain a crowd in Vermont, and countless other parking lot scuffles occurred throughout the country.
A Shift Online?
In 2016, the largest shopping mall in the United States, Mall of America, made an announcement that shocked shoppers across the country: for the first time in its 24-year history they wouldn't be open on Thanksgiving. Although each of its 520 stores has the option to remain open, mall executives expect most will keep their doors closed. This announcement, coupled with the rise in popularity of Cyber Monday, could signify a significant shift of holiday shopping online. Whether you choose to shop online or stand in line this Black Friday, keep an eye out for sales and coupons. Each year, Americans save $3.6 billion with coupons- will you be adding to that number this year?