Back to Top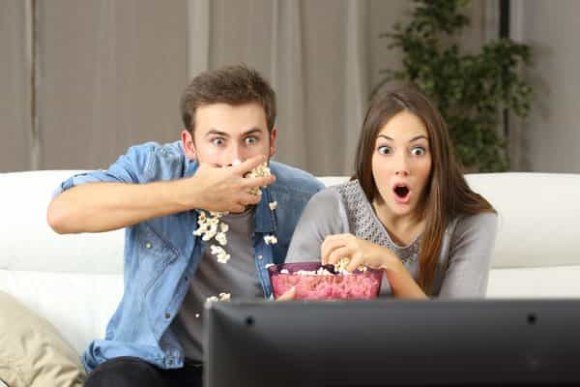 Catch Up on Your Favorite Shows and Save Money
As fall television season approaches, it is time to catch up and binge-watch returning popular television series!
It's the end of August and that means the exciting fall TV season is just about to arrive. New television shows and returning favorites will soon be on-air with fresh characters, deadly plot twists and unexpected laughter.
Today, Americans are consuming television shows in different ways than they traditionally have in the past. "Live streaming" is growing in popularity with 30% of 25 to 34 year-olds now choosing to view TV shows on their technological gadgets instead of the 80-inch screen in their living room. In 2015, 23% stated they watched television shows online at least weekly.
No longer do television audiences have to record their favorite shows with TIVO or any other labor-intensive process. Now they can catch up on missed episodes simply by streaming them on their computer or mobile devices.
Three Great Options
Netflix, Amazon Prime and Hulu allow for easy, convenient and fun viewing of the majority of television comedies, dramas, news and lifestyle programming without the painful cost of an outrageous monthly cable bill. And Netflix, along with Amazon Prime continues in their quest to generate their own innovative content.
Netflix provides a massive library of current television shows as well as programming that has already ended. As the Emmy Award nominations revealed, Netflix's original content is growing in both quality and quantity. Critics believe their innovative shows are worth the price alone. In 2016, House of Cards received multiple recognitions by the Television Academy, as did Bloodline.
Netflix has more television content than Hulu or Amazon Prime, but Hulu gets the content faster, often the day after it has been on the air. So if you are the kind of viewer who needs to keep up with the latest shows to talk about around the water cooler, Hulu is a great choice.
A third player in the television streaming category is Amazon Prime. Amazon Prime Video offers access to thousands of titles. There is also a "Watchlist" feature that creates a customized list of TV shows. This list links to your Amazon account for added ease. Parental controls can be included with Amazon Prime Video to manage what younger family members can (and cannot) view. This newer entry to the group is just starting to offer their own original programming.
Benefits of Streaming
Unlike most cable companies, streaming services offer the ability to sign up and cancel without termination fees. Plus, with online services, you won't have to engage in multiple steps to record a program. Instead, you can binge watch and view an entire season's worth of episodes in a single day instead of the familiar "one week, one episode" programming offered on traditional cable.

If money is a priority, then internet streaming services are usually substantially lower in price than the big cable providers. For example, you can sign up for Hulu, Amazon Prime or Netflix for less than $10 per month.
Spoiler Alert!
By the middle of October, your favorite television shows will have begun their new episodes. Are you caught up on all the latest story lines?
The Flash, a high-energy series on the CW channel, returns for a third set of shows. Beginning on October 4th, crime scene investigator Barry Allen will continue to move at extraordinary speeds to fight criminals who pose greater threats than they have in the past. After a few weeks, expect new characters to appear including Rosalind "Rosa" Dillon, also known as "The Top", with the power to literally make people's heads spin. Your job is to dash over with superhuman speed to Amazon, Hulu or Netflix and catch up on earlier episodes before the next phase of The Flash airs at its regularly scheduled time.
The next stage of the very popular Chicago Fire series begins October 11th, so you have a few weeks to review last season's exciting plot twists and turns. Expect some extreme drama and even romance among the firefighters, the Rescue Squad members and the paramedics of Chicago Firehouse 51 when this drama returns in fall.
The most recent finale of Scandal had every fan gossiping about the shocking turn of events when Jake became Mellie's running mate and Fitz read the file Abby had on Olivia. An insane amount of commotion led up to this last jaw-dropping episode. If you missed even a minute of the conclusion, it's time to catch up and stream every episode you skipped before season six gets underway.
Now is the Time
As summer ends and the fall television season approaches, it is time to catch up and binge-watch these and other returning popular television series. You can do so at your leisure with Hulu, Netflix and Amazon Prime. Each has its own unique features, but all are great alternatives if you have contemplated quitting cable or satellite TV and are looking for the best ways to save money without losing access to your favorite shows. But you had better get started right now…the fall season is just weeks away!