Back to Top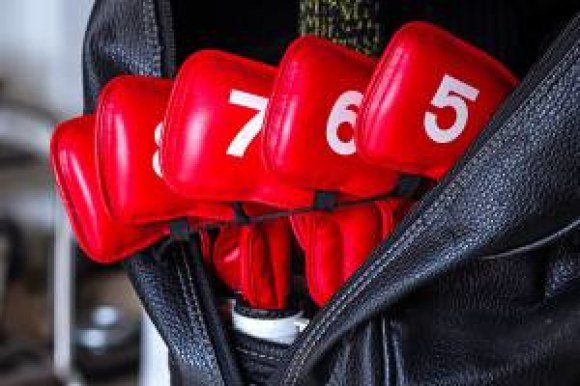 Dissecting Rory Mcllroy And Phil Mickelson's Golf Gear
Click here for golf gear tips from the pros!
Everyone in golf has their eye on two players this year, Phil Mickelson and Rory McIlroy. Phil Mickelson is a Hall-of-Famer and young McIlroy continues to make his mark. You may not be a pro, but learning what gear these two players use could give you an edge in your own game.
Phil Mickelson
He's won 42 events on the PGA tour. Nicknamed Lefty, Mickelson has been a pro golfer since 1992. Inducted in the World Golf Hall of Fame in 2012, we bet he knows a thing or two about playing golf. Let's take a look at what's in his golf bag:
1. Mickelson loves the Callaway HEX Black Tour golf ball and he uses small dots to mark it.
2. He uses a collection of old coins for ball markers, like a 1900 Morgan silver dollar.
3. He uses divot tools when he plays Muirfield Village for the Memorial.
4. He uses the Callaway RAZR Fit Driver which has the extra hosel cog like the one on the new Tour Authentic version (Mitsubishi Rayon Diamana 'ahina 70XX shaft, 45 inches).
5. Mickelson prefers the Callaway RAZR Fit 3- and 5-wood (15 and 18 degrees, Mitsubishi Rayon Fubuki K 80X.
6. Mickelson's irons are the Callaway X-Forged 3- and 4- irons, and RAZR X Muscle Backs, 5-iron through pitching wedge (KBS Tour V.2 X-flex shafts).
7. Mickelson's putter is a short one, a 34-inch Odyssey White Hot XG prototype blade (3 degrees of loft).
8. His wedges are Callaway's X-Series Jaws model (Vintage finish, True TemperProject X 7.0 shafts). He carries four wedges, including a 64-degree.
See a pattern there? This champ prefers a Callaway golf club. You may not be a pro (yet), but you can still afford the best golf gear, especially when you use a Callaway coupon code. Stock up on Callaway apparel too to stay looking sharp on the course.
Rory McIlroy
Young Rory McIlroy has been a pro golfer since 2007 and he's made a quite a name for himself on the pro golf circuit. McIlroy became the youngest player to earn over $10 million in career earnings in 2012. McIlroy started playing at a young age and was so dedicated to the game, he slept with his golf clubs as a child. McIlroy gets a lot of attention for what he wears on the course, and luckily you can stock up on his apparel at Nike.com.
McIlroy's Collection with Nike has 31 items. Here are a few of standouts:
1. RZN Black Golf Balls, retailing for $35, are a customer favorite.
2. The Nike Lunar Control 4 iD golf shoe is fully customizable. Boasting ultimate comfort from tee to green, this is shoe built for champion and can bring out the champion in you.
3. The Nike Tour Classic golf glove is crafted from perforated cabretta leather and has an ergonomic design intended to maximize range of motion.
4. Nike's Sleek Modern Plaque golf belt comes in five exciting colors. Plus, it's designed for durability to help you power through 18 holes.
5. The Tour Legacy Mesh golf hat will help you brave the elements while on the golf course.
6. Nike's Full-Zip Golf Sweater will help you power through any obstacle you encounter on the course.
Between Mickelson's gear and McIlroy's style you'll have everything necessary to look like a champion. So, stock up, save with our codes, and practice your swing. It may not be likely you'll hit a hole-in-one, but our codes will help you be a winner every time you shop, so look for our promo codes for all your sporting needs.
Save big on equipment and apparel with a Nike promo code!
__________________
1. https://en.wikipedia.org/wiki/Phil_Mickelson