Back to Top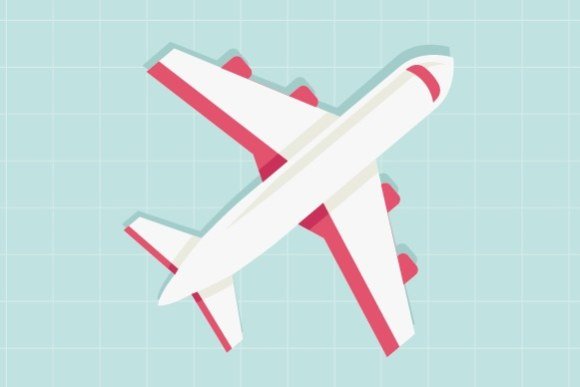 Dream Destinations - Where Do Americans Want To Go?
Find out what the top dream destination is for 2017! Broken down by year and by U.S. state, PromoCodesForYou.com reveals where Americans dream of traveling.
by Joe Graceffa, on June 14th, 2017
Have you ever fantasized about where you would go if you didn't have any obstacles in your way? If you had unlimited funds, no obligations and nothing but time? Everyone wastes a little time daydreaming of traveling, which is exactly why we decided to do a little digging and uncover the top destinations that people dream of visiting. Using Google Trends, we conducted research about which country is most sought after on a state-by-state basis. The results of our study can be found below.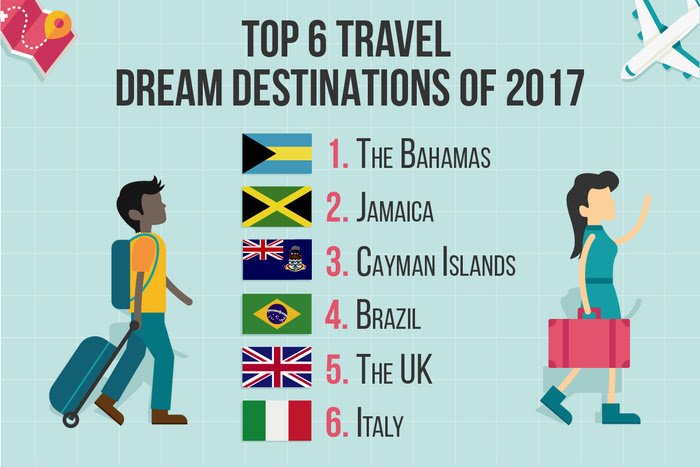 In 2012, the most popular travel dream was to go to the United Arab Emirates. The UAE is the perfect destination, because you get the best of both worlds- vast deserts, fine dining and stretches of beach.

2013 was the year where the majority of states dreamed of traveling to Germany. In fact, 12 states listed Germany as their top destination. There's no way around it: Germany has established itself as a great travel destination. It is considered to be "the heart of Europe." Plus, the majority of the population speaks English, which helps to make Germany a fairly easy country to explore.

The Cayman Islands were all the rage in 2014. It's no wonder, because the sparkling water and pristine beaches effortlessly lure visitors year after year. Cayman is also a great spot to take the entire family.

Ah, nature's little secret- the British Virgin Islands. Seven states ranked BVI as their top travel destination in 2015. The British Virgin Islands are also the unofficial sailing capital of the Caribbean.

The Cayman Islands came out on top again in 2016. Cayman is an undeniably cosmopolitan place-as two million tourists visit the islands each year. However, the rich local culture is also alive and well.

And finally, the top travel dream in the United States in 2017 was... the Bahamas! Seven states are lusting after the Bahamas the most, and who can blame them? With nearly 700 stunning islands, the Bahamas is paradise.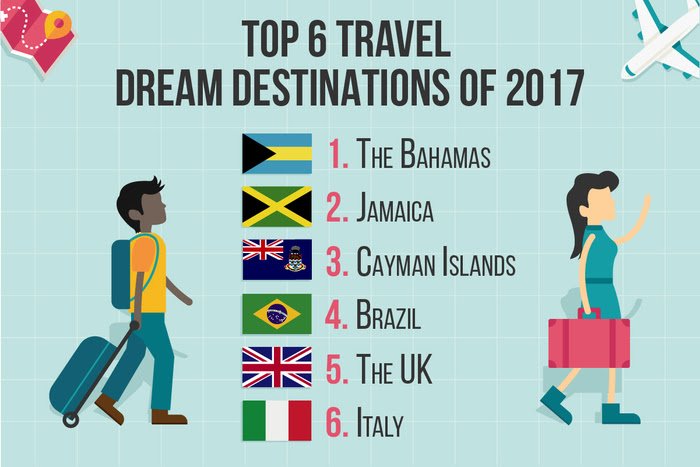 As you can tell by the top six dream travel destinations for 2017, A tropical getaway seems to be the most lusted after option.

Summer is the perfect opportunity to take the plunge and travel to a new destination. If you've got big travel dreams this season, visit our travel deals and start planning, because a vacation is always needed! Find great coupons and promo codes on travel websites such as Hotels.com, Travelocity & Expedia.