Back to Top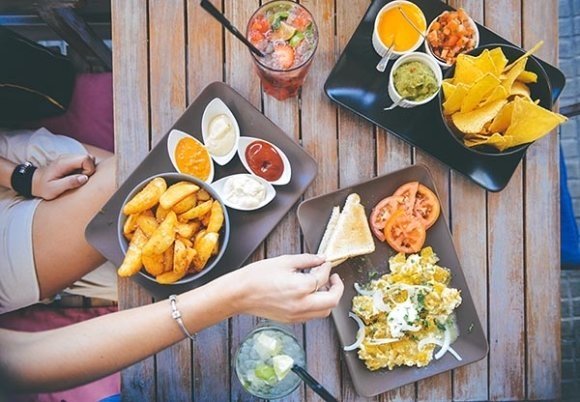 Easy Game Day Appetizers
These easy game day appetizers will delight with every bite, without keeping you in the kitchen wondering what everyone else is cheering about.
by Joe Graceffa, on November 27th, 2017
Football and food are a natural combination. But the secret to hosting the perfect football viewing party is for YOU to actually be able to watch the game, enjoy the time with your friends and not spend all your time in the kitchen wondering what everyone else is cheering about.
Nothing is worse than getting stuck preparing food when the game is on the line. So we've put together these easy game day appetizers to allow you to put down your apron and be part of the action.
1. Party Mix
Forget the bowl of nuts and create your own, customized party mix that your friends will rave about. Chex is always a favorite. Their texture and bold flavors deliver the perfect crunch of and salt and spice. Add mini chocolate chips or banana chips for a burst of sweetness. You can easily add or subtract ingredients. The idea is to make a bottomless bowl, so have plenty extra ready to serve.
During game day it's all about convenience. Go the extra mile and serve this mix in individual paper cups adorned with a football theme. It makes for a portable snack that your guests can easily carry to the couch or around the room as they mingle.
All this can be purchased in the comfort of your home with a one-stop, online shopping trip at Walmart.com. You can even enjoy free shipping!
(Get the best in game day snack with Walmart coupons!)
2. Guacamole and Chips
Football fans love guac. On Super Bowl Sundays in the past, Americans consumed over 80 million avocados. So make this a centerpiece of your on regular season football party whether it is Monday night, Thursday night or all day Sunday.
Once you make this recipe, you'll never go back to store-bought guacamole again. You'll be thrilled at how easy it is to make this fresh, simple dip.
This guacamole only takes 15 minutes to prepare and it can all be done in just one bowl. It's the perfect easy game day appetizer and ideal for your vegetarian friends to snack on. Make it the day before since it takes a while for the avocado to absorb all the flavors you add to it. Remember to store it in an air-tight container to keep it looking as good as it will taste.
3. Spiced Tortilla Crisps With Hummus
Get double use out of that super-sized bag of chips you purchased for the guacamole by serving a healthy dip. For a change from the usual chips and salsa, serve those tortilla chips with hummus.
Hummus is a healthy alternative to sour cream based dips and delivers protein and fiber as well as many nutrients such as iron and the B vitamins. It comes in a myriad of flavors from spicy to black bean hummus to satisfy every individual taste.
4. Pigs in a Blanket
For a day of watching the professionals toss around the "pigskin," offer your guests the always favorite "pigs in a blanket." It's okay to "cheat" a little and use frozen puff pastry to make these addictive crowd-pleasing snacks. Prepare and roll them ahead of time so you can join the game-watching party without being stuck in the kitchen.
Think out-of-the-box and beyond the basic hot dog snack. Store-bought sausage, like apple and roasted-garlic chicken sausage, or traditional smoked Kielbasa sausages are packed with flavor and add an unexpected delight to these all-time favorites. Serve with mustard for dipping!
(Stock up on the finest meats for game day with Omaha Steaks promo codes!)
5. Mini Meatballs

One-bite meatballs are full of flavor and really moist, making them an easy game day appetizer. Keep them hot in a slow-cooker and allow them to simmer and absorb the entire flavor profile as long as possible. Then serve them with toothpicks so your fellow fans can grab one and get back to the rooting for the home team.
6. Chicken Avocado Roll-Ups
Finger food is the name of the game and bite-sized sandwiches are always a hit. Wraps and roll-ups are so versatile. You can fill them with your favorite meats and condiments for an array of options. Just make sure they are flavorful and not too messy.
These chicken avocado pinwheels act as a filling and satisfying party appetizer. Or try a turkey based version. Best of all they, wraps can be served at room temperature so your fellow football viewers are not going in and out of your refrigerator during the game.
7. Fruit Kebabs
Kebabs are a fantastic and super simple way to munch on a variety of fruit without the need for silverware. Fruit skewers will become a requested sweet, low-calorie, healthy and colorful addition to your football spread. And it is one of the easiest game day appetizers we know to prepare. You just choose your favorite items and slide them onto a skewer, place on platter and serve. Try to vary the colors of the fruit for an attractive presentation (like strawberries, pineapple, berries bananas, and more).
Speaking of kebabs, don't just limit yourself to fruit on a stick. Antipasto skewers are a fabulous "no-cook' option. Just pile the meat, cheese, and veggies on a stick and serve with the easy pesto dip for a no-fail appetizer.
8. Decadent Desserts
No game day offering is complete without a sugar-filled item to end the event. Cupcakes are the ultimate finger food and can be decorated with sprinkles and frosting in your team colors.
But if you're feeling adventurous, create Football Cake Pops, a ball-shaped bite-sized mini cake shaped like a football that's served on a stick. This is a real "wow" dessert that your guests will be talking about long after the game is over!
Sure, it's easy to order pizza and open a case of beer for game day. But entertaining can be fun and simple with these easy