Back to Top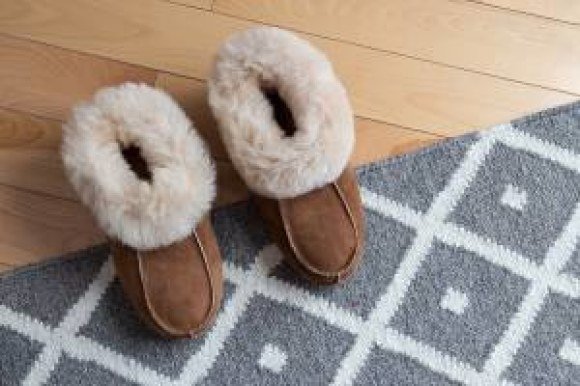 Exploring Shoe Textures
Color and shape are what we always look at when we buy shoes, but what about texture? It's time to get tactile about our footwear.
Color and shape is something we're always looking at when we buy shoes. What about texture? We think of textures in the top half of the body—fuzzy sweaters, sequins, brocades, but shoes can explore textures too. It's time to get tactile while peddling about.
Want to feel beachy without wading through the surf and sand? Bring the beach wherever you venture with Boston Proper's Shell Embellished Wedge. Studded with milky cowrie shells with pops of hue from artisanal beads, you can wear an island utopia on your feet. You'll be undaunted by the price, especially when you sign up for emails from Boston Proper and get 10% off. Save up enough to buy that private island retreat someday.
When I think UGG I think of fluffy, comfy goodness. If you love their boots, you'll love their fluffy slippers and slides. You'll roar with joy at UGG's Leopard Slide, that's flocculent, yet bold. Perfect for puttering around the house or even spicing up a normally tame outfit, see how it works for you. You won't get fleeced by UGG, though, especially when you use our codes. With free two-day shipping on your order using our codes, you'll be trotting around in no time.
Shopping for athletic shoes can be painfully boring. After trying on the color de jour and peddling about the retail sales floor, there's really not much else you can factor in when purchasing a shoe from a retailer. We all know ladies who are Amazons, bold warrior goddesses and we have shoe for them. Think of your favorite gladiator sandal and merge it with a superb athletic shoe and you've got the Nike Dunk Sky Hi Joli. You'll be making your own myth come true in these shoes, with their nifty stencil cut-out look. You know what else is nifty? Nike offers free shipping on all orders of $150 or more when you shop with our codes.
Snake about town in Converse. Converse offers deft sneakers that will carry you wherever you want to go. The John Varvatos Leather Double Zip has a serpentine feel on the outside with the sturdy build you've come to expect from Converse. Get $5.95 flat rate shipping when you shop using our codes. Shed those old clunky clodhoppers and get some slinky sneakers by Converse.
Texturize your feet and pedal into style. Give your black patent heels and so-so sneakers a rest and bring a landscape to your feet. We have the codes. You bring the imagination!
Browse the best deals on sneakers and shoes on our Nike coupon page or read about the 11 shoes every fashionista needs.