Back to Top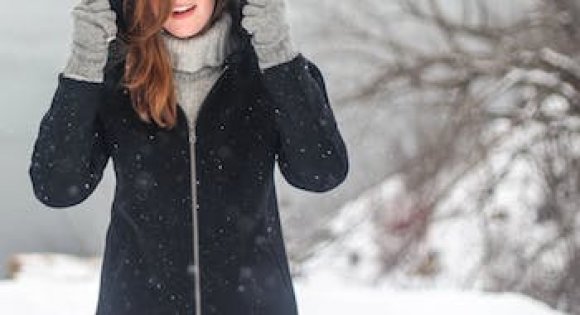 Fall Fashion: Stay Chic in the Rain
by Anne MIddleton, on November 12th, 2018
It's raining, it's pouring, but your life can't stop just because of the wet weather.
This year, there are an especially wonderful variety of cute and effective rain gear to keep you dry and warm. Whether you're walking your dog around the neighborhood or hiking a mountain, 2018 fall fashion presents style options to up-the-ante on your outerwear and select chic rain-proof apparel that will keep you dry.
The Always Popular Trench Coat
Trendy outwear embraces the traditional trench coat this year. Texture and plenty of prints make this versatile rainy weather essential easy to wear with anything you own. The ultimate classic style of the trench is no longer just a preppy staple. This well-liked silhouette is popping up in fresh colors and fabrics to add sophistication to every rainy-day outfit.
The trench is a great outerwear style for layering and it looks just as good with sneakers as with pumps and high heels A hooded design increases the practicality without sacrificing fashion. It's no wonder the trench coat style has been adopted by everyone from Audrey Hepburn to Duchess Meghan Markle.
(Pick up winter essentials at the best deals with a Kohl's coupon code!)
Heavy Hitters
A good winter coat should keep you toasty and dry without making you look like a marshmallow. If you reside in a climate that requires the warmth of a down coat, consider a full-length jacket that is water-resistant. Styles that feature cuffs at the sleeves will also help keep wintry cold air out and prevent heat from escaping through the sleeves, while an elastic hem will protect against the blast of winter.
Lighten Up
Not every city requires a parka or down jacket. Sometimes a light winter coat is all that is necessary. These options are flattering and feminine while providing protection from the rain and wind.
Wool and wool blends keep you cozy. Precious fibers, like angora, cashmere, or mohair will help make your coat look pretty and feel soft.
The 2018 season is all about checked plaid prints that instantly polish up your look and deliver a head-turning statement style. If you feel more adventurous, incorporate exotic patterns in your closet this fall. Animal prints, especially leopard and snakeskin reign supreme and act as a luxe way to top off any look.
But classic leather outerwear still tops the list and a leather jacket is the ultimate MVP of any fall wardrobe. Few pieces have been able to stand the test of time like the leather look. You can never go wrong with this wardrobe staple. This year, playful pops of color, oversized bomber silhouettes, and studded styles make maximum impact.
No matter if it's a real or faux leather, be warned; if you don't own a leather jacket, your wardrobe may be suffering. It is simple the most versatile outerwear garment known in the fashion world.
The Yellow Slicker Reinvented
Paddington Bear's iconic yellow raincoat is all grown up in 2018. Not only is this childhood favorite reimagined for one of today's fresh outerwear trends, it is also now available in yellow transparent material for those who never want to cover up their rainy-day outfit.
The familiar design of this reminiscent style is completely waterproof, but newer versions offer a drop-tail hem for extra coverage at the back or a cinched waist for a more flattering fit.
Modernized in bright and festive colors to ward off the gloom of a rainy day, many versions are created with a striped lining of the hood for extra panache. This style of jacket will almost have you wishing for wet weather just so you have an excuse to wear it.
(Stay cozy in the best gear at the best prices with a Boscov's coupon code!)
Fun Fur (Faux, Of Course)
The advantages and acceptance of faux fur cannot be overstated. Even the trendiest fashion houses now focus on designs that look like the real thing. Even better is that brightly colored or patterned faux fur is currently in vogue.
Faux fur is easy to care for, it looks great even after years of use, and it is easy to store in your closet.
When you wrap yourself in faux fur on the coldest of days, it makes it easier to go out in dreadful weather. Adding faux fur to a trendy jacket provides not just a sensible way to increase warmth, but also makes a high-end fashion statement.
Choose a style that is fully lined and includes a with a wide collar that will envelop your neck on those chilly days. The addition of pockets will keep your hands cozy.
(Stay stylish this winter with a Boston Proper coupon code!)
Loving Layers
For those who like to layer up during the winter, there are options outside of the usual jackets. Rather than wear a coat, a vest may be the perfect option.
Vests can take the place of light- to mid-weight jackets in many situations, without sacrificing warmth. When paired with a favorite sweater or thermal shirt, these cold weather accessories deliver a way to keep the heat in without the bulkiness of a heavy winter coat.
Not only do vests work to keep your core insulated, they free up your arms from bulky jacket sleeves, allowing for a full range of motion, whether you're working outdoors or in a drafty office.
Vests are an outstanding option when you are active in colder temperatures, such as fishing, hiking, bicycling, or running. And speaking about outdoor exercise…
Working Out While Staying Dry
When the weather turns it can really put a damper on your workout routine. But, with the right raincoat, you can still get outside and keep fit while staying dry and comfortable.
The key to choosing the right outerwear for you is figuring out what type of activities you'll be doing. If you are a runner you might want something more fitted that is also made from breathable material to let moisture out.
A more traditional waterproof coat that features reflective strips and pockets may be best for walkers.
If you're on a two-wheeled cycle, consider a jacket with an adjustable hood that can fit over a helmet.
When you take your workout on your travels this holiday season, you never know what weather may strike. Invest in a packable jacket that folds into its own pocket.
No matter your activity or weather, there is a multitude of raincoats and fall outerwear to meet your requirements so you can get on with your fitness routine. No excuses.
A Multitude of Choices
Outerwear can define a woman's look. The search for the right rainwear and weather-proof jacket can be daunting. Decide on a coat that will be durable and not leave you drenched while dashing through your daily activities. In other words, apparel where function meets fashion.
Winter might not officially begin until December 21st, but the cold arrives much earlier, making a warm jacket a must. If you do have to brave the cold and wet weather, look good doing it and stay chic in the rain.