Back to Top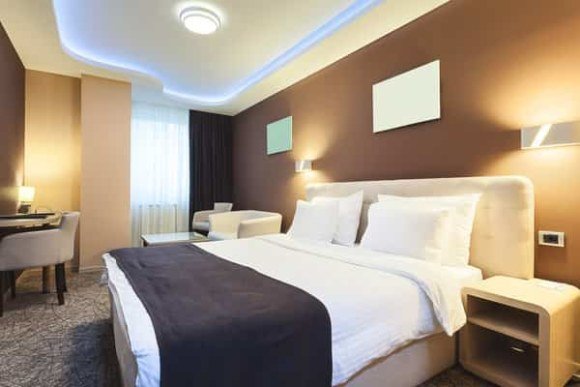 Get a Cheaper Hotel Room on Your Next Trip
Click to read more on great ways to save on resorts and simple ideas to obtain amazing hotel deals!
Seasonal hotel rates are often so high, it can make you actually rethink the idea of taking a vacation. The monthly average daily rate of hotels in the United States increased year-on-year since 2011.
But fear not! There are great ways to save on resorts and simple ideas to obtain amazing hotel deals to keep your travel plans and travel budget on track.
1. Be Flexible. If you are willing to vary your travel dates, you will be more apt to get the best hotel bargains. Often, by staying midweek rather than during the weekend you'll enjoy discounts at top-notched locations. Using the features on Hotels.com and other travel sites, you can filter your search for accommodations and travel packages by date. If you are able to vary the timing of your vacation, you often find less expensive rooms.
2. Location, Location, Location. If you are willing to cast a wider net on your destination, amazing hotel deals await you. For example, a hotel in Jersey City may be only half the price of a midtown Manhattan hotel, and yet it's only a short train ride into Manhattan.
3. Learn to Commit. Whether you are planning a trip just a few miles away or across the continent, it may seem tough to commit to a non-refundable hotel rate. But this simple step might save you some serious money and allow you to stay in a luxury hotel. Just like the airlines, signing up for accommodations in advance (knowing you may pay a penalty if you make changes) may be worth the risk.
4. Spontaneity. Many hotels often drop rates after 6:00 p.m. if people with reservations have not arrived. This is a trick best reserved for shorter trips, like romantic weekend getaways or impromptu get-togethers with friends in the city. If this sounds a bit too daring, just know that booking any hotel last minute usually results in much cheaper rates. This is similar to the way cruise ships operate… the ship has to sail whether it is full or not, so cruise operators (and hotels) are willing to discount their rooms on the final days to at least acquire some revenue.
5. Hidden Discounts. There are dozens of organizations that have negotiated discounted charges with hotels of all sizes, from national resorts to local bed & breakfasts. If you are you a member of AARP, AAA, a professional group such as the American Bar Association or the American Medical Association, you may be entitled reduced hotel rates. Many hotel chains and individually operated hotels also provide discounts to military personnel.
6. Promotional Codes. The world wide web is a wonderful tool for finding savings on just about anything. Hotels.com, a leading provider of lodging worldwide, offers travelers one of the widest selections of discount lodging accommodations including traditional hotels, vacation rentals and bed and breakfasts at more than 500,000 properties worldwide. You can secure even bigger discounts with Hotels.com coupons and Hotels.com promo codes.
7. Package It. If you're traveling primarily to just one destination, look for a deal that includes hotel, airfare and car rental, which may be cheaper than buying these components individually. You can often save big on your trip when you purchase a bundled package, or consider an all-inclusive vacation to save on all your travel costs.
8. Reward Yourself. Many credit cards allow you to use points that can be used on hotel accommodations. Or if you have a favorite hotel, join their loyalty program. The more points you accrue, the more freebies and upgrades you receive. For example, Hotels.com Rewards Program offers members 1 night free after staying 10 days. Plus, these select individuals can unlock secret prices and hotel deals that aren't available to just everyone.

Don't let astronomical hotel prices derail your trip. Travel smart and use these simple tips to secure super savings on hotels throughout the year.