Back to Top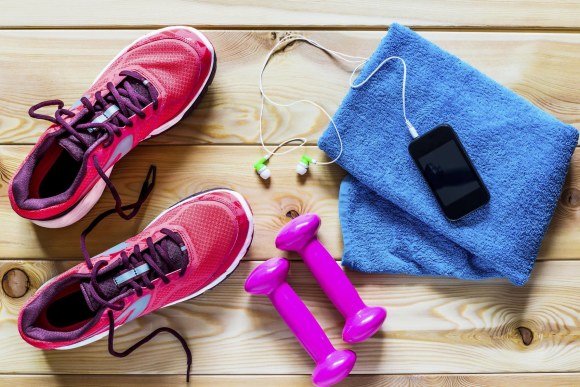 Gift Ideas for the Fitness Enthusiast in Your Life
From protein powder and supplements to running shoes and fitness trackers, this gift guide is chock-full of ideas for the fitness enthusiast in your life.
by Joe Graceffa, on November 4th, 2016
Buying a gift for the fitness enthusiast in your life can be pretty difficult. It's tough to know what they want, what they need, and what they already have. Do they need a new gym bag? Do they even use a gym bag? Questions like these can come up over and over when you're trying to shop for that perfect gift. On top of that, there are always new trends in apparel and developments in exercise technology that can either be just the thing they need to take their fitness to the next level or an irrelevant, lame, and potentially expensive fad. To make the gift-giving process easier, we put together this helpful gift guide for fitness enthusiasts.

Gym Accessories

For fitness enthusiasts, there's no shortage of accessories available on the market. It can be hard to determine which accessories will improve a workout and which accessories are totally unnecessary. When purchasing exercise accessories for fitness enthusiasts, it's important to know what type of exercise or activity they typically prefer. From there, you can purchase accessories accordingly.

Gold Standard Whey Protein

If the person you're shopping for is a serious fitness enthusiast, but doesn't currently use supplements, help them get started by purchasing them their first container of whey protein. According to Men's Fitness, there are many important benefits of using whey protein, from cutting fat while gaining muscle to reducing hunger. It can even help to fight against some common cancers. Since the cost of whey protein dissuades many people who'd be interested from trying it, purchasing them a tub could be just the thing they need to get started. When you buy whey protein online from The Vitamin Shoppe, you can save almost 50% on a tub.

Price: $29.99
How to save: Vitamin Shoppe promo codes
Where to buy: Vitaminshoppe.com
Blender Bottle

If the person you're shopping for does use supplements or protein shakes, consider buying them a blender bottle. These bottles are widely used because they effectively blend protein powder for a better tasting protein shake. The blender bottle is a simple, inexpensive, and useful fitness accessory that anyone can appreciate.

Price: $9.99
How to save: Vitamin Shoppe promo codes
Where to buy: Vitaminshoppe.com
Gold's Gym Weight Lifting Gloves

People who lift weights often find that their hands become dry and calloused. For this reason, anyone who lifts weights should have a good pair of weight lifting gloves in their arsenal. In addition to preventing callous formation, weight lifting gloves also can prevent wrist pain and increase grip strength. Some weight lifters who don't use weight lifting gloves are hesitant to give them a try, which is why they make such a great gift. Weight lifters who don't use weight lifting gloves get a chance to try them, and the ones that already do will get an upgrade. Gold's Gym's Weight Lifting Gloves are manufactured with microfiber leather palms as well as hook and loop adjustment for maximum grip strength and comfort.

Price: $12.40
How to save: Walmart promo codes
Where to buy: Walmart.com
Running Shoes

If you're looking for a great gift, and the person you're shopping for is a runner, running shoes are always a great choice. If you've been looking for a gift for the runner in your life, you probably already know how often they need to replace their shoes. With an incredibly large variety of running shoes available, it can be tough to decide which ones are the right choice. First, you need to know if the person you're buying for typically runs on the road, on trails, or in the gym so you can purchase a pair of shoes that's designed for his or her preferred running environment

Nike Zoom Pegasus 33

Nike's Zoom Pegasus 33 running shoes are among the most highly-rated running shoes currently on the market. Available for both men and women, these stylish running shoes are comfortable, durable, and reliable. Additionally, experts describe them as "the perfect combination of simplicity, cushion, speed, and style." They can be used for daily running on the road or in the gym, for high-mileage runs and for fast sessions. Runners of all different levels of experience or intensity can appreciate this shoe. The style of the Zoom Pegasus 33 has been widely praised, and they're available in 10 different color combos ranging from the conservative to the vibrant and bold. Regarding the design, runners praise the shoe's traction and breathability. Finally, when compared to prices of other running shoes, many runners felt that the Zoom Pegasus 33 offered the best bang for the buck.

Price: $110
How to save: Finish Line promo codes
Where to buy: Finishline.com
New Balance Minimus Trail v4

If you're shopping for a person that likes to run on trails, you should consider the New Balance Minimus Trail v4. If the runner you're shopping for splits his or her time between running on the road and running on trails, even better. Experts who have reviewed the Minimus Trail v4 say that this shoe is versatile enough to work well with either type of running. They also report that the shoe has an excellent grip on many different surfaces, remains durable yet flexible, and handles the elements exceptionally well. Since it comes in a few different colors, there's sure to be the perfect shoe for the fitness enthusiast you're shopping for.

Price: $114.99
How to save: New Balance promo codes
Where to buy: Newbalance.com
Activity Trackers

Activity trackers have been steadily gaining in popularity over the last few years. With this gain in popularity, there's been an explosion of new products in the market. These various products range in terms of quality, reliability, and the features that they offer.
TomTom Spark Cardio + Music

TomTom's Spark Cardio + Music is one of the more fully-featured activity trackers out there. With 3GB of storage for music, built-in GPS, and a heartrate monitor, this activity tracker aims to be everything a fitness enthusiast needs. Other fitness trackers, such as the Fitbit Blaze, require the activity tracker be connected to a smartphone to use GPS and listen to music. The fact that the TomTom Spark Cardio + Music does it all makes it a more attractive option. If you're looking for a solid, reliable, and fully-featured fitness tracker, the TomTom Spark Cardio + Music is the way to go.

Price: Starts at $246.99
How to save: Walmart promo codes
Where to buy: Walmart.com
Under Armour's HealthBox

Considered to be "the most comprehensive ecosystem of fitness products yet made," Under Armour's HealthBox is both the culmination of years of research and investment and a symbol of the future of fitness. Released in early 2016, the HealthBox is a $400 kit comprised of a scale, an activity tracker, and a heart rate measuring chest strap. These products work together with Under Armour's mobile app, Record. Given the high price tag, this kind of fitness technology might be a little too pricy for most. Fortunately, on Under Armour's online store, you can buy each piece of the HealthBox separately. So if you think the person you're shopping for might be interested in the whole package, but especially needs a scale or a heartrate monitor, you can start there.

Price: $400
How to save: Under Armour promo codes
Where to buy: UnderArmour.com
Apple Watch 2

If you think a fitness tracker is just what the person you're shopping for needs, but can't quite figure out which one's best, look no further than the Apple Watch Series 2. The Apple Watch is obviously much more than a fitness tracker, but its fitness tracking features make it the best in its class. Improving on the original design of the Apple Watch, the Series 2 has added GPS and water resistance features that are certainly attractive for those who exercise outdoors. The Apple Watch Series 2 can be used while swimming, and will even track pool and open water swims. Because of this functionality, the Apple Watch doesn't need to be taken off in a post-workout shower, either. The impressive range of functions combined with the convenience and style of the Apple Watch make it the ultimate fitness tracker on the market. One thing that's important to mention is that it's limited to iPhone users, so make sure the person you're shopping for doesn't use Android.

Price: Starting at $369
How to save: Target promo codes
Where to buy: Target.com
Even though it can be difficult to know exactly what a fitness enthusiast will appreciate and enjoy the most, there are plenty of great gift ideas. Hopefully, the gift that you get for them will improve their exercise and enable them to live a happier, healthier life.