Back to Top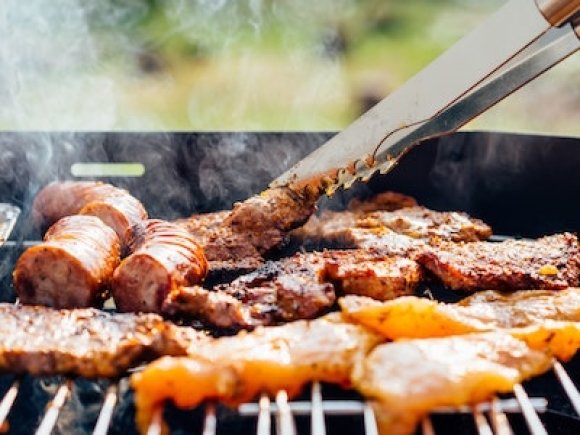 Grilling Out: The 5 Best BBQ Recipes for Summer 2018
by Joe Graceffa, on July 3rd, 2018
Grilling season has arrived, and that means that it's time to break out the barbecue and create your meals on an outdoor flame. BBQ is a valued American pastime and an estimated 92 percent of citizens treasure having their own barbecue grill.
Great for Grilling
We offer these grilling ideas to enhance your summer menu experiences. We've added some unconventional barbecue recipes and encourage you to try these quirky options and experiment with new items on the grill.
Where's the Beef?
This summer, it's time to open your mind and expand your horizon of your grilling menu. After all, there's more to grilling than burgers and hot dogs. Try these crowd-pleasing recipes that are sure to be a hit.

Beef and pork baby back ribs are excellent on the grill if you allow enough time to make it happen. You can't rush ribs. "Slow and low" is the barbecue motto for a good result.
Juicy sirloin steaks are easy to cook and easy to share while skirt steak is great to use in Mexican dishes like steak tacos or fajitas.
Many beef aficionados will tell you that the Porterhouse is the best cut of meat. The hefty T-bone is left in adding extra flavor that is only increased when grilled to perfection.
Rib eye steaks are a very tender cut of meat. They're marbled with a little bit more fat than most steaks, which makes them juicy and full of flavor when barbecued.
You can add flavored chips to your fire to your gas or charcoal grill to enhance the flavor even further.
Many types of meat are best when marinated for at least three hours in your choice of ingredients. But if you don't have the time or energy to do this yourself, Omaha Steaks offers a wide variety of pre-seasoned and marinated products that explode with flavor without you having to lift a finger.
Every Omaha Steak is aged at least 21 days, a careful process that creates the most tender meat possible. Then they're flash frozen to preserve the flavor and texture of the steak perfectly until the moment you're ready to grill. Enjoy Omaha Steaks with a 100% satisfaction guarantee.
Top off your perfectly grilled meal with an easy homemade BBQ sauce recipe to boost the delicious taste of the meat. Choose one that can be made in a single bowl to minimize the mess and time and effort. Even a basic sauce beats the bottled stuff.
(Grab all your fresh meats with an Omaha Steaks promo code!)
Shrimp on the" Barbie"
The American Heart Association advocates eating seafood twice a week and shrimp is a favorite for many of us. It is available in almost all year round and is sold according to size.
Shrimp has the added benefit of having significant health benefits:
it is very low in calories per ounce
shrimp has no saturated fat
shrimp contains many nutrients we are often lacking, including selenium, copper, choline, zinc, niacin, and vitamins B6 and B12
Before grilling, give the shrimp flavor in the marinade of your choice. It can be something as simple as a brush of olive oil on the shrimp with some salt, pepper, and squeeze of lemon.
Thread your shrimp on a skewer for easy grilling. You can use a wooden or metal skewer, since both options work well. Better yet, think out of the box and use sticks of lemongrass or sprigs of rosemary as an alternative to traditional skewers.
Cooking shrimp on your barbecue is quick and easy to prepare and eat. It can be served on a bed of rice or pasta as an entrée, but it is also ideal as an appetizer.
(stock up on kitchen accessories with a Sur La Table coupon!)
Pizza on the Grill
It's said that practically anything can be cooked on an outdoor grill. So, forget delivery. This summer is the time to try pizza on the grill!
Simply brush olive oil on flattened dough (you can find pre-made pizza dough at most grocery stores) and place it on the grill. This recipe uses the irresistible combination of asparagus and ricotta. But the grilled dough can be used as the base for any pizza, salad, or open-face sandwich you want. It will add a unique, smoky flavor to your dishes for a fresh flavor.
Don't Forget Desserts
Fresh, local peaches are one of the true delights of summer. Grilling makes them even more of a treat by highlighting and intensifying their natural flavor and adding a subtle smokiness. Make a dessert with grilled peaches as the star ingredient. Your family will love the taste while enjoying a healthy sweet treat.
Lightly grilled peaches can also be featured along with cinnamon and brown sugar that caramelizes to perfection on the grill. With just four ingredients and hardly any prep time, you can have this easy dish ready in minutes.
Grilled pineapple slices are the perfect base for an ice cream sundae, with or without coconut and even store-bought angel food cake screams "summertime" when it's grilled and topped with sweetened balsamic-soaked strawberries.
Clearly, there is no limit to what your grill can offer during the warm weather. Grilling ideas are only limited by your imagination!