Back to Top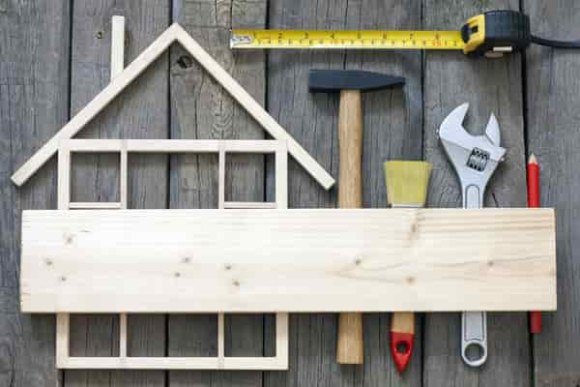 Home Improvement Projects for Fall
Fall is the optimum time to prepare your home for winter.
Fall is the optimum time to prepare your home for the wind, rain and snow of winter. It is time to consider taking on preventative maintenance for your home while the climate is still nice. The largest investment most of us will make is our residence. It is necessary to stay on top of any necessary fixes before winter. Data shows that Americans spend over 284 billion dollars on home improvements and repairs. No wonder the popular home improvement stores generate in excess of 144 billion dollars.


Regardless if you live in sunny California or snowy Delaware, the elements of winter weather can be hard on your home. As summer fades away and the days get shorter, there are six fall home improvement projects that should be on your list.
1. Window Replacement. If you feel a breeze next to windows when they are closed, it is time to replace them. This essential home improvement project is best done by professionals such as the installers at Home Depot. Experts will assure the proper fitting of the new windows and eliminate all gaps and cracks to avoid long-term problems. The Home Depot's replacement window installers are local, licensed, insured and well-trained.
With today's highly energy-efficient windows and modern designs, there are plenty of benefits to replacing windows:

o Cost-saving: The latest window models increase energy efficiency and meet the Energy Star standards to help save on heating and cooling costs
o Aesthetic: Selecting windows that reflect the era and style of your home will enhance its value and appeal
o Function: Newer window panes can help seal out unwanted sounds such as traffic noise or that boy band rehearsing next door
2. Power Washing. Fall is the optimum time to have your home's exterior cleaned. Not only will your home look better, power washing will also prevent the growth of mold and mildew. If you're not comfortable deciding whether your home's exterior can handle the pressure that will be exerted from the powerful nozzle, hire a professional or consult your local home improvement authorities for guidance.
3. Fireplace Repair. Believe it or not, there are still chimney sweeps whose job it is to help homeowners maintain a proper functioning fireplace. These experts will climb and poke around in the chimney to search for any potential blockages like bird nests. They will also assure the flue is in working order. Winter is a perfect time to cozy up near a fire, so the cool months of autumn are an ideal time to assure it is working properly.
4. Roof Repair. There is nothing worse than coming home on a rainy afternoon to find water all over the floor as a result of a roof leak. Before hail and showers and snow arrive, check out the condition of your rooftop.
Most experts agree that a typical roof will last up to 25 years and the reputable home improvements stores usually offer warranties that last at least this long. If you notice that the shingles are curled, cracked or buckling, it's time to get the roof inspected. Missing tiles and loose shingles on the exterior, or water stains on the interior ceiling are other signs that your roof likely needs attention.
Consult a roofing specialist to help determine if your roof requires a simple repair or if an entirely new roof is necessary. Your local home improvement store professionals can help you assess the health of your roof and fix any problems quickly and safely.
5. Light it Up. Less daylight calls for exterior lighting. You can enhance the curb appeal of your home, while adding a measure of safety and security, by installing low-voltage landscape lighting or motion sensor lights. These fixtures can be placed on walkways, garages, driveways or steps. Lights on the outside help prevent slipping on wet pavement or ice. The team at Home Depot and other home improvement stores can recommend the most efficient way to light up the night around your home.
As you take on these projects, you can save on a wide range of tools, furniture and accessories with a Home Depot promo code from PromoCodesForYou.com.
6. Gutters. Before winter hits, inspect and clean the gutters to assure the water can flow smoothly away from the house. A good tip is to protect your gutters with mesh guards to keep leaves and other debris from causing blockages. Home improvement stores have all the supplies from safety ladders to gloves to handle this slightly messy project.
Addressing these home improvement projects now, while the weather cooperates, will ensure you won't require emergency repairs in the harsh, wet winter months.