Back to Top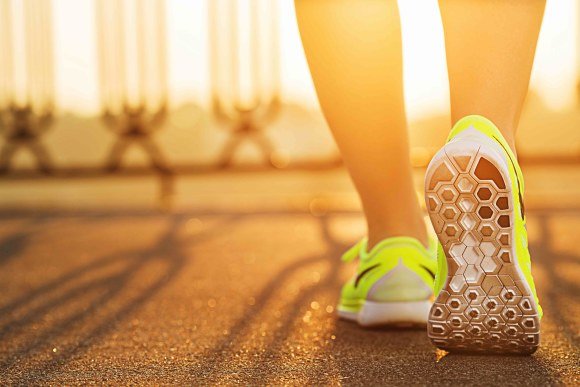 How to Choose Your next Running Shoe
There are an almost endless number of running shoes available on the market today. Here are a few tips to help you choose the best shoes for your fitness regime.
Most running shoes feel comfortable when you're standing in a shoe store, but the true test comes several miles into your run. The ideal shoe has to do with your running style, the surface where you run, the distance and the shape of your foot. As Nike, the gold-standard in athletic footwear states on their website, "…our footwear is specifically designed to
match yours—whether that's running longer, stronger, or faster."
There are an almost endless number of running shoes available on the market today. There are road-running shoes that are light and flexible for jogging on the pavement to help cushion and stabilize your feet during the repetitive strides on hard surfaces. There are trail-running shoes with deep treads, designed for off-road routes with rocks and other obstacles. There are even cross-training shoes that are designed for gym workouts and balance activities.
Here are a few tips to help you choose the best running shoes for your fitness regime.

• Cushioning. This is usually a matter of personal preference. Some people like to feel the ground and have zero cushioning, while some can't get enough softness and prefer to feel like they are running on a cloud. The objective is to create heel-to-toe comfort so you can conquer any distance run with ease.
• Arches. Whether you have flat feet with fallen arches or high-arched feet that cause you to land on the outside edges of your feet when you run, there is a shoe style that will match your needs. New Balance recognizes the importance of a good fit for a running shoe and offers Arch Support Stability Insoles for premium arch reinforcement. Since their beginning in 1906, New Balance has been focused on providing the best fit for every serious athlete and committed weekend warrior.
Save on all types of athletic gear with New Balance promo codes from PromoCodesForYou.com.
• Mileage. Before purchasing your new running footwear, consider is how many miles you'll be putting on the shoes. To prevent injuries replace your shoes every 300 to 400 miles since even the best running shoes lose cushioning, stability and shock absorption. Once a running shoe begins to deteriorate, you are more prone to injuries during your run. If you feel aches or pains in your lower back, knees or ankles while jogging, new shoes should become a priority.
• Size. Try on shoes at the end of the day. Your feet normally swell a bit during the day's activities and will be at their largest then. This will help avoid buying shoes that are too small. Many running experts suggest you have a half to a full thumb's nail length from your big toe to the end of the shoe for the overall health of your feet. This may require going a half or even one full size from your street shoe size.
• Aesthetic. Last but not least is the look and style. You want to feel confident and proud in your new shoes. Not to mention, a great looking pair of shoes can lend an extra dose of inspiration for those days when the couch seems more appealing than running.
Nike continues to be a leader in the running shoe category. In 2015, Nike's North American revenue in the footwear sector alone amounted to about $8.51 billion. And today, even after more than 50 years, Nike continues to deliver superior craftsmanship and innovation. Their shoes are not only designed for ultimate performance, they incorporate the style and fashion seen in professional athletes all over the world. Nike has taken the once impossible task turning athletic footwear into status wear.
You can save even more by using Nike promo codes and coupons for at PromoCodesForYou.com!
Be Inspired
The explosion of athletic footwear sales is astounding. Sales of running and jogging shoes now exceed $3 billion in the United States. Purchasing a running shoe with heel-to-toe comfort and a smooth, well-cushioned ride will encourage you to achieve your goals with ease.
If you are newly inspired to get out there and start running, or if hitting the pavement is already a regular part of your routine, a good pair of running shoes is essential. It can mean the difference between sticking to your running plan and giving it up early.