Back to Top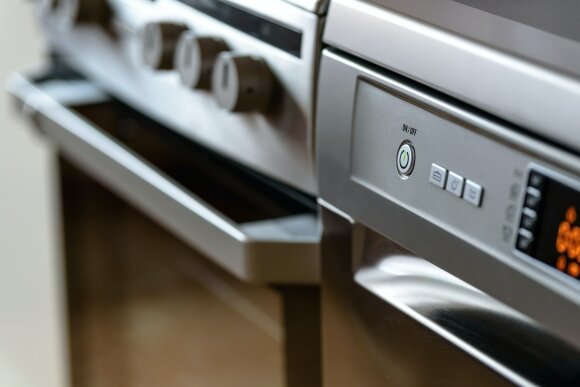 How to Get the Best Appliance Deals
The price of appliances big and small can quickly become one of your largest expenses. Whether you rent or buy, adding appliances to your home represents a significant investment. But there are easy and clever ways to cut the cost and find the best appl
by PromoCodesForYou, on April 23rd, 2020
Refrigerator not keeping your food cold anymore? Microwave making funny (and scary) sounds? Clothes dryer not tumbling properly? Silverware coming out of the dishwasher even stickier than when you put it in?
These are all signs it may be time to replace those necessary appliances that make our lives more convenient before they completely fall apart and you're stuck with melted ice cream and need to drive to the laundromat to clean your clothes.
The home appliance industry is a multi-billion dollar category and, unfortunately, the prices of both small and large appliances seem to be consistently rising.
But fear not! There are tips and tricks to get great savings, find kitchen appliance deals, and even take advantage of the best deal on stainless steel appliances, which are always a favorite of consumers nationwide.
The Best Appliance Deals
Here are simple tips to find the best affordable appliance deals:
1. Online
If you enjoy shopping online, there are a variety of ways to discover the specific type of appliance you need. Whether your shopping on exclusive online stores, like Overstock and Amazon, or surfing the "big box" and DIY stores, there are loads of tools to find the perfect product.
Most websites clearly show all the features and specifications with multiple-angle photographs of the appliance. And easy-to-read comparison charts make it easy to evaluate similar items from different brands in order to identify the best combination of price, features, and ratings.
So, log on and start exploring in preparation for your appliance purchase.
2. Big Box Stores
Mega retailers offer a vast selection of state-of-the-art appliances to keep your home running smoothly. With many of these merchants, you can buy online with confidence, or if you prefer, walk into your local store to see the appliance in-person.
• Best Buy
Known as the tech superstore, Best Buy also carries a respectable selection of major home appliances.
Best Buy appliance deals will have you jumping for joy and clicking your heels when you see the competitive prices and exceptional offers. Founded way back in 1966, today, Best Buy has over 1,200 stores worldwide. With this high volume of locations, it's no wonder they have great savings and some of the best appliance bundle deals in the business.
o Included in Best Buy's appliance deals are products from Whirlpool, the American owned company, that enjoys the greatest share of the local household appliances market. The Whirlpool brand alone brought in over $21 billion in revenue last year which shows the trust in the brand. Best Buy recognizes the popularity of Whirlpool and devotes an entire webpage dedicated to the best deals on Whirlpool appliances.
o And unlike many big retailers, Best Buy has eye-popping discounts on both large and small appliances from ranges, ovens, and icemakers to blenders, toasters, and slow cookers. Take time to browse and enjoy the experience of choosing new items for your home.
o Offering 18 month financing on appliances with a minimum purchase, Best Buy can always find a way to help you stay within budget when you require new appliances.
3. Membership Clubs
Member-only stores like Sam's Club, BJs Wholesale, and Costco might already be your go-to spot for sampling bite-size appetizers as you stock up essentials, but many of these stores also sell major appliances with attractive benefits.
One of the top benefits of buying your next dishwasher, range or refrigerator from Costco or other superstore is free in-home delivery and basic setup of new appliances. And they will haul away your old, useless models, too. This type of service can easily run you several hundred dollars with some other retailers.
But a gentle reminder that you will have to pay for membership to receive the majority of these pricing, warranty, and other advantages.
4. Home Improvement Stores
Explore the opportunities of great selection and savings from places like Lowe's, Menard's, and Home Depot. From LG to Maytag and Bosch, the assortment of small and large appliances is seemingly endless at these gargantuan stores. They carry reputable brands that have been in existence for decades, as well as products from companies that have recently entered the category.
If your grandparents refer to their refrigerator as "Frigidaire," you'll understand why this brand is famous for the reliability of their products. Since Frigidaire sells primarily through retailers, shop at Lowe's for the best deals on Frigidaire appliances for durable products that you can depend on.
There are other great reasons to check out your DIY mega store for appliances:
o With the majority of these national home improvement stores, you won't incur hefty shipping charges because most offer free delivery on items with a minimum purchase.
o An added benefit with these super centers is their Price Match Programs which assures you will be paying the lowest price available. If you find a lower price on an identical item, they will usually match the price so you will always get the best possible cost on your appliances.
o There is an entire page of appliance savings can be found on the Home Depot website so you can stay on budget without sacrificing quality.
o And Home Depot gives you extra bonus savings with their Home Depot Protection Plan
Home improvement stores also have a good collection of "smart appliances" that include state-of-the art electronic features to make your life easier. The smart appliance market in the U.S. was estimated to be 7.5 billion U.S. dollars annually and continues to grow.
Leading the pack in this popular category that is exploding in sales is Samsung. Their latest line of appliances was developed to create a central command center for your home. Samsung Family Hub relies on the expertise of Samsung technology that started with Smartphones and propelled the company into a leader in appliance innovation.
There are touch screens directly on the appliances that features Wi-Fi, voice activation, interior cameras to make life easier for every member of the household. Samsung appliances simply offer a centralized command center for your entire home. Their amazing engineers have developed a super-smart cooking range that allows control over both a cooktop and an oven remotely via an app on your smartphone. You'll find some the best deal on Samsung appliances including "smart" products at Home Depot.
5. Buy Directly from the Manufacturer
You can purchase all types of household equipment directly from the company that produces them with significant savings.
For example, some of the best deals on Maytag appliances can be found directly from the famous Maytag Man by logging onto the website and visiting the Maytag Appliance Outlet tab. Sure, Maytag has outstanding laundry equipment, but they also have high-quality Maytag irons, water filters, and vacuums. Maytag's reliability is unmatched and they offer a 10-year limited warranty to keep your Maytag appliance running, ensuring dependability for years to come.
6. Other Great Ways to Get Appliance Deals
The ways to save don't end here. Consider these additional ideas to assure you get the ultimate in appliance deals.
• Buy the Sample Floor Model
When new appliances are introduced, the older models have to be removed from the showroom floor. There's often nothing wrong with these items, other than a minor dent or scratch. Purchasing a floor model can offer you all the style and features of an upscale kitchen appliance and save you money, allowing you to get luxury appliances at a fraction of the original cost.
• When to Find the Best Deals
Major home appliances are often expensive, but they can be more affordable at certain times of the year, especially around holidays when there are plenty of sales. Before you buy a dishwasher, refrigerator, range, washer or dryer, decide if you can wait to make the purchase. Waiting for a seasonal sale you could save a bundle of money.
• Memorial Day is not only a time we are bombarded with sales on household appliances, May is also Maytag Month. Some of the best deals on Maytag appliances take place during this annual rebate promotional period.
• And don't overlook Labor Day sales in September. Labor Day weekend marks the unofficial end of summer and many stores host closeout sales not only on summer furniture, but also on larger items, such as appliances.
• Veterans Day in November is the last major shopping event before Black Friday. As with other holidays, stores and online retailers often capitalize on this long weekend with limited time discounts. Many also offer extra savings exclusively for current and former members of the military.
• And of course, shopping on Black Friday and Cyber Monday are the booming time of year when retailers reduce prices on just about everything.
• Save When New Models are Introduced
Similar to electronic products, prices on last year's and previous appliance models drop when latest versions with the greatest features are introduced. New appliance technology is often announced in January at CES, an annual tradeshow, so keep your eyes out for big discounts during this time period.
• Pay Over Time
If you have a tight budget, check out the best financing deals that are offered by stores from Sam's Club, Costco, Best Buy, and most retailers. Most stores offer no interest financing if the item is paid in full after an agreed upon time period.
Get the Best Appliance Deals
Purchasing home appliances is a major decision for most homebuyers and represents a significant investment. Take the time to find top brand names in all major appliances and appliance packages for less. After all, you want to make sure the quality is top-notch.