Back to Top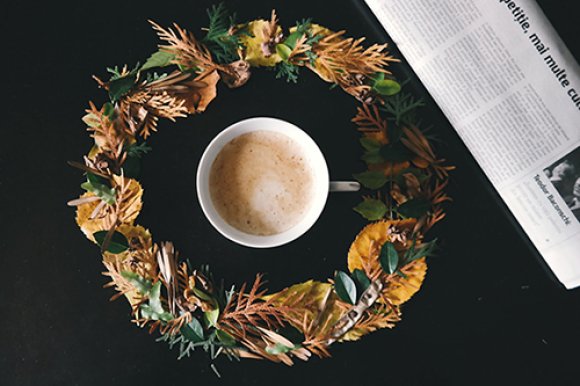 Inspirational Fall Decorating Ideas
Get inspired this Fall with the best decorating ideas and trends from PromoCodesForYou! Save big on seasonal decor with deals from Horchow.com and more!
by Joe Graceffa, on October 31st, 2017
When we transition from summer to fall, there are several changes that occur. There is a change in the weather, a change in our wardrobe, a change in our sports viewing habits and a change in how we want to decorate our home.
There is a multitude of designs available to decorate your home in a tasteful and festive way for fall just by adding a few cozy touches around your house.
What's Trending
This year, the trend is returning to slightly more luxurious interiors, with home decor that feels and also looks cozy and comfy. During autumn, people want their homes to feel as welcoming as possible.
These inspirational fall decorating ideas reflect the brisk weather and changing of the leaves. These are relatively simple transformations that anyone can incorporate into their home to create a style that exudes comfort.
Fun and Fabulous Fall Decorating Ideas
• Throw it On.
Add seasonal style and functionality to your living spaces by draping cozy blankets and throws across the backs of couches and chairs throughout your home.
These always get plenty of use as people snuggle up on those brisk autumn nights. For a seamless look, search for soft fabrics in colors and patterns that will complement your existing decor.
Faux fur throws are hugely popular this year. They maximize the coziness of the autumn and add luscious texture in the room. If you live a warm weather climate you can still take part in this trend. Just opt for a lighter color of the faux fur.
And be prudent with your selections. It's definitely possible to go overboard with faux fur, so try to limit it to one or two items strategically placed in a room. When in doubt, expert designers say "go for less."
(Complete your home decoration at amazing prices with a Horchow coupon!)
• No Cold Feet.
When the weather turns cooler, there's nothing like a cozy textile underfoot to literally warm things up. Hardwood floors are great, but now is the time to add a comfy rug or two in your bedroom, living room or any high traffic area. Rugs in rich tones, patterns and textures add a warm and inviting look and feel to any room.
A reminder to purchase a rug pad, unless the rug has a built-in rubber backing. A rug pad provides friction to keep the rug from sliding around. This is both a safety factor, and it prevents damage to the underside of the rug, protecting your investment.
• Seasonal Greenery.
Plants in warm and darker colored pots add a fresh note to any space. But it is the addition of hanging a wreath that creates an instant feeling of fall.
The best wreaths include fall colors, texture, seasonal leaves, berries, foliage, pumpkins, pinecones, burlap, ribbons, and more. The options are truly limitless.
If you want to stand out from your neighbors, consider a square (that's right, square) wreath for your door or mantle. It will bring a touch of fall flair to any indoor or outdoor space.
(Make sure your home is looking its best with a Home Decorators Collection promo code!)
• Velvet
Velvet has been around for centuries. It is as classic as it gets. Velvet instantly creates a timeless, sophisticated look. There may not many fabrics more soothing. Velvet feels luxurious and welcoming for fall while also adding visual interest and homey ambiance to a room. Include a velvet upholstered chair or velvet pillows to be right on trend for 2017.
• Light It Up.
With the shorter days, you'll want to add brighter lighting to your favorite spaces. Create a soft glow from corner table lamps or illuminate areas with overhead fixtures. Lighting designers have an overwhelming array of choices to consider. Some are futuristic in style, and others are inspired by the past.
When it comes to lighting, nostalgic details are trending, as evidenced by the recent popularity of the vintage Edison bulb. These unique bulbs complement farmhouse style homes, industrial lofts, and a wide range of other trendy interior environments.
Pendant lighting isn't a new trend, but it remains in demand in 2017. You'll find it lighting up the kitchen island or breakfast bar. And chandeliers have made their way out of the dining room and now appear in unlikely spaces like bathrooms and walk-in closets.
• Brass is Back.
Not everyone is pleased that brass is making a huge comeback, but home stylists say brass is the new copper and it will continue to dominate in 2017. You'll find this trend predominantly in both kitchens and baths. The good news is that the return is in more of a bronzed, brushed style as opposed to the shiny gold that was so popular in the 80's and 90's.
• Cozy Up Your Front Porch
Why should your indoor spaces have all the fun? Freshen up your front porch and make it a welcoming place to hang out and enjoy autumn's cooler weather and colorful scenery. Arrange seating with conversation in mind in pairs and trios to invite conversation.
Have a rocking chair and other furniture be extra comfy by piling on quilts and cushy pillows for a homey touch. Such comfy décor items can be had on the cheap with a Boscovs coupon. A basket of pumpkins on a porch sets the scene to enjoy a crisp fall day. You can even paint your house number on a pumpkin for an added bit of whimsy.

Inspirational fall decorating ideas can come from anywhere. The trend in décor for autumn is to promote a snug, cozy, relaxing and restful environment to celebrate family, friends and holidays.