Back to Top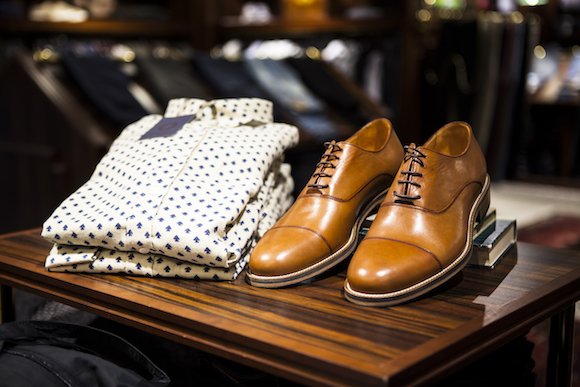 Men's Spring Fashion Tips
Lots of men have winter and summer styles, but not many guys have a distinctive spring look. We love loafers, stripes, and denims when it comes to finding your springtime style. Learn more in our men's spring fashion guide.
by Joe Graceffa, on April 25th, 2018
Lots of men have winter and summer styles, but not many guys have a distinctive Spring look. So, take notice! For 2018, men's Spring fashion will be getting a jolt of personality.
Here are some of the ways to stand out from the crowd as the sun peaks from behind the clouds, flowers start to bloom, and daylight savings time emerges.
The Proper Stripe
The vertical stripe is officially menswear's new go-to pattern. But the size of your stripes will matter if you want to stay in fashion. The best examples from the runway for Spring 2018 are straight and narrow and tasteful.
The striped bowling shirts of the 1950s are making a comeback to give the modern men's wardrobe a boost. Unlike the style of Charlie Sheen's character from Two and a Half Men, bowling shirts in patterns are designed to be chic. Striped bowing shirts deliver a slice of nostalgia and are identified by their elbow-length sleeves, Cuban spread-collar, and colored stripes.
And when worn during the longer Spring days, stripes and bowling styled shirts make every day feel like the weekend.
Fabulous Feet
One of the first signs that you have switched from a winter to a Spring wardrobe is a pair of loafers. No more boots or protection from the rain and snow is needed!
Loafers have some very specific qualities including no laces and a low heel. For Spring, a tassel loafer in a suede material can create a casual look. These types of loafers are wonderful to combine with seersucker or cotton chinos. Or choose a tan loafer in brown which is a little more classic.
Regardless, every man should have at least one pair of loafers.
Then when summer comes, it's all about transitioning to the flip-flop and sandals…just another sign that the seasons are ever changing.
Dad Denim
The latest look is unfussy with maximum comfort via loose fit, light wash, and straight up and down. The jean trend for Spring 2018 doesn't make you look like you're trying too hard and gives legs the breathing space they crave.
But jeans don't stop at pants. A good denim jacket is an essential piece for any man's wardrobe and a good accessory to keep at the ready.
[Stock up on the latest in men's fashion with Boscov's promo codes!]
Monochromatic
Tonal dressing is one of those looks that's both simplistic and striking. The best thing about this monochromatic look is that it works for almost any occasion and scenario that you can imagine. Tonal suiting is ideal for a Spring wedding, while tonal pastels are a great option for a Spring holiday away.
Taking on the bolder colors of Spring 2018 in a single outfit is an easy way to give every guy a uniformed, elegant look, without having to worry about what color compliments another.
Athleisure
U.S. men's clothing store sales came to about 8.8 billion U.S. dollars in 2015 and that number is expected to grow as the athleisure movement gains more and more fashion fans.
It is clear that the men's athleisure movement has staying power, whether it is hoodies, track tops, or track pants.
The hottest look from upscale designers is high-tech. These understated, but very stylish basics are ready to change how the modern male dresses and moves in our ever-faster modern world.
Stick to the basics in Spring such as tech tees, sweatshirts, and nylon shell jackets when there is a chill in the air. The focus will be on neutral colors with small accents of bold color for now. But when summer arrives, men's athleisure style will pump it up to the brighter shades.
As for bottoms, it's all about men's joggers. Fashion experts say that when it comes to form and function combined, tapered technical sweats are impossible to beat.
Athleisure is a legitimate fashion cornerstone these days, so don't feel like these pieces of clothing can only be worn with tees and tanks.
Rule Breaker
Perhaps the biggest trends for men's Spring fashion is that there is no real rules for menswear. In Spring 2018 expect to see tailored items matched with sportswear. Suits, blazers, and tailored trousers will be combined with bombers, track bottoms, hoodies, and aloha shirts.
Find your own personal style for Spring and create your own distinct look.
Don't forget that styling for men of all sizes has never been more effortless. Shops that cater to larger men now offer designs that are fashion forward and well fitted. We like Casual Male XL coupons to get the best deals on men's big & tall clothing.