Back to Top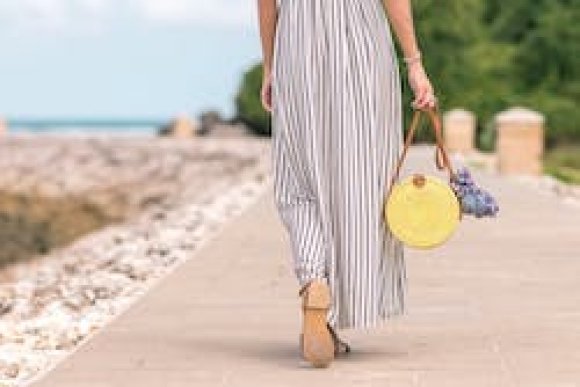 Must Haves: 5 Summer Wardrobe Essentials
by Joe Graceffa, on August 10th, 2018
Summer is officially in full swing, and that means that it's time to make sure your closet has all the summer wardrobe essentials. Hot weather must-haves are all about being effortless style and being without compromising on style. Certain items are basics for the hot weather, but that doesn't mean they are mundane. The necessities for the season focus on colorful, joyous clothes and accessories.
Be Prepared
Although fashion trends are always changing, the U.S. apparel market continues to be the largest in the world. The apparel and footwear market is valued at approximately 292 billion dollars annually in the United States.

It is likely that as a consumer, you contributed to this enormous amount of purchases. To assure you spend your hard-earned money on the best summer styles this year, pay close attention to these hot weather summer clothes for women that are must-haves.
The Must-Have List
1. Maxis.
Maxi skirts and dresses continue to be a must-have fashion trend in women's summer fashion. This ingenious, uncomplicated style makes summer easy. Simply throw this long comfy dress design over your head, grab a pair of sandals and go. Plus, their billowing design makes maxis the ultimate in comfort.

When you opt for a maxi dress in a breathable fabric like cotton, you'll be cool and chic on even the hottest days. They are perfect for any body type as well. From plain, striped to bold and luxurious, the choices in maxi dresses and skirts are limitless.
(Get the best in summer fashions with a Beyond Proper promo code!)

2. Off-the-Shoulder
An off-the-shoulder dress or top is a great way to showcase your new tan lines. There are a variety of silhouettes that are must-haves. Go out of your comfort zone and try a straight-across style, one-shoulder, cutout, asymmetrical, or strappy design. But for the office, choose a top with more structured and shirt-inspired details which pair nicely with wide-leg trousers or midi skirts.

3. Putting Your Best Foot Forward
The hot wear begs for casual footwear. The latest styles and designs of summer shoes are durable, lightweight, and designed to keep you comfortable all day and all night long. There are an endless supply of sneakers, sandals, and slides that reflect your personality, wardrobe, and active lifestyle. And fabric sneakers are great when it's warm outside, as they let your feet breathe.
Colorful combinations reflect the joy and carefree attitude of wearing sneakers on the court, at the beach, or even to the office.

Yes, we said sneakers are suitable on the job. Corporate dress codes aside, it's officially acceptable to wear sneakers to work, if you style them properly. Consider dressing them up a bit with tailored slacks. Pair a white blazer with a pair of lace-ups. And consider slip-on sneakers paired with a midi skirt.
As an added benefit, sneakers are the ultimate in comfort and you're more likely to be productive when you have happy feet.

(Stock up on summer footwear with a Nike coupon!)

4. Top It Off
There's no better way to get your summer wardrobe ready than by shopping for a chic new sunhat. Covering your scalp and face makes a substantial hat a must-have this season and they are even sold in lightweight materials with sweat-wicking fabric.
Straw hats guard your skin against the sun's harsh rays while looking great. This longtime staple is perfect for the beach or a picnic. A straw hat can put a fashionable finishing touch on countless warm weather outfits.
Regardless of the design you choose, a proper sun hat should protect your face, eyes, and neck without making you look ridiculous. Luckily, wide-brimmed hats are trending for 2018. Whatever style you choose, purchase a style that is guaranteed to keep you shaded.

5. Shades
Sunglasses are a summer wardrobe essential, so no excuses to forget this accessory. Summer shades can go a long way to ensure long-lasting eye health. There are a few rules when choosing the right kind of sunglasses. Look for a pair with a label that clearly states that they offer at least 99-100% UV protection. Wider lenses and wrap-around styles will also provide more protection because they cover your eyes from more angles.

This accessory will defend your eyesight from harmful UV rays whether you are driving to work, relaxing on the beach, or enjoying a family picnic in the park. Sunglasses are fashionably cool, and the trend this year focuses on sleek, modern designs that create a timeless piece that fits any style. If you are the adventurous type, include the new double bridge or keyhole bridge frames.

(Shop a huge variety of sunglasses with an EyeBuyDirect coupon!)

Time to Shop!
Stay cool and look hot with these summer wardrobe essentials that will always have a place in your closet. They are the must-haves that will get you through this wonderful season of sunshine, barbecues, and traveling in style!