Back to Top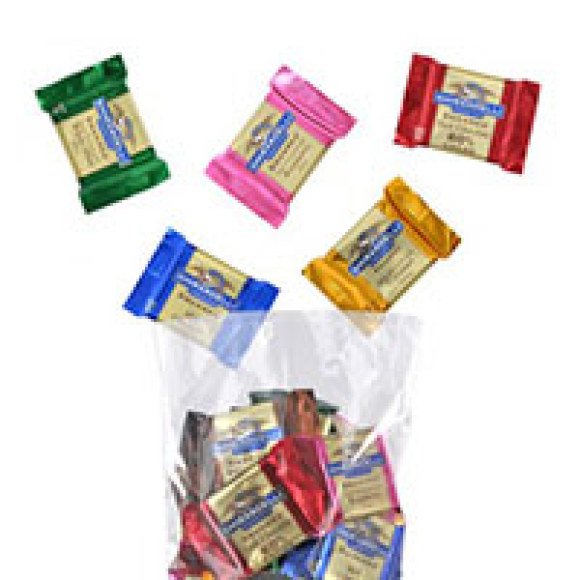 Not Sure What to Get Mom? Ghirardelli has the answer.
by Mel Taylor, on April 22nd, 2013
Mother's Day was so much less stressful when a box of Crayola crayons and a few misspellings could steal mom's heart. Now that "getting creative" for Mother's Day means hunting down mom's dream gift (you only have a few weeks left!), it's time to start locking down ideas. If only there were an easy and affordable way to make mom smile…
In comes Ghirardelli and their tempting little squares of joy. We just tried the new flavors, and we're certain that mom will quickly forget about handmade cards and hand-cut snowflakes once these arrive at her doorstep. Here's the breakdown:
Double Fudge: You can never go wrong with chocolate-on-chocolate… on chocolate. Two layers of Ghirardelli's heavenly milk chocolate covering a thick layer of smooth, creamy ganache makes this square an irresistible chocolate dream sandwich. We recommend ordering double of these bad boys.
Gourmet Sea Salt Escape: Although you've probably already encountered the dangerous combination of sea salt and chocolate, we feel that it's our responsibility to warn you specifically of Ghirardelli's Sea Salt Escape. Each bite transports you to a world of sweet, creamy chocolate with a hint of savory and a touch of crunch. Dangerous indeed, this milk chocolate + sea salt + almond wonder disappears before you even have the chance to say, "Does this come in bulk?"
Cookies and Creme: Didn't think a better version of an Oreo existed, did you? Well get excited about being wrong and say hello to our new best friend. The cookies and creme square is a perfect blend of sweet melted cream and crunch. First bite is dangerous, first square is gone in two seconds, and the entire package? Inevitable. We dare you – try to eat just one.
Cabernet Matinee: Feeling fancy? This sophisticated blend of Cabernet Sauvignon grapes and dark chocolate serves as a perfect finale to any meal or snack. With a hint of tart, the Cabernet Matinee is infused with blackberry flavor, taking your taste buds on a ride from chocolate decadence, to a field of berries and back, just in time for happy hour. Pair this square with your favorite red to discover the greatest combo since cookies and milk.
Thanks to Ghirardelli, Mother's Day is just a square away…