Back to Top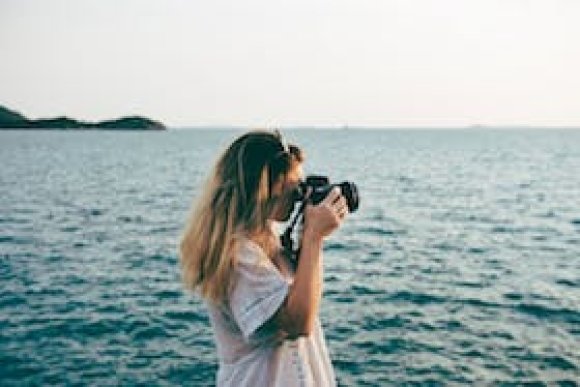 Photography and Photo Album Tips for Saving Summer Memories
by Joe Graceffa, on September 18th, 2018
Some of our most wonderful experiences happen when we travel during the summer. And some of our best memories are the visual pictures we record through photography and photo albums. Summer travel is a great time to practice your outdoor photography as the hours of daylight increase. But capturing amazing outdoor images can be a little tricky. It takes some practice. Whether you are a beginner or more experienced, use these tips that will help you improve your photography during summertime.
Tips for Outdoor Photography

• Lighting

Midday is one of the most difficult times to shoot good photos due to the bright sun and harsh shadows. The middle of the day is also a difficult time for taking outdoor portraits since the intense sunshine will cause your subjects to squint. After all, you don't want your summer memories to be of your family members straining their eyes and looking uncomfortable.
Early morning and late afternoon are the ideal for outdoor pictures. Beautiful, diffused lighting is at its peak just around sunrise and sunset. This is especially important when doing beach photography where the reflection off the water can distort your shot.
Regardless of where you are, shooting toward the sun is usually a bad idea. The result can be washed out images or dark shadows. The most efficient option is to stand with the sun behind you since this will produce a well-illuminated landscape.
• Portraits

When taking portraits outside, there are some specific steps you should take to get the best possible images. Camera settings for outdoor portraits can seem tricky, but with a little effort, you will be able to make every one of your subjects look their very best.
Here are two top tips to make your summer portraits extra special:
1. Depth of Field. To get the best possible portrait photos outdoors, use shallow depth of field (the distance between the closest and farthest objects). There are a wide variety of lenses to choose from to make your portrait photographs pop. Everything is readily available from zoom lenses to cover a range of focal lengths to ultra-wide-angle zoom lenses to capture landscapes.
2. Light Exposure. Use a use a wide aperture (the opening in your lens that lets light pass through to the sensor). Aperture has a direct impact on the brightness (exposure) of your images.
(Get all the best deals on camera supplies with Canon coupon codes!)
Another Option
Sometimes, you're in a situation where you need to snap a quick photo in order to capture an unexpected moment. When this happens, you won't always have your camera bag unzipped, your camera out, and your settings ready to go. This is one of the several advantages of using a cell phone for instant photos when you travel. It allows you to snap a quick shot, even when you weren't quite ready for it.
Summer vacation photography isn't just about owning a large, expensive camera. You can do it with nothing more than a smartphone. And that is wonderful news for travelers. When you want to pack light, you can minimize your gear and while maximizing your flexibility, spontaneity, and fun by just using your phone to shoot your next vacation adventure.
(For the best smartphone deals, grab a Sprint coupon code!)
Photo Album Primer
Don't let the memories fade! Looking at the pictures that hold favorite summer travel memories helps us relive those moments and keep them alive. Photo albums are precious, especially in a time when everything is becoming digitalized.
For many of us, creating a travel scrapbook can seem daunting after returning from an adventure with hundreds of photographs. But there is no need to be overwhelmed. Get started with these photo album ideas:
• Creating Your Memory Book
First, you'll need to get your photographs off of your camera! If you used a digital camera or cell phone, download your photos to your computer and print them out.
Do a little editing and print out only the photos that best represent your summer adventure. There are many online printing services you can utilize, or you can upload them to a USB drive and bring them to your favorite photo printing service. Then organize and arrange all the photos and souvenirs you want to include in your photo album.
Date each group of photos with the time and place of your trip with an acid-free marker so the ink doesn't migrate from photo to photo when stacked.
• The Fun Begins
Now it's time to purchase a photo album or a scrapbook. No matter your style, there is a design out there for you and a method to preserve all your summer photography memories. Here are popular options:
1. Photo Album
This traditional method of an album allows you to simply slide your photos into the sleeves. If you collected some mementos, like beach sand and small seashells, you can heat-seal the pockets shut and preserve your materials.
2. DYI Scrapbook
The world of scrapbooking has exploded over the past years. At its peak, scrapbooking was an estimated $2.5 billion category. There are clubs, stores, and classes that teach this form of art. But you can do it yourself. Simply purchase an album, cardstock, page protectors, embellishments, adhesive, pens, and anything else you need to create beautiful layouts. You can also purchase a scrapbook kit where everything you need is already included.
3. Outside Help
If you decide that all this is just too much effort and you just want to relax for the rest of the summer, there are numerous photo services that can make a memory album for you. These photo book companies create professional looking picture albums and bring your photos to life for you to treasure for years to come.
Treasure Your Photos
Whether your summer vacation is a camping trip, a beachside getaway or a city escape, you and your loved ones will appreciate the opportunity to look back and reflect on the special times you shared together. Photography and photo albums will save your summer memories so they can be shared anytime and anywhere you want.