Back to Top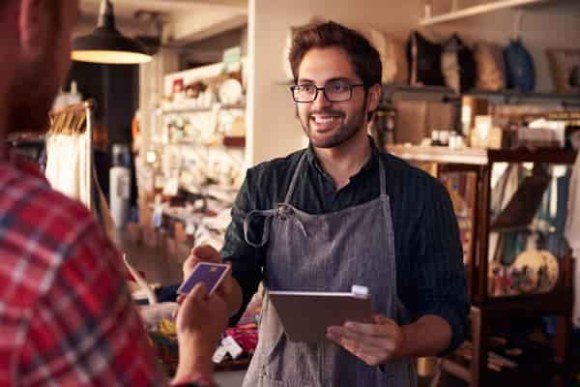 Pros and Cons of Store Credit Cards
Here is a simple breakdown of the pros and cons involved with store credit cards.
Just as you make it to the front of the line at your favorite store, the cheerful register clerk informs you of the huge discounts and sales that are available exclusively for those shoppers who have a retail store credit card. You are told that just by signing up for their card and using them for your immediate purchases, you'll be eligible for a 10% - 30% savings and other future perks. Ahh…retail store credit card offers can be so tempting.
Consumers love their retail cards. According to the Federal Reserve, private-label retail cards accounted for approximately $270 billion in sales. But should you give in to this invitation? Here is a simple breakdown of the pros and cons involved with store credit cards.
Pros
• Save, Save and Save Some More.
One of the biggest advantages of holding a store credit card is the discounts. Many retailers will provide unbeatable savings to store credit card owner on a regular and continuous basis.
Target's REDcard offers some of the strongest incentives to sign-up. At some point in their life, everyone shops at a Target store and indulges in the wide range of merchandise. Target sells a plethora of everyday items from groceries, clothing, household goods and more all under the same roof. This makes the REDcard extremely valuable to a regular customer. Target's REDcard provides:

• Free shipping on most orders at Target.com
• 30 extra days for returns
• 5% off purchases for most items
• Unique chip-and-PIN enabled protection to guard against card fraud and theft
• No annual fee

• Incentives.
Another reason that many people use store credit cards is for the perks that come with them. Many store credit cards will provide a type of reward points with every purchase. These rewards can be used in a variety of ways, such as free merchandise or gift certificates.
Old Navy, which is part of the Gap family, has many exciting incentives that accompany their store credit card. These are especially beneficial if you spend a significant part of your income on clothing for you, your kids or for gifts. With the Old Navy credit card, you'll enjoy:

• Save 15% on the first purchase
• First dibs and exclusive deals on new items
• Presale access to popular items
• Ability to earn points for every dollar spent in-store or on-line for all store brands (Athleta, Banana Republic, Gap and Piperlime)
• No annual fee
• Return purchases without receipts
• Special Treatment.
It is insanely difficult to pass up the extra ordinary opportunities that store credit cards deliver. Advantages like in-store discounts, coupons, special shopping days, sales and even being able to return an item without a receipt are enticing.
One of the most distinctive and exclusive is the Amazon store card, available to Amazon Prime Members. It offers:

• Super-fast and expediting shipping
• Unlimited 5% back as a statement credit on all Amazon.com purchases
• 0% promotional financing from six to 24 months on purchases totaling $149 or more
• The Amazon store card has no annual fee
• Easy.
Another "pro" for store credit cards is that they are much easier to sign up for than bank cards. You can usually qualify for a store card with only fair credit.
• Less Worry.
Most private brand cards have lower spending limits. You are far less likely to get carried away with your spending with this cap on buying.
Cons
• Interest Insanity.
Although you can save some money on discounts with a store credit card, you should be aware of high interest charges that often seem exorbitant. Retail store credit cards nearly always have excessively high interest rates. This remains their biggest issue and disadvantage for store branded cards.
• The Details.
Store credit cards are a little different than "regular" credit cards, so it's a good idea to understand how they work before you sign up. Read the fine print on special saving offers like free shipping and discounts, which usually have limitations.
• Limited Use.
Store cards will only allow you to spend in the shops of a particular retailer or retail group. This is a primary reason merchants love having their own credit card. Cardholders tend to be more loyal customers and the stores can more easily track buying habits if customers use the branded cards.

A Reminder
As you look around, think carefully before opening up any new credit card accounts, whether it is a gasoline card, furniture store or anything else. If you tend to do a lot of shopping in one place, a store-branded credit card could save you more money than a general-purpose card would.
Many store cards offer customer loyalty benefits and rewards that you'd be hard-pressed to match with a general card. Determine if you can afford the monthly payment or the interest may thwart your savings. The best store credit cards should offer you something you can't get elsewhere, with reasonable interest rates.
What will you put in your wallet?