Back to Top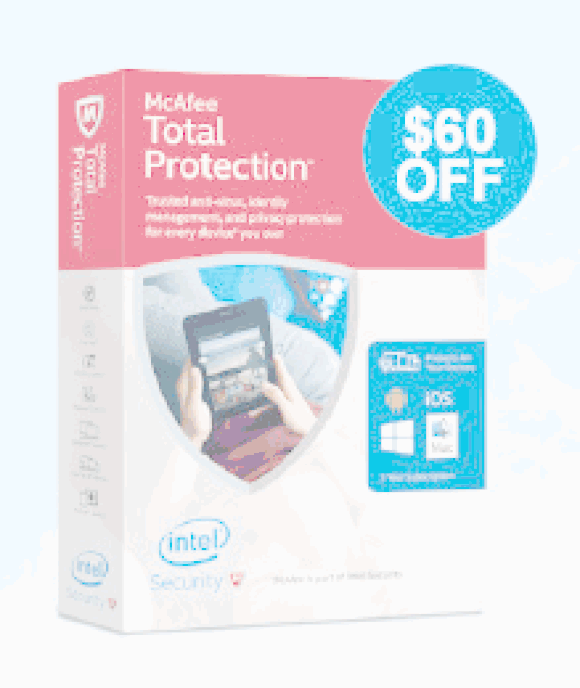 Protect Yo-self with McAfee
by Abbey O'Bryan, on April 28th, 2016
We're moving. (Insert hair pulling and uncontrollable sobbing here.) I know when we finally get settled in, it will be wonderful. We have a toddler and an infant, both boys, and the space they'll have to run and play is unrivaled by our old place. But still. We have to move.
I'm checking the blind cords to prevent strangulation, installing cabinet locks to avoid accidental poisoning, putting up baby gates so they don't hurl themselves down the stairs, and covering the outlets, obviously. I'm making sure the door locks are sophisticated enough that my toddler can't outsmart them. This is much harder than you might imagine. I'm checking window locks and window screens to make sure they can't be pushed out. Believe it or not, when I was growing up my sister actually fell from a second story window when the screen popped out. Miraculously, she was fine, but this mommy isn't taking any chances.
With all of these safety measures top of mind, I found myself thinking not only about our physical safety, but our cyber safety as well. What if our identity was stolen, our bank account was drained, and our credit was destroyed? I seriously can't afford to worry about that, too, right now. Luckily, McAfee is running a killer sale on their Total Protection product which provides unlimited device protection, free support, and a 30-day money back guarantee. With McAfee promo codes at PromoCodesForYou.com you can have total protection for up to 65% off today and only $29.99. But hurry, this offer is over May 2nd!