Back to Top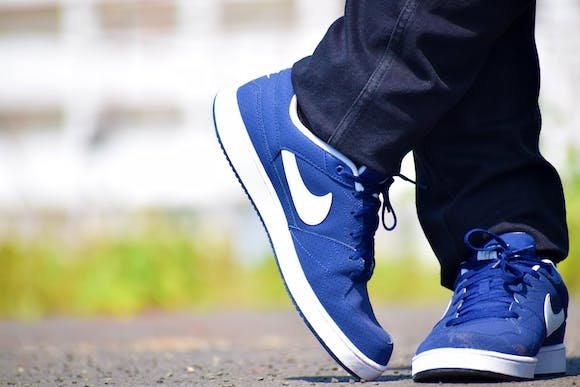 Put a Spring in Your Step – Spring 2018 Shoe Trends
Taking good care of your feet doesn't have to come at the expense of fashion. Put a spring in your step with our guide to spring 2018 shoe trends. We offer up spring shoe styles that are comfortable, versatile, and classic.
by Joe Graceffa, on April 11th, 2018
The new Spring 2018 shoe trends are somewhat fun, appealing, and totally varied. The hottest styles range from delicate, dainty heels covered in pretty embellishments, to stompy boots, to comfy, but sexy sneakers.
There are some common overall themes you can expect for the Spring season including lighter color palettes and loud shapes, with a bit of nostalgia thrown in.

Spring Footwear Everyone Is Wearing
Footwear will embrace mixed prints, texture, and dangly trimmings as the weather starts to warm. Even if you're more comfortable playing it safe when it comes to the rest of your wardrobe, you can have some fun when it comes to wearing the new shoe styles for Spring 2018.
Color of the Year
According to the annual press release by Pantone, the color of the year for 2018 is purple. It is suggested that this hue communicates originality, ingenuity, and visionary thinking. For centuries, purple has been associated with royalty, because of the extraordinary expense of dying fabric purple.
Now, in 2018, we can expect to see loads of lavender as a major color trend in footwear. If you're looking to invest in one particular shade this season, let it be a sea of light purple.
Sandals
In Spring, lighter weight and comfortable sandals are simply indispensable. It allows for showing off the perfect pedicure. There is no doubt that pretty, feminine sandals are a style staple for the upcoming season.
Heel heights of all types will be popular, from kitten heels to towering four-inchers to match any occasion. Choose whichever height you feel comfortable in since they are all on trend this season.
It's also entirely possible this Spring to select a sandal that will complement a wide range of summer outfits, from romantic to business professional. Try the trend of the season, namely the kitten heel. This height offers charm in an endless array of attractive designs.
[Score your sandals at the best prices with Kohl's coupons!]
Cowboy Boots
Cowboy boots are sticking around for Spring because they're surprisingly versatile. Tuck your jeans into a pair, or wear them with a sundress. Pair them with everything from your favorite denim pieces to a beautiful floral dress. They make distressed jeans look cooler than ever.
The cowboy boot is getting a chic makeover with the addition of embroidery, crystal tassels, and trendy colors. The Western-inspired details on Spring's boots can even serve as a less stiff alternative to sneakers when worn with streetwear.
Be Transparent
Dominating runways everywhere are clear and plastic-wrapped footwear. This is the ultimate trend this season. You'll want to treat yourself to a long-overdue pedicure because your feet are about to be on full display in Spring's see-through styles.
Look for transparent sandals, Lucite heels, and shoes with transparent sides. The latest clear shoes are refined...think elegant pumps with subtle side panels and single-sole heels that create a barely-there effect.
They're edgy, and many styles have sculptural heels that are also transparent. Made of clear vinyl, mesh or sheer material, the versatile sexy and effortless nude shoes will be arriving with great fanfare.
The see-through shoe evokes, luxury, sophistication, femininity and a modern touch. If you are not 100 percent sure about wearing this trend, then mix sheer plastic straps or heels with traditional materials like patent leather or simple leather fabric.
Remember that see-through footwear is for minimalism, that's why you will want to avoid embellishments and excess detailing. The clear shoe is clearly coming back (pun intended).
Sneakers
A sporty shoe has become a wardrobe necessity. And after all, sometimes your feet just need a rest from your boots and heels.
This Spring classic (and totally wearable) high-tops are here to add a throwback edge to all our outfits. But the Velcro sneakers of our childhood will also be popular in Spring 2018.
Wearing a pair of glitter sneakers will put your feet right on trend and give a sparkling boost to all your outfits. Don't be afraid to color clash. This season you have permission to mix your glittery metallics with a pastel-colored blouse.
One of the hottest detail in sneakers is gum soles. The style is slightly retro, slightly skater, and most importantly, won't look dirty from daily wear.
But you'll also find trendy sneakers that are sometimes more fashion than function like the Reimagined Air Jordan 1 Lover Sneakers. This pair of Nike shoes is the original Jordan sneaker, now with an espadrille-inspired silhouette, iridescent perforations, and a plush interior that molds to the shape of your foot for cloud-like comfort.
[Get the best deals for the best sneakers in every style with Nike coupons!]
Have Fun with Your Footwear
Shoes can help to transform an outfit from dressed-up to dressed down, from 9 to 5, or the casual brunch to the date night or evening out with girlfriends.
[Get everything you need with a Jimmy Jazz coupon!]
Spring 2018 shoe trends provide the perfect time to start having fun with footwear again. So shop with renewed enthusiasm and be sure to get the best online deals available from PromoCodesForYou.com