Back to Top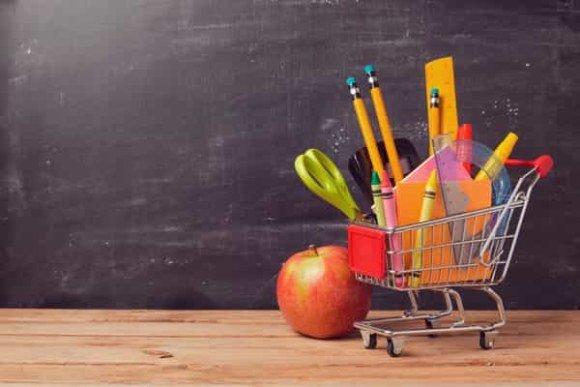 Save on Back-To-School Shopping
Here are five cost-saving tips that can ease the stress of returning back-to-school!
Summer is fading away and it's time to begin thinking about returning to the more structured lifestyle of school and extra circular activities. Going back-to-school can be an expensive endeavor whether it is junior high, high school, college or a trade school. The College Board estimates that students spend around $1,200 a year on books and supplies. This year, total spending for K-12 and college is expected to reach $75.8 billion.
Today, there are several ways to save on back-to-school shopping, including clothes, school supplies and textbooks. Here are five cost-saving tips that can save money and ease the stress of returning to back-to-school:
1. Renting Textbooks. The cost of purchasing textbooks has reached an outrageous level and can have a negative impact on students and their ability to learn. A 2104 survey of over 2,000 students found that 65% had decided against buying a textbook because it was too expensive. But there are other options to making this high-priced purchase, such as textbook rental.
Renting one or more books for classes can mean paying a fraction of the cost of a new or even a used textbook. Textbook rental can be done by the semester, quarter or summer. If you only need a book for half of a semester, simply rent it for a small fee and return it at the end of the term. It's great option not to have to invest money into a textbook that you'll use only for a month or two. Plus, by renting your textbooks, there's no risk of your books becoming devalued by the end of the semester.
2. School Supplies. From kindergarten to college, every kid needs paper, pens and basic school supplies. The problem is that these costs add up quickly. During the back-to-school shopping season, stores fight hard for your back to school dollars, and that's great news for you.
Loads of school supplies are all on sale during the summer. Use online coupons and promotional discount codes as well as circulars in Sunday papers for great savings on supplies from big box stores. The large chain stores also post special back-to-school deals on their social media sites. And if you and your kids can survive without name brand items, dollar stores have loads of great items to fill their backpacks…and they even have backpacks!
According to Consumer Reports, "Amazon.com is the top retailer for such (back-to-school) purchases" and they often have special discounts for a variety of school needs. With a little bit of time, effort and research, purchasing school supplies can be affordable and fun.
3. Back-to-School Clothes. Many sales happen before school starts during August, but the real savings begin after the school year begins. If you can put back-to-school shopping on hold for a few weeks until the end of September, you'll find great deals on new outfits for fall. Besides, the weather is still pretty warm in September, so waiting to buy those new sweaters, scarfs and corduroy pants won't be a problem.
If you have teenagers, then you know there is peer pressure to wear expensive brand name clothing to fit in with the other students. As a compromise, consider allowing kids to buy one splurge item. Encourage your tween to think carefully about their binge item so they get the best value for what they purchase.
4. Amazon Student Prime. Most parents are aware of Amazon's Prime Membership. But this giant retailer also offers a program geared toward the needs of students. Prime Student members receive free two-day shipping on thousands of products, unlimited streaming of movies and TV shows, access to unlimited photo storage and student-exclusive deals and discounts. It is a great way for both students and parents to save significant money, especially on the shipping of last minute required items.
5. Electronics. Computers and Smartphones have become back-to-school necessities, even for kids at the elementary school level. Rather than indulging on a brand new computer or mobile phone, look for a certified used model from a reputable seller. It is also possible to find online student discounts at Dell, Apple and other leaders in the category. And if your child is college bound, frequently the university will offer discounts on a variety of electronics.
Back-to-school shopping is the second-busiest time of year for retailers (after the winter holidays). It is also a great opportunity to teach budgeting basics to your children. With coupons, online discounts and sales, back-to-school does not have to drain the bank account.
You can save money this back-to-school season with Dell coupons and promo codes!
You can also save money by using our guide to find the best college student discounts.