Back to Top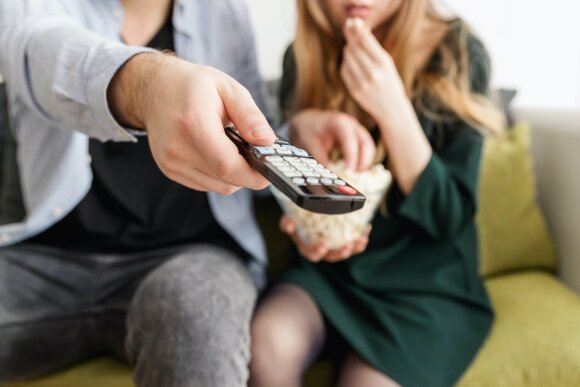 Smart TV Deals
When it's time to buy your first Smart TV or upgrade to one with more features, be sure you don't overpay. No matter what size set you want, and no matter what your budget, these Smart TV deals will assure you know where to find the best savings.
by PromoCodesForYou, on January 11th, 2021
What is a Smart TV Anyway?
The major feature separating Smart TVs and not-so-smart TVs is an internet connection. The modern TV is more like a smartphone or tablet where the internet connection is used to stream television shows and movies from a variety of apps and services, like Netflix, Hulu, and YouTube, among others.
If you missed the Black Friday Smart TV Deals in 2020, fear not! There are still great savings and opportunities to save a bundle.
Best Smart TV Deals
The beginning of the year is a fantastic time to discover cheap TV deals. Most retailers are discounting last year's models to make room for new ones. And if your heart is set on the latest version, there are amazing savings to be had in advance of the Super Bowl and other big broadcasting events. So, let's get shopping!
Check out these retailers that will have the perfect television for you at money-saving prices.
• Amazon. This mega-giant of online shopping has an astounding variety of electronic products. When it's time to buy a new TV, Amazon's easy-to-use filters allow you to sort by different features, including size, price, and customer reviews. They even disclose which Smart TVs are the best sellers to make your decision as easy as possible.
For example, Samsung's new Q80T Series is consistently ranked at the top of the list with options ranging from 49 inches to 85 inches. Designed to optimize the picture, this Samsung model delivers a more immersive experience. And Amazon sells it for much less than buying directly from the manufacturer.
Most television orders placed on Amazon will ship for free, so when you're looking for a new Smart TV with big discounts and the added convenience of shipping right to your door, don't overlook Amazon.
• Walmart. As the world's largest retailer, you may regularly visit Walmart to stock up on pantry staples, paper goods, and other household items. However, did you know Walmart is also a great place to buy a television? Smart TV deals at Walmart are some of the best you'll find.
Walmart boasts everything from compact televisions ideal for a dorm room to huge flat-screens for creating the perfect entertainment space. They have selections from top brands, plus they offer you a generous 90 days to return a television.
Snag the 65-inch LG 2160p 4K TV for only $695 (was $1,000). Need something larger for a great price? Massive 70-inch Smart TVs are sold at reduced prices every day if you're keen on building a home theater to impress.
• Target
You may be taken by surprise at the selection of Smart TVs available at Target. Top-level brands like LG TV, Samsung, Vizio offer the latest technology to assure enjoy your favorite shows in the comfort of your own home. The best Smart TV deals at Target are gathered together on a special webpage to make searching for the best deal even easier.
• Best Buy. When you need a new TV fast, Best Buy's website offers Smart televisions that available that day for in-store pickup. If you can wait, many items ship for free or have a price-match guarantee to help you get the best deal.
Even at the highest end, Best Buy comes through with great Smart TV deals. The Samsung A9G OLED model delivers wide viewing angles and blur-free picture quality, at a savings of $700. Best Buy also has shockingly low flat-screen clearance TVs at stunningly low prices as well. Some of the best Smart TV deals are at Best Buy. But hurry! Not every offer lasts this time of year.
• Costco. Members of this big box store sing the praises of Costco not only for the bulk-purchase selections, but also for purchasing a new television. And you don't have to be a member to access many of the great deals…or even go to the store, thanks to its online shop.
Choose from great deals on over a dozen high-quality Vizio Smart TV sets, most that come with a warranty included. The Vizio OLED TVs deliver response time that is nearly instantaneous, resulting in motion clarity. And the outstanding design of Vizo features thin borders on all sides to match any room décor.
In addition to discounts and competitive pricing, Costco offers a generous return policy that gives you a 90-day window to return a TV, plus they allow you to return in-store for an immediate refund.
• B&H Photo & Video
You may not have heard about B&H, but since opening in 1973, they have grown to be one of the larger and more trusted online retailers for home electronics. B&H offers over ten leading brands. Their easy-to-navigate website makes your online shopping experience for a new TV about as hassle-free as it can get.
Sony is one of the most trusted brands in electronics, and B&H has excellent deals on OLED models that deliver the best color and images. You can select from more than 20 choices with the 4K option with instant savings of hundreds of dollars and free shipping. Or go all out and select from 8K Sony models.
If you decide to add a soundbar to enhance your viewing experience, you can bundle it with your Smart TV deal for even more savings.
If all these choices seem overwhelming, you can take a deep breath knowing that B&H has some of the best customer service around. You can ask questions and get immediate answers about buying, shipping, and returns via phone or live chat.
Enjoy the Show
These days, it's quick and easy to buy a television online and get great Smart TV Deals at a price point that won't put a big hole in your pocket. With just a few clicks a TV will appear on your porch to the joy of your entire household.
It's time to take your viewing experience to the next level with smart tv deals on 4K, 8K, OLED, or whatever fits your lifestyle!