Back to Top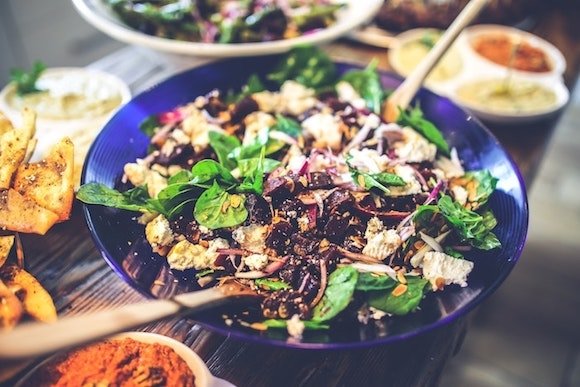 Spring Recipes - Lighter Fare for Springtime Meals
Spring is a wonderful time to learn new recipes and switch out the hearty meals of winter for lighter fare. Simple salads, shrimp and veggie skewers, vichyssoise and more make for delightfully light fare in spring.
by Joe Graceffa, on April 17th, 2018
Spring is a great time to add more fresh foods to your meals and it's also easy to do. During this time of year, fruits and vegetables are overflowing at your grocery store and farmer's markets. So, lighten up your menu and get creative in the kitchen with some new spring recipes.
Dishing It Up at Home
Even with all the take-out and fast food options, most Americans prefer to eat at home. In fact, data shows that over 88 percent of U.S. consumers serve home-made meals three or more times a week.
It's no wonder so many people opt to eat at home. Spring dishes are delicious and satisfying. Many can easily be made in just minutes or prepared ahead of time for extra convenience.
Six Suggestions
Try these six seasonal spring recipe favorites for your family and friends:
1. Go Fish
Lighten your spring meals with fish surrounded by fresh veggies. When you include fish in your meals, you help your heart (and your family's heart) stay healthy, as long as you don't fry the fish.
Tilapia is a delicious, lean white fish that has a wide variety of health benefits. It's always popular since it has a mild flavor, which makes it appealing to people who don't like "fishy" fish.
Try Teriyaki Tilapia with an herb salad and take advantage of garden-fresh cilantro growing this season. Blackened Tilapia with buttered carrots takes advantage of vegetables that may be growing in your backyard garden and adds a punch of flavor.
2. Light Baked Mac and Cheese
Casserole season does not have to end when the weather gets warm. These creations can take you right into Spring with their easy, one-dish approach.
Spring casseroles are lighter, healthier versions of their cold-weather counterparts. Think piles of vegetables adorned with lightweight sauces that are still comforting and delicious.
Regardless of the season, macaroni and cheese is always a hit. This "lighter" baked macaroni and cheese casserole relies on a combination of cottage cheese, sour cream, and shredded cheese for its creamy base. All the ingredients melt together into one deliciously, yet healthier cheesy sauce.
3. A Simple Salad
Sometimes a light salad is all you need to satisfy your taste buds. This season, sample a lighter and flavorful spring recipe for a Greek Salad with chicken.
In less than 15 minutes you can toss together this tasty dish. Just use deli-roasted chicken, a package of spring mix salad greens, chopped veggies, and traditional Greek salad dressing.
The best thing about this meal is that if you have leftovers, you can stuff them into a pita for lunch the next day.
4. Serve it on a Skewer
Delicate, green, spring flavors pair particularly well with seafood. One of the simplest, eye-appealing and favorite recipes for family members of all ages are shrimp and vegetable skewers. They are super easy to prepare and fun to eat.
Alternate shrimp on the skewer with seasonal vegetables. That means you can use mushrooms, zucchini, bell peppers, onions, tomatoes or whatever tickles your fancy. If your grill is not yet set-up, these are just as yummy when made in the oven.
[Stock up on everything you need with Sur La Table coupons!]
5. Springtime Soups
Serve cold and delicious spring soups for a twist. This asparagus vichyssoise should be made the day before serving. Preparing it in advance allows this creamy soup to be best enjoyed the next day, after the flavors have blended.
The added benefit of making it in advance is that you won't be trapped in the kitchen and you'll be able to enjoy extra time with your family.
Don't be intimidated by the word vichyssoise. It is simply a fancy French word for a soup made with potatoes and cream and served chilled.
There are loads of summer soups that showcase the vegetables of the season. Gazpacho is a classic cold dish with a punch of spice, chilled cucumber soup is always refreshing and cold strawberry soup is a sweet way to start any meal.
6. Stir It Up Fast
Sometimes you just need to whip up a healthy meal without a lot of preparation or planning. Stir-fry is perfect for these occasions. A stir-fry makes a terrific dinner since it comes together quickly and can be made very healthy.
Stir-fry is traditionally made in a wok, but just about any large saucepan will do.
Try this basic, but popular Gingered Beef & Broccoli Bowl. Don't be afraid to substitute chicken for the beef and add some other in-season vegetables to make this spring recipe your own.
Eat Up!
There is no denying that Spring is the ultimate time for fresh produce. In-season herbs, greens, vegetables, and fruits will awaken your taste buds after winter's heavy meals. The addition of salts and spices can be used to enhance every bite.
And since it is the season of vegetables, boost their presence in any of these recipes with a vegetable rub. Using a rub on veggies may be a new concept for many of us, but you'll find it is ideal on sautéed and roasted veggies and makes a delicious addition to salad dressings, veggie dips and more.
Be adventurous with your food choices this season. Step outside your comfort zone and try new and innovative spring recipes to tantalize your taste buds.