Back to Top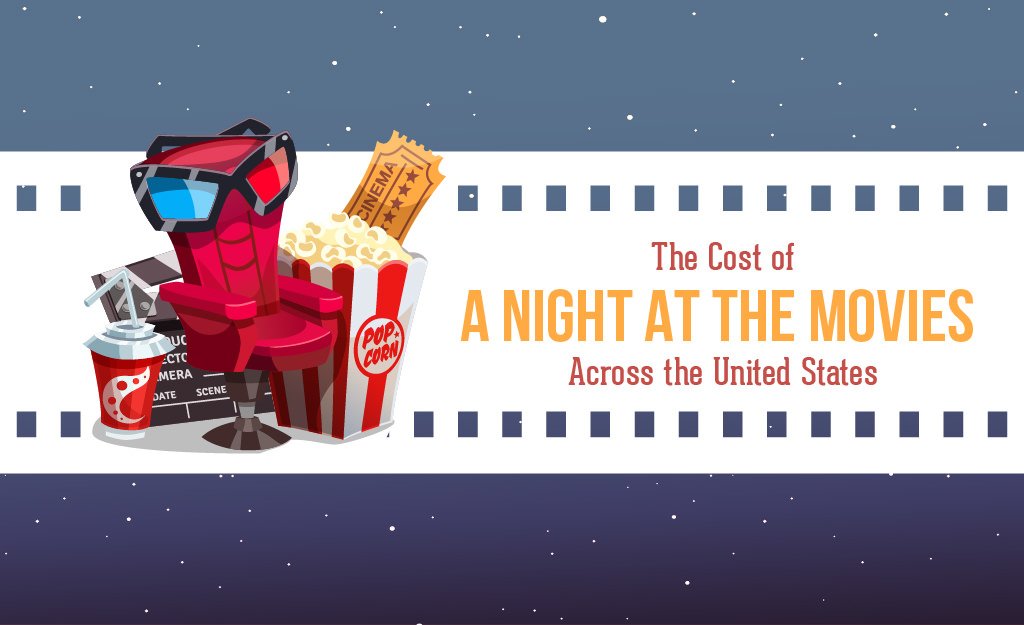 Study: How Much Are Movie Tickets In Every State? | PromoCodesForYou
While the price of a movie varies by location, our study found that on average the cost of a movie ticket is about $10.61 in the US. By analyzing movie ticket prices throughout the US, we discovered the most and least expensive states to go to the movies.
by PromoCodesForYou, on May 16th, 2018
The Cost of a Night at the Movies
Ah, the smell of popcorn, the candy you sneak in to avoid those crazy concession prices, the trailers for upcoming features, and the hope that people will keep quiet and off their cellphones- sounds like a night at the movies! Over the years, the tried-and-true night out option for people of all ages has steadily risen in cost.
So how much will a ticket to the latest blockbuster put you back? We wanted to find out, so we took a look at theaters across the U.S. to see how much a night at the movies will cost you these days. The prices below reflect evening showings at theaters showing the latest releases.
Here's what we found out!
Compared to the 50's when movie tickets were 69 cents, we've come a long way. Even adjusting for inflation, movie tickets were the equivalent of $4 back then. Fortunately, if you happen to be a senior citizen or a child, you get a little bit of a break on movie prices, and many theaters offer military or student discounts. If you aren't sure what types of discounts are offered, ask someone. You never know, you might save some money.
The average price for a ticket in the U.S. hovers at $10.61. If you're a senior citizen, there's a little bit of a break at an average of $8.33 per ticket. And when you bring a kid to the movies, they luck out with a price of $8.03… oh to be young!
As seen in the map above, many states pay well above the national average of $10.61 for their Friday night cinematic viewing. California, Washington, New York, and Georgia are particularly expensive and pass the average by up to $5.
If you ever find yourself visiting one of these 10 cities, better skip the movie theater. These are the top 10 most expensive U.S. cities for a night at the movies, ranging from $13.76 in Atlanta, Georgia all the way up to a whopping $16.81 in New York City! But if you live in one of these areas, you can save money by checking for promo codes here, either for the movie you're going to see, or something else so you can buy a ticket guilt-free!
The lucky residents of these U.S. cities pay the least for a night out at the movies. Grand Island, Kansas is the lowest admission price with an average of $4.60 for a movie ticket- right around what they paid in the 1950's adjusted for inflation. But if Kansas isn't your speed, you can also head on out Soldotna, Alaska for a cost effective movie experience- if you're willing to splurge and pay an extra 40 cents!
So if you're looking for the best place to take in new releases, you might be situated for a great night out without breaking the bank. Or you might want to consider waiting until it's available for rent if you're looking for an inexpensive viewing experience. But whatever you choose, be sure to silence your cell phone and keep the talking to a minimum- your fellow viewers will thank you!