Back to Top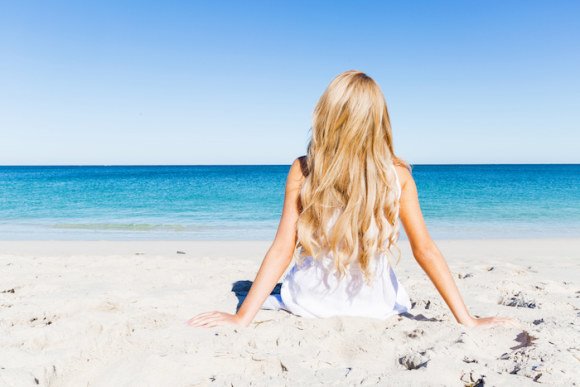 Summer Beauty Tips and Tricks
Stay beautiful this summer with beauty tips from PromoCodesForYou.com. Find the best deals on summer essentials from Bloomingdale's and The Body Shop!
by Joe Graceffa, on August 26th, 2017
Warm weather can play havoc on your beauty regime. Being outside in the heat will melt your makeup. And trying to cool off in the water can make mascara run down your face where it doesn't belong. Since summer is about enjoying the beautiful weather and taking the time to relax, the last thing you want to do is worry about your looks. The good news is, we've got some summer beauty tips and tricks that will help you beat the heat and stay gorgeous while you're doing it.
Sunscreen. The most important product of the summer is sunscreen. It decreases the risks of skin cancer and protects against irreversible sun damage. Overexposure to the sun is a major factor in the appearance of aging.
But there is no need to look like a ghost. There are a self-tanners and bronzers that create a fabulous summer glow. These items are a lot safer than baking under the harsh UV Rays. Consumers are learning the lesson of sun damaging rays. Last year alone, over 132 million Americans used suntan, sunscreen and/or sunless products. So log on to your favorite beauty website, like The Body Shop and get a safe summer tan!
Beauty Trick: It's best to exfoliate before applying self-tanner. Beware of areas with skin folds which can absorb more color, such as hands, elbows, and heels.
Hair Care. Keep the sweat off your neck with headbands, ballerina bands, ponytails, and stylish loose buns. All are gorgeous looks during any heat wave. Ultraviolet rays, salt, and chlorinated water compromise and dry out hair during the heat of summer. And it's always fashionable and smart to wear a hat that covers up your ears and hairline.
Beauty Trick: Use a small drop of silicone-infused serum before and after you style your hair. It creates a barrier to keep your hair's natural moisture locked in and "bad" moisture (from the humid air) out. The serums work by coating each strand of hair to make sure the cuticle stays smooth and does not frizz up. These products help protect your hair from the summer heat for a frizz free summer.
No More Messy Mascara. A good waterproof mascara won't smudge or run when things get hot or wet. That means you can sweat, get thrown into the pool or jump in the ocean and the mascara will not spill straight down see your face. Best of all, it is one less thing to be worried about throughout the day!
Beauty Trick: If you are the type of person who also likes to curl your eye lashes, do it before you apply the actual waterproof mascara.
[Get the best deals on summer-safe beauty products with Bloomingdale's coupons!]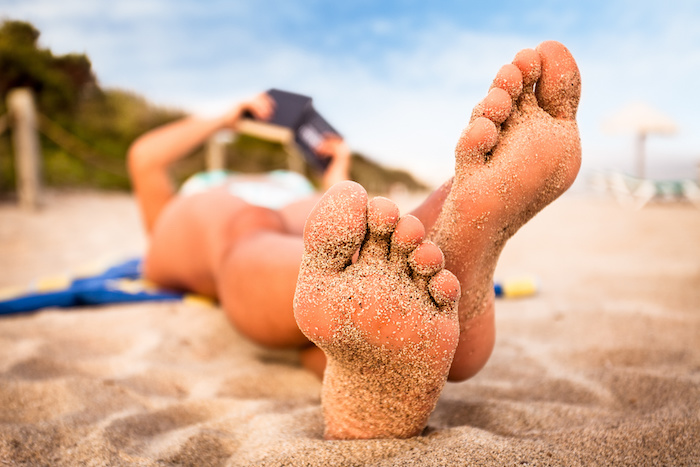 Foot Care. Sandal-clad feet become much more exposed to the elements which can be drying. The repetitive pounding of your heels on the pavement in flip-flops or bare feet can also cause calluses to form, which may lead cracked skin.
None of these are attractive. Help out your feet by exfoliating in the shower with a gentle foot file when your skin is the softest. Then consider wearing moisturizing socks at bedtime. Coated with special ingredients, they are a simple way to repair raw or tired looking feet.
Beauty Trick: If you are flaunting your toes all over the place this summer, then consider painting your nails a fun, bright color. Bold hues such as hot pink or bright orange are especially popular this summer and look great on most skin types.
Luscious Lips. Glossy lips are making a comeback this summer and everyone is enjoying having a little lighter glow on their lips. Any shade will do, from nudes to wines to pinks, as long as the finish is reflective. Gloss has long been the product of choice to fake a plumper pout and in summer 2017 these fun and affordable glosses create hydrated lips that feel nourished.
Beauty Trick: To intensify your lips for evening events, wear your summer lip gloss layered over lipstick.
[Get great deals on beauty products for a perfect summer with Body Shop Coupons!]
Hot Weather Shopping
When the heat index is unbearable, and the humidity is high, the last thing that sounds appealing is going out and shopping. During these sweltering summer days, internet shopping can be your best friend and offers a multitude of benefits:
Convenience. You can shop in shorts, bathing suits and tank tops in the cool comfort of your home or outdoors while you're grilling. The internet is always open, all day and night.
No lines. When you comfortably shop online, there are no lines to wait in or rude people to cut in front of you.
Instant gratification. There is no better place to buy informational products like e-books, which are available to you instantly, as soon as the payment goes through.
No crowds. During sales or special events, the onslaught of people rushing to a store can be a huge headache. Plus, parking becomes another annoying issue. All of these problems can be avoided when you shop online.
This summer, make your life simple. Enjoy these summer beauty tips and shop with the best discount and savings codes while enjoying the summer sun or watching the sunset from your deck.