Back to Top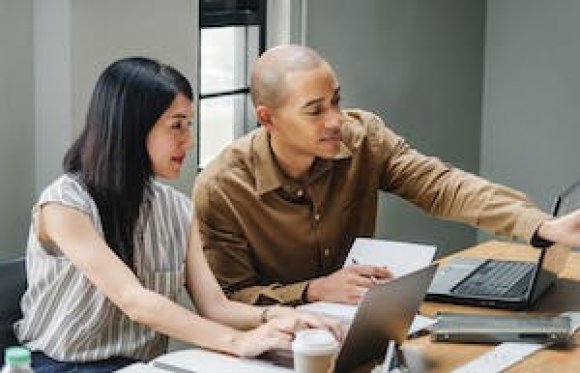 Summer Business Casual Outfits to Keep Cool at the Office
by Joe Graceffa, on July 8th, 2018
Basketball superstar LeBron James may have worn shorts with his suit during the NBA finals, but that doesn't mean everyone can carry off this look. Hot weather work clothing usually involves restrictions and often has to meet specific parameters.
Wearing work acceptable outfits when the weather is extremely hot is a challenge. As the temperatures rise, just the thought of your go-to office wardrobe with the traditional starched button-ups, cardigan sweaters, and wool dress pants can make you start to sweat.
But the alternatives of sundresses, shorts, and tank tops are not always acceptable for office wear.
That doesn't mean you have to be uncomfortable. There are several options for summer business casual outfits that beat the heat, allow you to dress to impress, and will still keep you cool while working.
Look Professional in the Summer Heat
Getting dressed for your workday during the hottest days of the year presents a unique challenge. You're going to need the proper attire to ensure that you look professional but aren't going to sweat the moment you step outside for your lunch break.
These tips for summer office wear will help guide your Monday thru Friday wardrobe and help you stay cool at the office.
1. Lighten Up
Summer business casual allows for lighter colors. This is great news since these paler hues reflect the sunlight heat instead of absorbing it. White, light blue, light grey, and tan are all ideal "neutrals." Use them as your base since they will combine well with all other colors in an outfit. If you're prone to sweating, consider the floral trends in fashion. Prints are a fantastic choice for concealing embarrassing (but normal) sweat patches.
2. Breathable Fabrics
During the sweltering and humid days of the season, swap your summer office wear to lighter, breezier fabrics. Always opt for natural, breathable fabrics that maximize the flow of air, allowing heat and moist air to escape. Cotton is the optimum choice. Cotton has been used to create clothing for at least 7,000 years. It is the world's most commonly used natural fiber partly because of its trademark lightness, softness and breathability.
Instead of crisp button downs, try a cotton blend or seersucker cotton material. Seersucker doesn't need to be ironed and can be found in tops, suits, pants, shirts, skirts, and dresses in a variety of colors. If you can't live without your denim, select chambray which is considerably lighter in weight than traditional jean material.
3. Let Loose
The obvious solution during the summer heat is to select a loose-fitting outfit. A loose-fitting dress is the easiest thing to throw on in the summer. And the latest trend of "paper bag waist pants" is another effortless option. This wide-leg, cinched waist style is both flattering and fashion-forward. Available in patterns, such as vertical stripes, you can create a slimming silhouette perfect for any office setting. Most importantly, this style of trousers allows for much-needed air flow around your legs.
But don't get sloppy! Your summer outfits should still be sharp, and should still have a nice, fitted silhouette. Just allow for more room between your skin and the fabric to permit the air to circulate, which will keep you cooler.
(Clean up your office style with a Boston Proper coupon!)
4. On the Top
If you're opting for a sleeveless top or sundress, it is appropriate to keep most of your shoulders covered during the workday. Stay away from anything with spaghetti straps, t-straps, crisscross straps, or no straps at all. Thinner straps should be paired with a cardigan or jacket during work hours. Many online retailers, such as Boscov's, sell a dress and cardigan in sets to make buying simpler. As you walk out the door after hours, however, you can toss off that sweater for a night of summertime fun.
(Get all your outfit details at the best price with a Boscov's promo code!)
5. Avoid Blazing Hot Blazers
A blazer always helps you appear more credible and makes a great impression in an office setting. So, if you can't give up your office blazer, be sure to choose an option that has no lining. Wearing any type of lined clothes is like wearing two additional layers. Getting rid of the lining means a cooler summer office outfit. An added bonus is that unlined blazers generally have softer lines, due to their lighter weight, and they'll help you keep a fresher and yet polished style under the midday heat.
6. Fresh Feet
Even if your office dress code states "no sandals" (and flip-flops are never appropriate), you can always opt for stylish mesh or perforated shoes. Regardless if you choose flats or heels, your feet will always be able to breathe while you remain fashionable.
A Final Thought
Despite the warm weather, you still actually have to work in the summer months. But no matter what kind of office you work in, there are unlimited ways to look your best and keep cool. Choosing the right fabrics, colors and styles for your summer office wear can help maintain your positive state of mind, no matter what the temperature.