Back to Top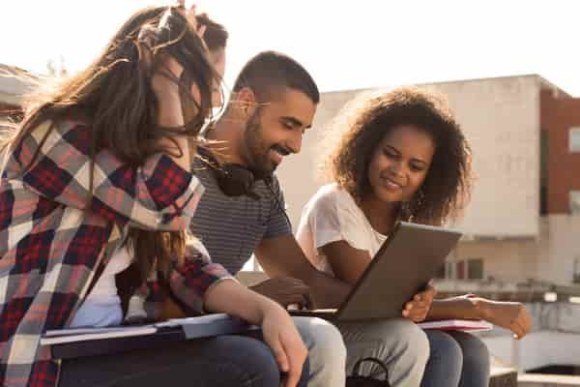 Tech Necessities for College Co-Eds
There are a few essentials that every student requires to be a success in school.
Once again, it's time for parents to pack up their kids for the annual trek back to college. Experience has taught them to take a dolly to move-in day and to encourage their child pack only the items they can lug up the stairs. There are a few essentials, however, that every student requires to be a success.
Laptop
Sorry Mom and Dad… gone are the days where pen and paper were used for taking notes in class. Now a laptop for college is a serious necessity and students are frequently found with this technology in classrooms as the professor lecture.
A laptop is completely portable and allows students to access files without the hassle of emailing documents to themselves. Computer labs may still exist, but students should have access to their own laptop so there is never an excuse for missing a term paper or assignment deadline.
Every parent understands the reality that laptops are for more than just studying. Watching movies, online gaming, email, social media, photography and graphic design are all part of college life that requires some sort of computer.
Lightweight, adequate memory and being compatible with a student's needs are the key areas to consider when purchasing a laptop for a college scholar. Consumer Reports says 13-inch laptops offer a good compromise between screen size and weight for students on the go. Always search for back-to-school discounts and consider bundles to save money. Many PCs and even Apple's MAC computers come loaded with basic programs of the Microsoft Office Suite.
Microsoft Office is the most commonly-used suite of productivity software used in the United States. Whether working on spreadsheets, term papers, charts, presentations or design, it is likely that the returning college student will require the Microsoft Office Suite to accomplish their work throughout the year.
Purchasing a protective case will help keep the device safe, but it is still important to remind your young family member to keep close tabs on this costly educational tool… if there's a common crime at college, its backpack theft.
Cover Your Ears
In today's university setting, headphones have become a standard accessory for college life. They're used walking around campus, getting in the groove for a workout, "studying" in the library or trying to block out a roommate's annoying noises.
Student headphones should have three key attributes:

1. Be durable
2. Be affordable and
3. Block outside noise
The best headphones shut out ambient noises, but also won't disturb roomies or annoy the librarian.
Headphone styles are as varied as college demographics. There are water resistant ear-buds, over the head styles, in-ear models and even wireless options. The key is to purchase headphones with a great fit so they can be used every day. Advancement in the technology of modern-day headsets is simply astonishing and the choices appear endless.
It's common knowledge that college kids are on a serious budget. And even if you are footing the bill for these headphones you will likely not want to purchase the most expensive, top-of-the–line luxury model for your student. It is not uncommon for a these young adults to toss their headphones haphazardly into their back pack or onto their desk in the dorm without thought for their care or longevity. Luckily, there are plenty of reliable choices under $100 that will serve the purpose for just about every undergraduate.
Get Ready, Get Set…
College is an awesome experience and will have a lasting influence the life of every kid who steps onto the campus. Meeting new people, sharing unique experiences, learning about the world and coming to appreciate their upbringing will turn these boys and girls into adults. Help them on their journey by assuring the have the best technology tools available for their university adventure.
You can also save money by using our guide to find the best college student discounts.